London's Royal Palaces & Attractions
with Burlington Bertie .



Whitehall

Palace of Whitehall

Venue:Whitehall, SW1A 2ER.
Getting There: Nearest Tubes: Charing Cross, (Northern and Bakerloo Lines), for access from Trafalgar Square; Westminster, (Jubilee, Circle and District Lines), for access from Parliament Square; St. James's Park, (Circle and District Lines), for access from St. James's Park.

Burlington Bertie's Accommodation Choice: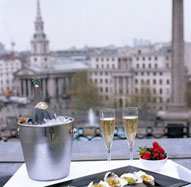 2 Spring Gardens, Trafalgar Square
Located on the south side of Trafalgar Square next to Canada House, this unbranded Hilton Hotel hides spacious, ultra modern, interiors behind its deceptive historic facade. The sleek minimalist comfort of the en-suite bedrooms with their state-of-the-art electronic gadgetry will appeal to modernists. The award-winning chic-gothic black and red bar is popular with London's chic-gothic set who burn it up to music from London's top DJs spinning jazz-funk, boogie-stomp and electro house or chill out to downbeat smoky smoothies. Come up for fresh air at the roof garden champagne bar overlooking the Square. It has surely one of the finest panoramic urban views in London, (shake hands with Lord Nelson atop his column).



Find Another Hotel

Just as Gothic Westminster Abbey and Hall architecturally define England's feudal monarchy, Hampton Court Palace the reign of Henry VIII, and Buckingham Palace the modern monarchy from Queen Victoria onwards, so did much of the Palace of Whitehall define the Renaissance architectural aspirations of the Stuart Kings. By 1691 Whitehall had grown to be the largest Royal Palace complex in Europe, with some 1,500 rooms; a warren of buildings within an enclosure the size of a small walled town skirted today by the triangle of Whitehall, Victoria Embankment and Northumberland Avenue, with Trafalgar Square at its apex.

Two disastrous fires in 1691 and 1698 destroyed virtually the entire palace complex and subsequent monarchs ruled from old St. James's Palace but lived elsewhere from then on; Kensington Palace, Kew Palace and after 1837, Buckingham Palace, when Queen Victoria moved there on her accession to the throne in 1837.

One superb Royal building, James I's Banqueting House, survived the flames however, and Whitehall was rebuilt piecemeal as an integral part of Royal London to become, in time, the seat of every major government department, including the Prime Minister's residence in Downing Street, as power devolved from King to Parliament following the deposition of James II in 1689. This is reflected in Royal pageantry and in the architectural grandeur provided by so many of Whitehall's 18 - 20th century buildings and monuments that you can see on a walk from Trafalgar Square overlooked by Nelson's Column, down the length of Whitehall, Britain's most important ceremonial route, to Parliament Square, the Houses of Parliament and Big Ben.

Banqueting House
Horse Guards Parade
Cenotaph
Churchill Museum and Cabinet War Rooms
Houses of Parliament and Big Ben



© 2016 offtolondon.com All rights reserved. Contact Us