Venue: Clive Steps, King Charles Street, SW1A 2AQ. Tel: 020 7930 6961.
Access: 9.30am-6pm daily, (last admission 5pm). Closed 24-26 Dec, 2007. Wheelchair accessible. No toilet facilities.
Tickets: Adult: £12 for both War Rooms and Museum, including Acoustiguide, (Concessions). Disabled Tickets: £6.00 - Carers: Free.
Getting There: Nearest Tubes: Charing Cross, (Northern and Bakerloo Lines), for access from Trafalgar Square; Westminster, (Jubilee, Circle and District Lines), for access from Parliament Square; St. James's Park, (Circle and District Lines), for access from St. James's Park.

Burlington Bertie's Accommodation Choice: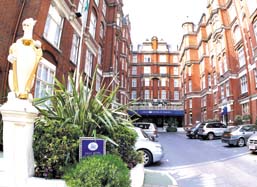 2 Caxton Street, Westminster, SW1H 0QW
Built on the site of a monastery, this late Victorian hotel's turn of the century Edwardian comfort has been given the modern make-over to give 4-star contemporary comfort. Situated in a quiet Victorian street between the tranquil charms of St. James's Park and bustling Victoria Street, the hotel is perfectly placed for nearby attractions; Jewel Tower, Westminster, Houses of Parliament, Buckingham Palace, Whitehall, Westminster Cathedral, etc. Two hotel bars and a restaurant fill the needs of the inner man.


Find Another Hotel

London's Royal Palaces & Attractions
with Burlington Bertie .



Churchill Museum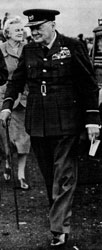 Sir Winston Churchill. Credit: Churchill Society, London.

The Cabinet War Rooms, once secret underground wartime headquarters of Sir Winston Churchill, K.G., are the core of the Imperial War Museum's museum of the life and times of Britain's World War II leader. The War Rooms have been meticulously restored and provide a riveting insight into the dark days of 1940 - 1942 when Britain stood alone against a seemingly unassailable Nazi Germany. The Museum exhibition examines Churchill's roles as a leader, statesman, politician, soldier, father, husband and son.

Burlington Bertie's Verdict:

This is essential viewing for all who admire Churchill as a leader, politician and writer or who are interested in the history of World War II. A visit will prove an intensely emotional and memorable experience for many.

Banqueting House
Horse Guards Parade
Cenotaph
Churchill Museum and Cabinet War Rooms
Houses of Parliament and Big Ben
Whitehall Monuments. King Charles I, World War I and II Memorials, Parliament square Bronzes, (Churchill, Smuts, Cromwell, etc.); Queen Boudicca, Richard Lionheart, Jon Wycliffe, etc.