London's Royal Palaces & Attractions
with Burlington Bertie .



Horse Guards Parade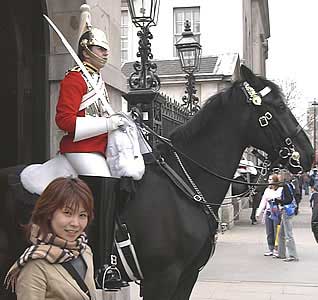 Horse Guards. Photo. Mark UK Student Life


Horse Guards was originally built to house the Sovereign's Life Guards. It is still the exclusive official Royal entrance to St.James's and Buckingham Palaces, which explains the presence of these mounted Guardsmen accoutered in thigh boots, red or blue tunics, plumed helms, shining cuirasses and drawn swords. The colourful ceremonial of mounted Guard Changing by the Queen's Life Guard takes place on the Parade Ground at Horse Guards daily at 11am, (10am Sundays). It is extended to include trumpeters when The Queen is in residence at Buckingham Palace.

The 18th century Horse Guards building facing both onto Whitehall and onto the Parade is a much admired part of Royal London's architectural heritage. Designed by William Kent, c. 1748, and completed in 1759 by his disciple John Vardy, it is an impressive Palladian backdrop to this and other colourful Royal ceremonies and events which take place annually here, such as Trooping the Colour ceremony marking the Sovereign's official birthday in June, Beating the Retreat and the Remembrance Sunday Royal March Past of veterans in November.

Kent's elegant Treasury building fronting onto the Parade's south side is also noteworthy, despite the lack of intended flanking wings and pavilions which were never built. The hideous windowless former Admiralty citadel facing it on the north side of the Parade, (a World War II bunker fortress occupied by the Ministry of Defense), is now mercifully covered in ivy and begins to take on a certain inelegant dignity with age.

Burlington Bertie's Verdict:

The daily Guard Changing Ceremonial of the Household Cavalry, (the Queen's Life Guard which provides the Sovereign's mounted escort on all State occasions), is a historic piece of London's Royal pageantry dating back to the Restoration of the Monarchy in 1660. As with the Changing of the Queen's Guard at Buckingham Palace, this is well worth watching and provides excellent photo opportunities. Time budget for ceremony: 30 minutes.

Note also the 1925 cenotaph shaped war memorial facing the Parade from St. James's Park by Gilbert Ledward, (1888-1960), to the Guardsmen of His Majesty's five foot guards regiments who died in World War I. The sculptures representing actual Guardsmen are cast from captured cannon. The memorial is venue for an annual march and wreath laying parade, (14 May, 2007), by the regiment of the Coldstream Guards.

Banqueting House
Horse Guards Parade
Cenotaph
Churchill Museum and Cabinet War Rooms
Houses of Parliament and Big Ben


© 2012 offtolondon.com All rights reserved.