Hogarth's House

Hogarth Lane, Great West Road, W4



Hogarth's Grave
St. Nicholas' Churchyard, Chiswick Mall, W4

William Hogarth died aged 67 in 1764. His life and achievements were summed up in the following eulogy, written by his close friend, the actor David Garrick. It is inscribed on the front of the artist's monumental tomb.

"Farewell great Painter of Mankind
Who reach'd the noblest point of Art,
Whose pictur'd Morals charm the Mind
And through the Eye correct the Heart.
If Genius fire thee, Reader, stay,
If Nature touch thee, drop a Tear:
If neither move thee, turn away,
For Hogarth's honour'd dust lies here."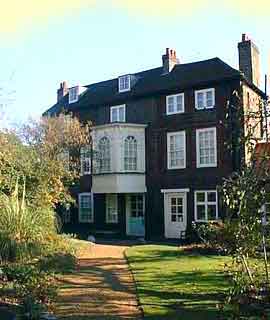 Probably the cruellest satirist of his day, William Hogarth (1697-1764) used his formidable talents to pour contempt on 18th century society.

As one of the country's leading painters, Hogarth had status as well as skill. He made the most of both to campaign against corruption of every kind.

With his unique combination of horror and humour, Hogarth was a much-loved critic of public morality. No vice or affectation escaped his steely gaze, and these he mercilessly lampooned in a series of famous engravings now to be found at his former country home.

Hogarth's House, a beautiful relic of his era, is hidden away behind a high red-brick wall beside one of the busiest roads in West London. But the noise of the traffic melts away as you step through the large wooden gate which leads into a garden seemingly untouched by time.

The garden has a history of its own, for the mulberry tree that is its predominant feature is at least three hundred years old. It must be one of few to survive from a time when the trees were brought to England in a vain attempt to get silk worms to breed.

The house, with its lovely casement window, also remains much as Hogarth would have known it. Damaged by bombing during the war, it was carefully restored by the local council.

The interior of the house has been completely renovated and contains a well laid out and informative exhibition which documents the artist's life and work.

* Hogarth's grave can be found within a few minutes' walk of the house, in the cemetery of St. Nicholas's Church, Chiswick Mall.




Hogarth's House, Hogarth Lane, Great West Road W4.

Open Tuesday to Friday 1pm - 5pm from April to October and 1pm - 4pm November to March. On Saturday and Sunday, it is open from 1pm - 6pm April to October and 1pm - 5pm November to March.

The house is closed Mondays, Good Friday, Christmas Day and Boxing Day. Also the whole month of January.

Entrance to Hogarth's House is free although donations towards its upkeep are welcome. Parking is available nearby at Chiswick House Grounds car park.



Turnham Green (District Line) but it's a longish walk.

Copyright © Jan Collie 2002
Published by permission of the author.
All rights reserved. No reproduction, copy or transmission of this publication may be made without written permission.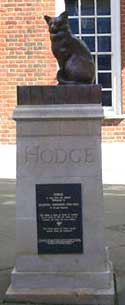 A statue of Dr. Johnson's cat, Hodge, has been placed opposite his old home in Gough Square