The Bank of England Museum

Bartholomew Lane, EC2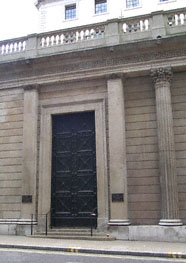 Every type of coinage, from decimal through to Roman gold bars, can be seen at the Bank of England Museum where a large and interesting exhibition traces the history of the world's best known bank.

Housed within the famous Threadneedle Street building, the museum offers a mass of detail on every aspect of the bank's dealings as well as informative displays which chronicle the changing face of British pounds, shillings and pence.

Visitors step from the entrance hall in Bartholomew Lane into an astonishing reconstruction of the 18th century banking hall designed by Sir John Soane where life-like models of clerks of the period busy themselves behind the mahogany counters.

From there, they can wander around various rooms staring into showcases containing bank notes, engraving tools, printing equipment, weights and measures - in fact everything that has anything to do with money and money production.

Ancient ledgers and other bank documents containing the signatures of famous figures such as William Pitt the Elder, George Washington and Admiral Lord Nelson are also on view here, which will provide extra interest for history lovers.




The Bank of England Museum, is open from Monday to Friday, 10a.m. - 5p.m.

It is closed weekends and public and bank holidays.

Admission is free.



Bank (Circle Line)

Copyright © Jan Collie 2002
Published by permission of the author.
All rights reserved. No reproduction, copy or transmission of this publication may be made without written permission.