LONDON'S LANDMARKS

BRITISH AIRWAYS LONDON EYE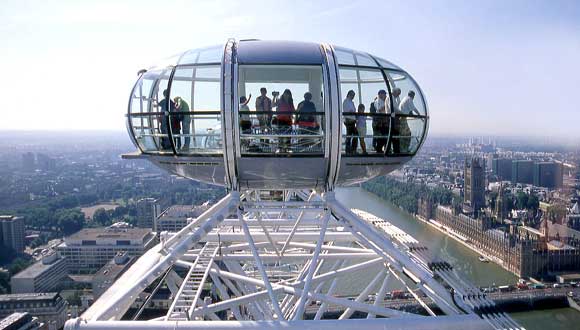 Photos of the London Eye, courtesy of Britannia.com

Designed by architects David Marks and Julia Barfield as their entry into a millennium landmark competition prior to 2000, the London Eye has become the top London attraction. Oddly enough, the design competition that gave birth to the idea never named a winner, but Marks and Barfield decided they wanted to build their giant observation wheel anyway. With the help of publicity in the London press, they landed British Airways as a partner on the project.

Building the 135 meter high wheel was a monstrous project that broke new ground in design, engineering and logistics. More than 1700 people, in five countries, worked to build the wheel, the passenger capsules and the other parts of the structure. Over 1700 tons of steel were requied. Most of the construction techniques had to be invented. Once the parts were built there was the problem of delivery up the Thames. Transport of the massive components had to be timed with the tides to clear the underside of the Southwark Bridge and then floated on platforms until raised into position by the world's tallest floating crane.

The story of the London Eye is one of bold vision and impossible timing. Construction was completed in 16 months, making its completion an even more amazing accomplishment. Experience the London Eye. What an incredible view.! On a clear day you can see 25 miles... all the way to Windsor Castle!



30 minutes - Daily 9:30am to 10:00pm
A 135 meter high attraction built over the Thames close to County Hall. The world's highest observation wheel provides a 30 minute slow moving flight over the capital in a fully air-conditioned capsule. You'll get a 360 degree view of the city and surrounding area's. On a clear day, you will enjoy 40km panoramic views as far as Heathrow Airport and Windsor Castle. After dark, passengers delight in seeing London's landmarks floodlit against the night sky. Click for details

British Airways London Eye is situated on the South Bank of the River Thames, opposite Big Ben approximately five minutes walking distance from Waterloo tube (follow signs for the South Bank) and Westminster tube station (exit one, follow signs for Westminster pier). Their ticket office is located inside County Hall, which is the building directly next to the London Eye, but why wait in line. Reserve your tickets in advance, Click for details .