Albert Memorial

London's Parks, Squares & Monuments
with Burlington Bertie .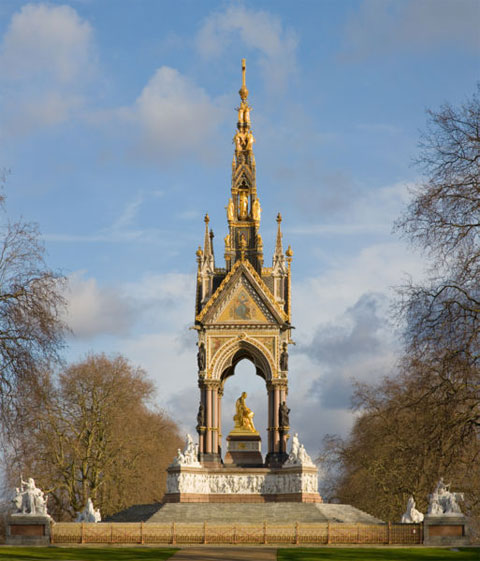 Albert Memorial. Photo courtesy of Wikipedia.
Albert Memorial

Queen's Gate, SW7 5EX
Access: Close up guided inspection beyond the gated corners, every first Sunday of the month at 2pm and 3pm. Tour lasts 45 minutes. Pre-booking not required for individuals. Steps make this inaccessible to wheelchair users without help.
Tickets: £4.50. (Concessions). Pay at site or by credit card on 020 7495 0916.
Groups of up to 15 are accommodated on the standard public tour (see above) by prior arrangement. Groups can also be given their own exclusive tour at almost any time during park opening hours. Exclusive tours cost £135 for a group of any size up to 25 people.


Burlington Bertie's Accommodation Choice: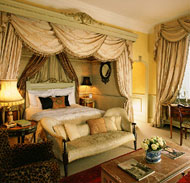 190 Queen's Gate, SW7 5EX
This hotel, set near the Albert Hall in a tree-lined avenue between Kensington Palace and Harrods, is a gem. It has managed to supply modern comfort while preserving its delightfully eccentric ambience of a bygone Edwardian Age, with mahogany paneling, oriental rugs and the odd touch of stained glass. Treat your partner in style and book the sumptuous Dame Nellie bedroom; named after Nellie Melba, the great Australian soprano who took London by storm in the 1890s, after wowing audiences across the United States from New York to Virginia City. The room, as the management proudly aver, is "devishly romantic", while the hotel's meticulous service and old fashioned comfort are no less than Nellie herself would have expected in those days of pampered elegance. Dine superbly in the Bistrot Restaurant after cocktails in the hotel's snugly paneled Bar 190. Chauffered collection from airport can be arranged.



Hotels Nearby in Earls Court & Hammersmith
More Hotels


he Albert Memorial, officially entitled the 'Prince Consort National Memorial', celebrates the life of Queen Victoria's beloved husband Prince Albert. His untimely death from typhoid in 1861 at the early age of 42, plunged the Queen and court into deep mourning for the rest of her long life and reign. Soon after his death it was determined that a national memorial be created to recognize the British public's deep sense of loss for the man who had inspired and directed the Great Exhibition of 1851 and influenced so much of British life and culture at a time when Britain was reaching the zenith of its global power.

Architect Gilbert Scott, Surveyer of Westminster Abbey and a prolific and noted builder of churches in the then newly fashionable Neo-Gothic style was commissioned to design the memorial. It was his first important secular building in this style and remains his most famous, though the glorious frontage of St. Pancras Station, (now the Eurostar terminus), with its breathtaking asymmetrical skyline is undoubtedly his architectural masterpiece.

Scott's vision for the memory of Prince Albert, (full title; Prince Consort of the United Kingdom, Prince of Saxe Cobourg and Gotha), was to create, on a monumental scale, the sort of mediaeval reliquary shrine that used to be made of precious metals and jewels.

The architect chose to personify Victorian achievement and self esteem in his 175 ft high design. A colossal bronze-gilt figure of Prince Albert sits with a copy of the Great Exhibition catalogue in his hands under an elevated Gothic canopy, decorated with gilded bronze statues of the angels and virtues. At the Prince's feet, a surrounding marble bas-relief of 169 figures of poets, painters, sculptors, and architects celebrate his enthusiasm for, and patronage of, the arts. Projecting pedestals of clustered granite groups represent Victorian achievement in manufacture, commerce, agriculture and engineering. The elevated memorial is guarded at each corner by marble groups in allegorical representation of the four corners of the Victorian globe where the British flag then flew; Europe, Asia, Africa and America. Africa is represented by a camel, the Americas with a buffalo, Asia by an elephant and a bull for Europe.

Standing at the south eastern end of Kensington Palace Gardens, the Albert Memorial faces the Royal Albert Hall and his inspired area of cultural, scientific and academic institutions; a showcase of Victorian architectural talent, bounded by Queen's Gate, Cromwell Road and Exhibition Road, that we know as Albertopolis. Among these impressive buildings are those of the Royal College of Art, the Royal Geographical Society, the Imperial College of Science and Technology, the Imperial Institute, the Victoria and Albert Museum, the Natural History Museum, and the Science Museum and the Royal School of Mines. The magnificent centrepiece of this development is the grand Royal Albert Hall built with the proceeds from the Great Exhibition and "erected for the advancement of the Arts and Sciences and works of industry of all nations in fulfilment of the intention of Albert Prince Consort". He sadly never lived to see this fulfilment of his inspired dream but his gilded bronze figure gazes down forever on all that was built in furtherance of his vision.

His monumental memorial is a perfect example of the finest Victorian craftsmanship in marble, gilt, mosaic and coloured stones and ranks among the grandest of high Victorian gothic extravaganzas anywhere. It won Scott a knighthood on its completion in 1872.

Albertopolis Links
Royal Albert Hall
Royal College of Art
Royal Geographical Society
Imperial College of Science and Technology
Natural History Museum
Science Museum
Royal School of Mines

If you have a question, contact us and we will do our best to provide answers.

© offtolondon.com All rights reserved.