Royal Albert Hall

with Burlington Bertie .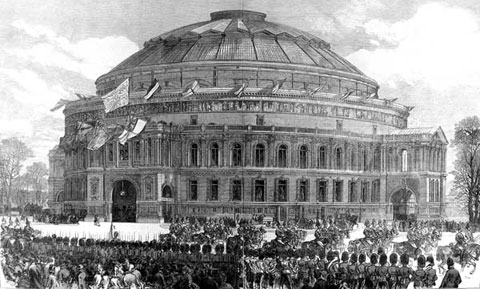 Royal Albert Hall. The opening ceremony in the presence of Queen Victoria and Albert, Prince of Wales, 29 March 1871.


London Transport: Nearest tube. High Street Kensington; Knightsbridge.
Access: The Hall is open to daytime visitors, (free exhibitions, ticketed guided tours, shop and restaurant); Sunday brunch with live music and other events. Wheelchair access to all floors. See website for details. The Cafe Consort is open for meals 8.30am - 4pm Mon-Fri, 10am-4pm Sat/Sun. 13 bars and 3 restaurants serve food and drink before and during main Hall events, with elegant fine dining and silver service in the Elgar Room Restaurant, more informal meals in the Victoria Restaurant and Cafe Consort. See Burlington Bertie's monthly London Diary for featured events
Tickets: See website for ticketed event details, online booking, etc.

Following the success of his Great Exhibition of 1851, (the world's first international "Expo"), Queen Victoria's Consort Prince Albert conceived a grandiose range of national institutions - cultural, scientific and academic - that for the first time would be located on a single site. Nicknamed Albertopolis by Londoners, it stretches along Exhibition Road from the Great Exhibition site in Hyde Park to South Kensington with buildings designed to be a showcase for British architectural talent. Among these are Royal College of Art, the Imperial College of Science and Technology, the Victoria and Albert Museum, the Natural History Museum, and the Science Museum. The magnificent centrepiece of this development, which Albert never lived to see, is the grand Royal Albert Hall built with the proceeds from the Great Exhibition and "erected for the advancement of the Arts and Sciences and works of industry of all nations in fulfilment of the intention of Albert Prince Consort".

The Hall is an elegantly individualistic Renaissance rotunda with Classical details in brick and terracotta designed by Captain Fowke, (1823-65), a talented military engineer and inventor as well as self-taught architect. Like his patron Prince Albert, he did not live to see the completion of his work, and it fell to another military engineer, Major General Henry Scott to complete it. Fowke's design features a spectacular iron and glass dome resembling a giant spider web and using the newly popular concept of building with iron.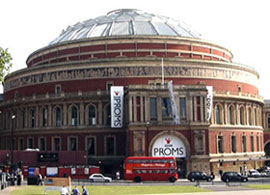 The Royal Albert Hall, which can seat 8,000, was formally opened in 1871 by Queen Victoria, who named it after her beloved Consort and attended the fragrant inaugural gala concert, (perfumed by gallons of eau-de-cologne pumped through the hall's then state-of-the-art ventilation system).
The Hall faces Sir Gilbert Scott's Albert Memorial in Kensington Gardens and is flanked, appropriately, by the Royal Colleges of Music and Art. With its resident orchestra, the Royal Philharmonic, (annual concert season September-June), it has remained one of London's most prestigious venues for music and pageantry throughout its long history despite accoustical problems that took over a century to solve. It has been the venue for the annual summer season of Henry Wood Promenade Concerts since their inception in 1895; a popular venue for every notable singer since Dame Nellie Melba, (Adelina Patti and Caruso made the first gramophone recorded concert there in 1906), and a central London venue for major indoor sporting events since the 1909 London Indoor Marathon.
Related Outside Links
Royal Engineers Museum. Captain Francis Fowke. Biography.
BBC Proms. Henry Wood Promenade Concert Programme and comment.
If you have a question, contact us and we will do our best to provide answers.

© offtolondon.com All rights reserved.