London's Royal Palaces & Attractions
with Burlington Bertie .



Wellington Arch

Venue: Hyde Park, W1J 7JZ. Tel: 020 7222 1234.
Access: 2008. 10a.m-5p.m, 1 April-31 Oct, (closed Mons/Tues); 10a.m-4p.m, 1 Nov-20 March, (closed Mons/Tues). Bank Holidays, 10a.m5p.m.2008. Exclusive group tours available Mondays with talk slide presentation. Refreshments upon request for nominal fee.
Tickets: Adults 3.20.(concessions). English Heritage members FREE.
Functions Hire: Check Heritage Hospitality for hire details, catering and lighting contractors.

Burlington Bertie's Accommodation Choice: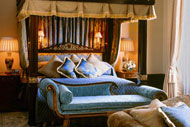 The 5-star luxurious opulence of the Lanesborough's decor and antique furnishings is complemented by the hotel's quality service, (which includes an attentive butler), and amenities. This is a far cry from the minimalist modernism of some smart boutique hotels.

Wallow in sybaritic delight in the warm colours and textures of the expensive 1820's furnishings in the suites and guestrooms. Enjoy the cool classic carrera marble of the en-suite bathrooms with their bubbling spa baths. Retreat to the Spa Studio for a pampered and body rejuvenating hour or two. Savour a vintage cognac in the Library Bar before retiring to your king-sized bed, to be awakened by the butler with your early morning tea or coffee. Rates include a quality English Breakfast and return airport transfers.



Find Another Hotel


The recently restored Wellington Arch is set in the heart of London's West End at Hyde Park Corner, once the western entrance to London. In 1828 George IV, who had by now convinced himself that the martial glory of conquering Napoleon was his due, commissioned Decimus Burton, (1800-81), to design a triumphal arch gateway to the grounds of Buckingham Palace. Following the 1852 death of the Duke of Wellington, Napoleon's victor at Waterloo, a gigantic bronze of the Iron Duke was placed on top, (much to the architect's fury). The arch was realigned to its present position at the top of Constitution Hill in 1883 and the offending bronze removed to the friendlier purlieus of Aldershot, the army garrison town.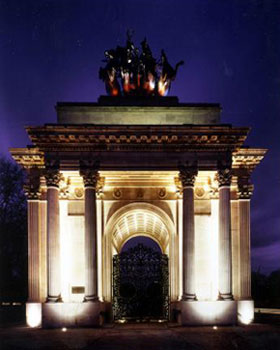 A thrilling bronze sculpture by Adrian Jones, (1845-1938), of an angel driven quadriga of classical racing chariot and four horses , now adorns the arch; erected there as a memorial to Edward VII in 1912. Colourfully floodlit after dark, it is one of the spectacular sights of London by Night.
Burlington Bertie's Verdict: Entry to the arch, once London's smallest police station and now a museum, is well worth the effort if only to admire the glorious views over Buckingham Palace, the panorama of Hyde Park Corner, the Royal Parks and the Houses of Parliament from the balcony just below the bronze angel and chariot. The bronze bears comparison with Berlin's Brandenburg Gate quadriga bronze sculpture, (Johann Gottfried Schadow, 1764-1850). Compare the arch itself with Emperor Napoleon's 1806 Arc de Triomphe in Paris, (Jean-François-Thérèse Chalgrin, 1739-1811).
Buy a joint entry concession ticket for Apsley House, the Duke of Wellington's London home, opposite, (6.90 plus concessions). While at Hyde Park Corner, take time to admire Decimus Burton's inspired Ionic Screen (1825)with its three gateways next to the classical columned 1828 - 29 facade of Apsley House, (Benjamin Wyatt 1755 - c. 1850). Note also the two First World War Memorials erected in 1925 to commemorate the dead of the Royal Artillery Regiment, (The 'Gunners'), and the Machine Gun Corps. If you are not actually staying there, admire the Lanesborough Hotel's giant 1827-29 pillared portico by architect William Wilkins, (1778-1839), before stepping within its portals for a relaxed English Afternoon Tea served in the charming Conservatory.
Wellington Arch is available for hire as a unique wedding/civil partnership reception venue, or for corporate functions, Evenings or Tuesdays.
© 2016 offtolondon.com All rights reserved. Contact Us