Tower of London

with Burlington Bertie .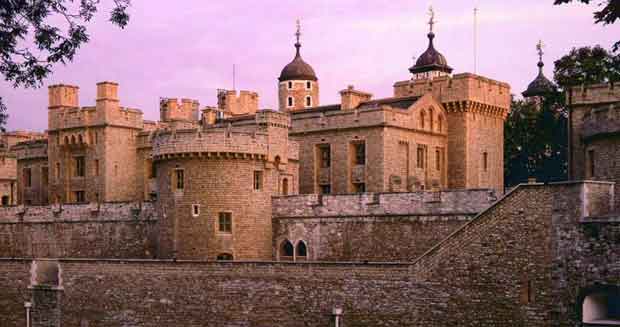 Tower of London

Venue: London, EC3N 4AB. Tel: 0870 756 6060.
Access: Winter opening times: 1 Nov - 28 Feb; Tues-Sat. 9am-4.30pm. Sun/Mon 10am-5p.m. last admission: 4pm. Summer opening times: 1 March - 31 Oct; Tues-Sat: 9am-5.30pm. Sun/Mon 10am-5.30m. Last Admission: 5pm. Closed 24/25 Dec. 1 Jan.
Tickets: Adult: £25 (Concessions). Baby Changing facilities & toilets behind Jewel House. Baby Food and Children's lunch boxes available in New Armouries Restaurant. Book online or Telephone Box Office: 0870 756 7070, or pay at portcullis. Annual membership of Historic Royal Palaces costs 35 and entitles you to unlimited free entry plus benefits. Buy a Day Pass
London Transport: Nearest Tube: Tower Hill, (Circle & District Line). DLR: Tower Gateway. Bus routes: RV1 from Covent Garden, 15, 42,78,100. All sightseeing buses. Riverboat: Regular service from Westminster, Charing Cross, Greenwich Piers.


his is London's top tourist attraction, and the custodians of the Tower are as expert at putting on a family show today as they were at chopping off heads in earlier days of gore. The most famous attractions are the Crown Jewels, the 'Beefeater' yeomen in their ceremonial Tudor dress, and the celebrated ravens.

Do arrive by riverboat! London is a riverside city and William the Conqueror's 1000 year old Norman Tower, which was extended and armed to guard the city from marauding fleets, is at its most imposing from the river it dominates. The Thames was London's main artery until the Victorian expansion of city and rail in the 19th century. Your boatman will give you an illuminating and often witty running commentary on the spectacular vista and historic sites of Royal London as you pass downriver, just as traitors did on their one-way trip to the Tower, entering by 'Traitor's Gate' to be incarcerated, tortured, beheaded, hanged, or more recently, (1941), shot. Their ghosts still haunt these ancient stones.

The Tower of London is at its most photogenic from the river it guards, so have your camera handy as you approach the quay to disembark. It is a moment to imagine what it must have felt like to be Queen Anne Boleyn, Catherine Howard, Lady Jane Grey, or one of the many nobles who came this way for their appointment with the axe-man.

When you enter the Castle, look for a Yeoman Warder in Beefeater uniform and join his guided tour group. It is free, informative and entertaining. You will hear in graphic detail the dark history and lore of the infamous Tower. His tour ends in the Chapel Royal St Peter ad Vincula, where more than 1,000 unidentifiable headless corpses were unceremoniously buried, (the heads ended up decorating the ramparts on a pike). Give your guide a tip for his talk. After the tour you are free to visit the Waterloo Barracks to see Crown Jewels and Coronation Regalia, (guardsman in red tunic and bearskin on ceremonial guard duty outside), and then visit the Norman White Tower and Bloody Tower where the two boy Princes were murdered and Sir Walter Raleigh was incarcerated.

Before returning upriver to Westminster or carrying on downriver to Greenwich, take a brief walk from the Tower uphill and cross the road to see the stretch of Roman Wall which once encompassed the ancient Roman city of Londinium.

Burlington Bertie's Verdict:

A visit to the Tower of London is a "must" for first time visitors to London and it certainly provides a memorable and entertaining day out for all the family. In high summer, (at weekends in particular) it is crowded out with parties of tourists so it is best seen in the morning on a weekday at this time of the year if possible.

The Tower of London has an excellent series of special events programmed throughout the year which are worth considering; an open air pop music festival in July, medieval knights in armour and other historical reenactments, jousting tournaments in August, Christmas carols in December. Noonday Royal Birthday Gun Salutes are fired from here and the Ceremony of the Keys takes place every night of the year at 9.30pm when the Yeoman Warders lock the outer gate and deliver the keys to the Governor of the Tower.

Visitors can attend Sunday morning service in the Tower's Chapel Royal of St. Peter ad Vincula may do so free of entry charge. This historic 'Royal Peculiar' was rebuilt for Tudor Henry VIII and contains the remains of most who were beheaded at the Tower including the three Tudor Queens Anne Boleyn, Catherine Howard and Lady Jane Grey. See Chapel Royal for access and service details.

© offtolondon.com All rights reserved.

Travellers Tips
Enhance your visit.
Travel by Thames riverboat to and from the Tower. The journey is an essential part of the Tower of London experience. You will enjoy the ride with its magnificent views of London from the river. Last boat leaves 4.30 pm winter and 9.30 pm summer.
If you intend to visit other Royal residences as well as the Tower of London, consider taking out a year's membership of Historic Royal Palaces. Membership gains you unlimited free entrance to Kensington Palace, Tower of London, Hampton Court Palace, Kew Palace, and Whitehall Banqueting House.
Leave your car at the hotel and buy a London Travelcard for 1, 3 or 7 days together with Oyster Card. Your Travelcard is valid 24/7 hours on the central London Transport system. The Travelcard is cheap, (saving you both queuing time and money, not to mention London congestion and car parking charges), while the system is easy and safe. you can buy this online.
Before using London Underground and River Services for the first time, check out the LondonTransport website. It has all the information you require.
Avoid entrance queues and crowds by booking your visit online and arriving early in the morning. This is one of Britain's top sightseeing venues. It will be packed in the afternoons, particularly on weekends and every day during the peak summer months.
On landing at Tower quay, pause for a snack and something to drink before your visit to the Tower. You will be within the walls of the Tower of London for at least 2 hours.
Give yourself a full morning, (or afternoon), to travel to the Tower and see everything there, including the free guided tour, without rushing. Prepare your itinerary before arrival by checking the online Tower Itinerary.
Check the Tower website for special daily events and Burlington Bertie's monthly Diary for summer festival concerts that you may wish to attend.
Comfortable and sturdy walking shoes, a shoulder bag and a collapsible umbrella are essential equipment for London touring. The bag will hold your umbrella, camera and all the pamphlets and guide literature you will doubtless collect during the day.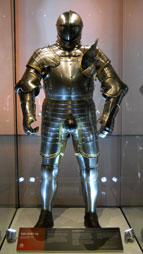 Do not forget your camera. There are excellent photo opportunities on both the river journey down what was once London's historic main thoroughfare and at the Tower.