Somerset House


London's Royal Palaces & Attractions
with Burlington Bertie .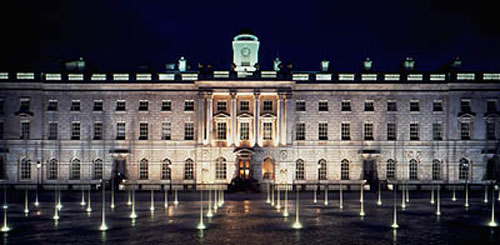 "I feel such pleasure as no General ever felt in War... His business is to destroy... mine is to enrich, to beautify the world..." wrote architect Sir William Chambers, (1723-96), whose English Palladian designs dominated English architecture in the 1770s and 1780s. Much of his London work has been either destroyed or altered beyond recognition, but Somerset House, (1776-86, and additions thereafter), built for King George III on the site of the Duke of Somerset's old Tudor palace between the Strand and Thames Embankment, remains as originally envisaged by Chambers in all its palatial glory. It is surely one of London's grandest buildings.

Strand, WC2R 1LA.
Tel: 020 7845 4671
Tickets: Entry FREE to Courtyard and Somerset House. Pay on entry to the Courtauld Gallery and Hermitage Rooms, Winter skating rink.
Facilities: The Admiralty Deli, the River Terrace and the Admiralty restaurant offer varied levels of informal eating and drinking. Disabled access: call 020 7845 4671.
Getting There: Nearest tube. Temple, Covent Garden.

It was commissioned by the King as a government office building, (London's first purpose built office block), and Chambers hurried to Paris to gain inspiration from the government offices recently built there before putting his designs to paper.

Originally housing the powerful Navy Board as well as the Royal Academy of Arts, the Royal Society and the Society of Antiquaries, (later transferred to Burlington House, Piccadilly, to make way for more mundane government offices), the fine rooms of Somerset House have been reopened to the public. They provide us with the superb collection of art galleries and museums, including the Hermitage Rooms, (London's satellite of the world famous St. Petersburg museum), and the Courtauld Gallery. We approach the central facade from opposite the Baroque St. Mary-le-Strand, (James Gibbs, 1682-1754), through a vestibule of deep arches penetrating an elegant Palladian block that opens out into a grand central courtyard.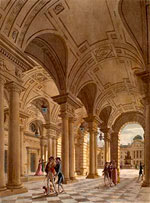 Somerset Vestibule

A popular open air ice rink now draws winter crowds there while fountains shooting water skywards in orchestrated sequence provide free summer entertainment. The courtyard is also venue to occasional summer concerts.

Chambers was unable to complete his designs for Somerset House, begging the King to allow him in 1795 to resign the commission due to "the infirmities incident of old age which late have come fast and severely upon me". We are fortunate that later architects completed the east and west wings in harmony with his original designs.

Chambers' famous long sweeping river frontage of dramatic Palladian arches and columned screens is a visual delight, best enjoyed from the Riverside Walk across the Thames at the National Theatre. It is a far architectural remove from his first royal commission in 1761; the ten-tiered Chinese Pagoda temple in Kew Gardens.

Outside Links
What's On at Somerset House

© 2016 offtolondon.com All rights reserved. Contact Us