Venue: Westminster - SW1P 3JX. Tel: 020 7222 1234.
Access: 1 April - 31 Oct. 2008: 10a.m. - 5p.m. 7 days a week; 1 Nov.2007-31 March, 2009: 10a.m. - 4p.m. 7 days a week. Closed 24-26 Dec. 1 Jan.
Tickets: £2.90, (Concessions). English Heritage Members FREE
Getting There: Nearest Tube. Westminster, (Circle and District Lines).

Burlington Bertie's Accommodation Choice: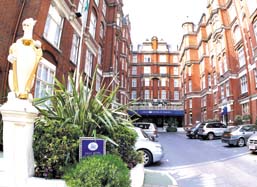 2 Caxton Street, Westminster, SW1H 0QW
Built on the site of a monastery, this late Victorian hotel's turn of the century Edwardian comfort has been given the modern make-over to give 4-star contemporary comfort. Situated in a quiet Victorian street between the tranquil charms of St. James's Park and bustling Victoria Street, the hotel is perfectly placed for nearby attractions; Jewel Tower, Westminster, Houses of Parliament, Buckingham Palace, Whitehall, Westminster Cathedral, etc. Two hotel bars and a restaurant fill the needs of the inner man.


Find Another Hotel

London's Royal Palaces & Attractions
with Burlington Bertie .



The Jewel Tower

The Jewel Tower is one of the two mediaeval buildings of the original Thames-side Westminster Palace complex that survived the 1834 fire which demolished the old Houses of Parliament. It was built c.1365 as "the King's Privy Wardrobe" to house the jewels and treasures of Edward III under the direction of master mason Henry Yevele, (c.1320-1400), who, as "Disposer of the King's Works", was also in charge at this time of the rebuilding of the original Norman Westminster Hall, (1395-1402), and Westminster Abbey, (1375-1410), together with the Abbot's Residence and Hall, (1360s-70s).

The simple tower features a 14th-century ribbed vault and is used to display an interesting exhibition on the history of the Houses of Parliament. Illustrated panels, tell the story of this small but important building. The remains of a moat and mediaeval quay are still visible outside.

Burlington Bertie's Verdict:

This is well worth adding to your itinerary if you have a spare half hour after visiting Westminster Abbey or the Houses of Parliament. It is of interest to the historian as an important building within the old mediaeval palace complex, occupying a fortified and moated corner of the then walled and gated Royal community. Entry is free to members of English Heritage which also manages such London gems as Apsley House and Wellington Arch, Robert Adams's Kenwood House, Darwin's Down House, and Eltham Palace.
Top Tips for Enjoying your Visit

Time budget an additional 45 minutes for the Jewel Tower when visiting Westminster Abbey or Houses of Parliament.

While in the area, explore Parliament Square, noting the many monuments ; bronzes commemorating Celtic Queen Boudicca, (overlooking Westminster Bridge); Richard Lionheart; Oliver Cromwell; General Smuts; Winston Churchill, and many more.

Comfortable and sturdy walking shoes, a shoulder bag and a collapsible umbrella are essential accessories. The bag will hold your umbrella, camera, a snack and all literature and souvenirs you collect during the day.

Consider buying a 7 or 14 day Overseas Visitors Pass, (from £18), giving free entry to all English Heritage sites including London attractions Jewel Tower, Apsley House and Wellington Arch, Kenwood House, Chiswick House, Marble Hill House, Down House, Eltham Palace, etc., together with some 113 other UK properties including Stonehenge.