Hampton Court

with Burlington Bertie .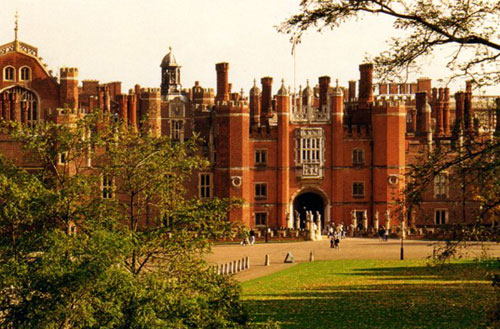 PhotoCredit: Historic Royal Palaces.

Venue: East Molesey, Surrey, KT8 9AU. Tel: 0870 752 7777
Access: 30 March - 26 Oct: Daily 10.am-6pm, (last admission 5pm). 27 Oct - 31 Dec: 10am - 4.30pm, (last admission 3.30pm). Closed 24 - 26 Dec. The Wilderness, Tiltyard and Rose Garden are open throughout the year, 7am to dusk.
Chapel Royal: Check times of daily and Sunday Choral Services .
Tickets: Palace and Gardens £13. inc audio and costumed guides, (Concessions); Gardens only £4.50; Maze only £3.50. (Concessions). Online or by phone, or at gate. Carpark: 50p per hour.
Buy a Day Pass
Accessibility: Wheelchair accessible, with elevator to upper floor State Apartments. Palace ticket holders can make use of free manual wheelchairs within the palace and battery-powered chairs in the gardens. Collect at West Gate main entrance. There are disabled toilet facilities both in and outside the palace.
London Transport: Nearest Tube. Richmond. Bus connection from station. Rail from London/Waterloo to Hampton Court, (32 mins). River Boat from Westminster Pier, (3 1/2 hrs).

Top Tips to enhance your visit

1. Join Historic Royal Palaces . Membership gains you unlimited free entrance to Hampton Court Palace, Kensington Palace, Tower of London, Kew Palace, (NEW), and Whitehall Palace Banqueting Hall for one year.

2. Buy a London Pass for 1, 2, 3 or 6 days. Enjoy free entry to 60 of its world-class sites like Westminster Abbey and the Tower of London and your pass includes travel on the London Underground, London Overground, buses and Dockland Light Railway for the validity of your pass.

3. Give yourself a full day to properly enjoy Hampton Court. You need at least two, and preferably three, hours to see the Palace before enjoying the gardens.

4. Take 10am riverboat from Westminster Pier. You will enjoy the most picturesque 3 1/2 hour ride past historic and picturesque Chiswick village, the Royal Botanical Gardens at Kew, Royal Richmond, Ham house and lots more.

5. Take a picnic and lunch on the river. When you disembark you will have 4 hours to explore Hampton Court Palace and the gardens, or 3 hours if returning by the 5pm riverboat.

6. If you don't have time for 3 1/2 hours on a riverboat, take the 32 minute rail journey London/Waterloo - Hampton Court Station.

7. Use the free audio tour available in a number of languages or join one of the free costumed guide tours of the Royal apartments to fully enjoy the Palace experience. They start every 15 minutes.

8. Do not ignore the magnificent Palace grounds and Tudor Gardens. See these in the sedate comfort of a horse drawn carriage.

9. Read about the Palace and its history before your visit and check out the online illustrated map. You will enjoy your visit more and save yourself valuable time getting orientated.

10. Comfortable and sturdy walking shoes, a shoulder bag and a collapsible umbrella are essential accessories. The bag will hold your umbrella, camera, a snack and all literature and souvenirs you collect during the day.

Hampton Court is London's sole surviving Tudor palace, bar parts of St James's Palace and its 1532 gatehouse. Designed originally by Cardinal Wolsey to be his sumptuous palace befitting his position as Lord Chancellor and Cardinal, it became Henry VIII's favourite palace after he relieved Wolsey of both his job and front door key. The King totally altered Wolsey's original Italianate design, obliterating parts to accommodate the magnificent hammer-beam roofed Great Hall, the vast kitchens designed to cater for a thousand or more banqueting there, and the Chapel Royal.

Jointly reigning Stuart sovereigns William III and Mary II continued the demolition of further parts of the original Tudor edifice for their baroque "modernization" with Sir Christopher Wren's imposing east wing in 1689. Mary's death from smallpox at Kensington Palace in 1694 halted this work, probably saving the remaining Tudor buildings from this "modernization". Succeeding Hanoverian monarchs added valuable fixtures and fittings, leaving us a fascinating Tudor/Stuart/Georgian mix of the intimate and grandiose that spans 11 reigns until the final visit of George II's Royal Court in 1737. Later monarchs used the Palace as a 'grace and favour' residence with 70 apartments for royal relations and retainers until the 1950s. It is now managed by English Heritage as a public treasure.

The Palace is repository for a fine selection of art and artifacts from the Royal Collection, including some early Tudor paintings of note, some important and rare Flemish tapestries commissioned by Wolsey and Henry VIII; and the ghosts of two of his luckless wives.

The historic Chapel Royal with its superb Tudor decorated hammer beam roof continues to this day as a consecrated place of worship, managed by the Royal Household as a 'Royal Peculiar'. Henry VIII had his son Edward, (laterEdward VI), christened here in 1537 and he later married his fifth wife Catherine Parr here in 1543. Choral Evensong is sung daily except Thursdays. The Sunday services have a regular local congregation and visitors are welcome at all services. I have included a good description, (with picture), of a Sunday matins choral service in my outside links at the foot of this article.

Much archaeological work has been undertaken in the past decade to define the original italianate building of Cardinal Wolsey. The Orangery and Exotics Garden of William III and Mary II, originally laid out in 1702, has also been rediscovered and meticulously replanted. The monarchs were passionate plant collectors, sourcing exotics from as far afield as Ceylon, (Sri-Lanka), South Africa, the Americas and Caribbean for their remarkable collection of over 2,000 plants; no mean feat in those days. Originally laid out in 1702, this historic Privy Garden is unique in Britain and well worth visiting.

Historic Royal Palaces host many annual and one-off events at Hampton Court; Hands-on Tudor cookery and recipe displays, (February through December); Mothering Sunday weekend Florimania, (29 Feb - 3 March, 2008); the annual open air Music Festival, (3 - 21 June, 2008); the RHS Flower Show, (8 - 13 July, 2008); the September grape harvest; a variety of seasonal costumed events and ice skating. The original Tudor Real Tennis court is still used today. Call 020 8781 9500 or check online to discover what's on and choose your visiting date accordingly. Like many historic houses, this Palace hosts a number of resident ghosts, including Henry VIII's third wife Jane Seymour, (died) and Catherine Howard, (beheaded).

Burlington Bertie's Verdict:

Hampton Court Palace was one of Henry VIII's great passions, and it is not difficult for the modern visitor to share his excitement. He lived here by the Thames, travelling to and from London in his royal barge. Hampton Court is a true gem; a very English Versailles, from the pleasing geometry of the ornate gardens to the glories of the Great Hall and State Apartments spanning three centuries. If you have time to visit only one Historic Royal Palace, this should be it, but don't stint on time if wish to fully enjoy the palace, with its Tudor, Stuart and Georgian interiors and remarkable gardens. This is a full day out.

Enter the Palace by the West Gate to fully appreciate the architectural diversity of the original Tudor palace. Join the various costumed guided free tours of the State Apartments, Chapel Royal, Orangery and kitchen complex for a lively and entertaining account of contemporary Palace life through 500 years. The tour of the vast Tudor kitchens, where scullions ran naked in the heat, and the occasional re-enactment of a celebration banquet of 30 courses for Henry VIII, is one of many highlights. Enjoy a somewhat lighter repast yourself served by (modestly dressed) wenches in Queen Elizabeth I's Privy Kitchen before exploring the 60 acres of Palace gardens.The famous maze, the Great Vine, William III's waterside Banqueting House and the newly restored Privy Garden await you. Take tea in tea rooms at the Garden Tiltyard where Henry VIII watched jousting and wrestling in his young and virile years.

Selected Offtolondon Links
Hampton Court Flower Show and Picnics.
Hampton Court Palace: The fabulous Tudor Feasts of Henry VIII

Outside Links
Hampton Court Palace and its Art Treasures
Choral Matins at the Chapel Royal
Hampton Court Palace Music Festival
RHS Hampton Court Palace Flower Show

If you have a question, contact us and we will do our best to provide answers.

© 2007 offtolondon.com All rights reserved.