OUT & ABOUT HOME
| London's Royal Palaces & Attractions.


London's Royal Palaces & Attractions
with Burlington Bertie



The Royal Mews, Buckingham Palace

Venue: Buckingham Palace Road, London SW1A 1AA
Access: 10am-5pm, -26 March - 31 October; 10am-4pm, 1 November November- 22 December, 2011, subject to State Visits
Tickets: Adult £8. (Concessions). Royal Mews and Queen's Gallery Joint ticket: £15.50. At door or book Online . Bookings now taken for 2012.
London Transport: Nearest Tube. Hyde Park Corner (Piccadilly Line), Victoria Rail Terminal, (Victoria, Circle and District Lines).

The Royal Mews maintains and displays the Queen's State vehicles. These include the magnificent Gold State Coach used for Coronations, together with those open and closed carriages used by The Queen and members of the Royal Family for Royal and State occasions, State Visits, weddings, the State Opening of Parliament. A State motor vehicle is also usually on display.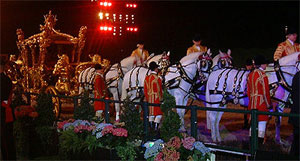 Coronation Coach and Windsor Greys. Photo: Thamesweb


The Gold State Coach built in 1762 for George III to upstage the grandeur of the Lord Mayor's golden coach built four years earlier, (itself built by Lord Mayor and Aldermen to upstage the King), is used now only for Coronations and Coronation Jubilee celebrations. Weighing 4 tons and covered in gold leaf, it is pulled by eight Windsor Greys which are stabled in the Mews. Until resprung in modern times it provided such an uncomfortable ride that the doughty Queen Victoria refused to ride in it. Compare this with the Lord Mayor's coach, which you can see at the Museum of London or in use at the annual Lord Mayor's Show in November.

The Mews also houses the Queen's horses in what are undoubtedly some of the finest working stables in existence, second only perhaps to the Louis XIV Royal stables at Versailles. When not on duty or out to pasture, (horses need and enjoy a vacation too), you can see Cleveland Bays, the only British breed of carriage horse, and the Windsor Greys, which traditionally draw the carriage in which The Queen is travelling.

Click to:
Buckingham Palace
The Queen's Gallery