London's Royal Palaces
OfftoLondon's up-to-date guide for visitors to Buckingham Palace, Queen's Gallery and Royal Mews together with insider tips, how to get there, and London accommodation recommendations from OfftoLondon's own Burlington Bertie.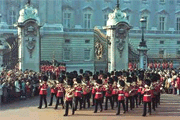 Discovering London - A Full Day London City Tour
8.5 - 9 hours - Enjoy sightseeing in London via motor coach in the morning including a stop near Buckingham Palace to see the colorful ceremony of the Changing of the Guard. After visiting a traditional London pub for lunch, the afternoon starts with a cruise on the River Thames, during which a Thames Waterman will point out the places of interest along the way. Disembark to visit the Tower of London.
Starting from USD $109.34 per person
Click to buy tickets

Venue: London SW1A 1AA (entrance in Buckingham Gate).
Access: State Rooms and Palace gardens are open to visitors daily from end July - Late September/early October, depending on Royal commitments. 2006 dates: 26 July - 24 September. 9.45am-6pm, (last admission 3.45pm).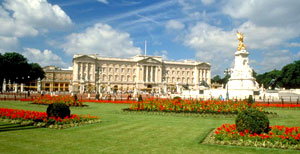 What to see: State Rooms used by Sovereign and Members of the Royal Family to receive and entertain their guests on State, ceremonial and official occasions are opened to the public each summer. Passing through these lavishly decorated rooms you will see some of the greatest treasures from the Royal Collection - paintings by Rembrandt, Rubens, Poussin and Canaletto; sculpture by Canova; exquisite examples of Sèvres porcelain; and some of the finest English and French furniture acquired by monarchs over four centuries. Each year a special historical exhibition is mounted in the State Ballroom. 2006 is marked, for instance, by a celebration of The Queen's 80th birthday with an exhibition of 80 spectacular gowns, from the 1940s to the present day that have been worn by The Queen for official engagements and private family events, together with a selection of her priceless and sometimes spectacular jewelry.

Exiting finally from the Palace though the charmingly understated Bow Room, (pause to admire the collection of porcelain from the now defunct Chelsea Pottery), you find yourself in the Palace gardens, an oasis of peaceful tranquility and wildlife in the heart of the city. Toilet facilities and Palace shop are situated near the garden exit.

Burlington Bertie's Verdict: The late Princess of Wales deemed the sovereign's official London residence to be "cold", representing as it did the "enemy", as she saw the Palace courtiers. Certainly the tour is more formal and less geared to straightforward entertainment than a visit to the Tower of London. This is a working palace not a museum, although the wealth of fine art and artifacts in situ represent a priceless collection of evolving artistic taste and fashion built up over four centuries by monarchs of the Stuart, Hanover, Saxe Coburg and Windsor dynasties.

The Palace and Gardens tour offers excellent value for money provided you view at a leisured pace and can cope with visual indigestion from a glut of gilt and gold leaf. The uniformed attendants in each room are both informed and helpful and will answer your queries about the rooms and the Palace procedure and protocol. They appear to know all the answers.

Take OfftoLondon's tip below and buy the The Royal Day Out ticket. It is a real bargain, enabling you to see Palace, Queen's Gallery and Royal Mews on one ticket with unlimited admission for one year. If you have the stamina of youth, you will wish to make a full day of it. Lesser mortals like me do the tour in easier stages, visiting the Palace on one day and popping back later to see The Queen's horses and The Queen's pictures.

OfftoLondon Tips:
Buy the combined Royal Day Out ticket option if possible. It gives you unrestricted access for 12 months to both Palace and Gardens during summer opening times and to the Queen's Gallery and Royal Mews for one year.

Ensure you take the excellent audio tour facility and buy the beautifully illustrated official Palace guidebook. Between them they identify every picture, artifact and design in every room through which you pass.

Take your time and view at your leisure. Although you follow a designated route you are not harried by a tour guide. Do not allow yourself to be rushed by sprint visitors: you need time to acclimatize to the visual explosion of colour and imperial grandeur evidenced by the circumstance of each room.

Look up as well as around you. The ceilings are in all cases remarkably ornate stucco or glasswork, or both.

Pause to identify the marbles. Many have fascinating histories or symbolic meaning, reflecting the mutual tastes of Queen Victoria and her beloved Albert.

If you plan to see everything in one day on the Royal Day Out ticket, visit the Palace in the morning when it will be less crowded. Lunch at the excellent Goring Hotel nearby, (Beeston Place, near the exit), and return in the afternoon to visit the Queen's Gallery and Royal Mews.

Do not forget to visit the Royal Gift Shop. Each year The Queen chooses designs for limited edition china and crystal giftware, Royal Collection facsimiles and other exclusives. The Palace gift wrap and gift boxes add cachet to every gift you buy. Sales tax can be reclaimed by overseas visitors.

Venue: Entrance on Buckingham Palace South Front, Buckingham Gate, London SW1A 1AA.
Access: Daily exc. 25/26 December. 10am-5.50pm, (last admission 4.30pm. 25 July-24 Sep, 2006. 9.30am-5pm, (last admission 4pm.). Wheelchair accessible.
What to see: The gallery is on the site of Queen Victoria's private chapel, demolished by bombs in the 1940 London blitz. Rebuilt after the war as a gallery, it underwent a £10 million renovation for the Queen's Golden Jubilee, in one of the biggest design and building projects since the creation of King George V's familiar Palace front in 1913. Royal Collection art and artifacts are permanently exhibited in this beautifully designed and decorated building together with themed exhibitions which have previously included the works of de Vinci, Raphael, van Dyck, Canaletto and others. On show until 29 October, 2006, is an exhibition from the eclectic collection formed by Queen Elizabeth The Queen Mother, together with treasures from the Royal Collection, including paintings by Duccio, Dürer, Clouet, Rubens, Cuyp, Van Dyck, Claude and Lely, works by Fabergé, as well as furniture, sculpture and ceramics, jewellery, silver and gold.

Venue: Entrance in Buckingham Palace Road, London SW1A 1AA
Access: 25 March to 24 July and 25 September to 29 October Open daily, except Fridays, 11:00-16:00 (last admission 15:15). 25 July to 24 September, open daily, 10:00-17:00 (last admission 16:15). Closed during State visits.

What to see: The Royal Mews maintains and displays the Queen's State vehicles. These include the magnificent Gold State Coach used for the Coronation, together with those carriages used by The Queen and members of the Royal Family for Royal and State occasions, State Visits, weddings, the State Opening of Parliament. A State motor vehicle is also usually on display. The Mews also houses the Queen's horses in what are undoubtedly one of the finest working stables in existance. When not on duty or out to pasture, (they need a vacation too), you can see Cleveland Bays, the only British breed of carriage horse, and the Windsor greys, which draw the carriage in which The Queen is travelling. Royal Mail have commemorated The Queen's Horses in a colourful set of stamps.

Getting There: Nearest Underground station: Green Park, (Piccadilly and Victoria Lines); Hyde Park Corner (Piccadilly Line), Victoria Rail Terminal, (Victoria, Circle and District Lines).

Tickets: Time/Date sensitive tickets, (includes Palace audio tour), available online , by telephone or at the Palace ticket office in Buckingham Palace Road.
Royal Day Out: Combined ticket for Palace State Rooms & Gardens, The Queen's Gallery and the Royal Mews. £25, (Concessions).
State Rooms & Garden only: £14 adult, (Concessions).
Gallery only: £7.50. (Concessions).
Royal Mews only: £6. (Concessions).

Burlington Bertie's Accommodation Choice:
Goring hotel, Beeston Place, Grosvenor Gardens, SW1W OJW. Situated almost in the shade of the Palace, this award winning, family run hotel, (present owner George Goring OBE is the fourth generation), has a long royal connection. It is a convenient favourite with European and Scandinavian Royalty, British nobility, gentry and civic dignitaries visiting the Palace for royal functions, investitures, garden parties, dinners, etc. The paneled bar and its deep seated lounge looking onto the walled garden is the perfect place to relax with a Buck's Fizz after a day out at the Palace. The spacious dining room offers the best of English traditional cuisine presented with stylish silver service.

Hotel Reservations

If you have a question, contact us and we will do our best to provide answers.

© 2013 offtolondon.com All rights reserved.