London's Royal Palaces
OfftoLondon's up-to-date guide to visitor attractions in historic Whitehall; James I's Banqueting House with its Rubens ceiling; Horse Guards Parade and the daily Guard Changing Ceremonial; the Cenotaph, the Churchill Museum and Cabinet War Rooms, together with insider tips, how to get there, and London accommodation recommendations from OfftoLondon's own Burlington Bertie.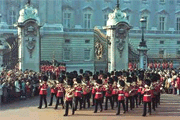 Discovering London - A Full Day London City Tour
8.5 - 9 hours - Enjoy sightseeing in London via motor coach in the morning including a stop near Buckingham Palace to see the colorful ceremony of the Changing of the Guard. After visiting a traditional London pub for lunch, the afternoon starts with a cruise on the River Thames, during which a Thames Waterman will point out the places of interest along the way. Disembark to visit the Tower of London.
Starting from USD $109.34 per person
Click to buy tickets
The Palace of Whitehall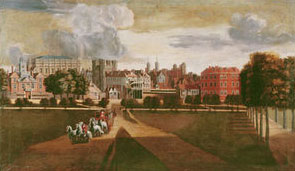 Whitehall Palace by Danckerts. (Wikipedia)

Just as Gothic Westminster Abbey and Hall define England's feudal monarchy, Hampton Court Palace the reign of Henry VIII, and Buckingham Palace the modern monarchy from Queen Victoria onwards, so would the Palace of Whitehall define the Tudor dynasty and the Renaissance architectural aspirations of the Stuart Kings. By 1691 it had grown to be the largest Royal Palace complex in Europe with some 1,500 rooms; a warren of buildings within an enclosure the size of a small walled town. Two disastrous fires in 1691 and 1698 destroyed virtually the entire complex and the later monarchs ruled from St. James's Palace until Queen Victoria moved to Buckingham Palace on her accession in 1837. One superb Royal building survived however and Whitehall was rebuilt as an integral part of Royal London and the seat of every major government department, including the Prime Minister's residence. This is reflected Royal pageantry and in the architectural grandeur provided by so many of Whitehall's 18 - 20th century buildings to be seen on a walk down the length of Whitehall from Trafalger Square to the Houses of Parliament and Westminster Abbey. Venue: Whitehall, SW1A 2ER. (+44 (0)870 751 5178)
Access: Monday - Saturday: 10.00-17.00. Closed Good Friday, 24 Dec - 2 Jan. and for government functions. Check before visiting.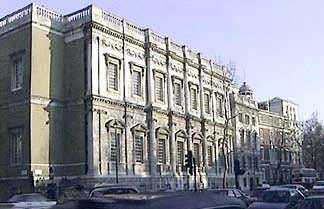 Banqueting House

What to see: This celebrated building by Inigo Jones, (1619-22), is the last remaining part of the 17th century Palace of Whitehall, destroyed by fire in 1698. It is one of only four important survivors of his work in London, (see also his Queen's Chapel in St. James's Palace, the Queen's House, Greenwich and the much loved east end portico of the Church of St. Paul, Covent Garden).

Banqueting House is notable, not only for its imposing architectural lines without, but for the remarkable richly painted ceiling of the Hall within. This masterpiece by Peter Paul Rubens was a joyous artistic after-thought commissioned by Charles I in 1636, providing a pictorial allegory of his father's flawed political concept of the 'Divine right of Kings' which was to lead to the armed conflict between King and Parliament and execution of Charles I by victor Oliver Cromwell. It is perhaps ironic that it was from this very Hall that the deposed King stepped out to be beheaded. We are fortunate that the ceiling survived the iconoclastic puritan era that immediately followed.

The Whitehall frontage and facade, (carefully restored by Sir John Soane, 1829), is rich and elegant; a perfect example of the Italian Renaissance architectural style first introduced into England by Inigo Jones following his visit to Palladio country in northern Italy as tutor to the young Earl of Arundel on the boy's 'Grand Tour' in 1614. The huge hall designed for State receptions, investitures, banquets and lavishly costumed allegorical masques, (which Jones had often designed and produced for his Royal patron), rises above a low ground floor, designed originally as a grotto where James I held parties. It has since been remodelled as a simple vaulted area for exhibitions.

Burlington Bertie's Verdict: Banqueting Hall should be seen for the Rubens ceiling, a masterpiece in a surprising state of colourful preservation. A number of concerts and theatrical events are staged or performed here during the year and attendance at such an event is perhaps the best and most appropriate way to see this Hall. The outside frontage should at least be admired at the same time as one sees the Trafalgar Square, Horse Guards Parade, and the Cenotaph. Access to the Hall is by a flight of steps which is not suitable for wheelchair users. There is an excellent souvenir shop selling quality gifts. Time budget 45 minutes.

Tickets: Adults £4.50., (Concessions).

Venue: Horse Guards Parade, Whitehall SW1.
Access: Unrestricted. Horse Guards Road from the Mall, (north); George Street, (south); St. James's Park, (east). Entry from Whitehall is barred during the ceremony.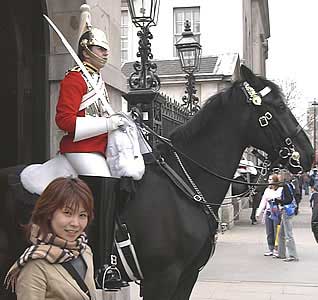 Horse Guards. Photo. Mark UK Student Life

What to see: Colourful ceremonial of mounted Guard Changing by troops of the Queen's Life Guard on the Parade Ground at Horse Guards. This takes place daily at 11am, (10am Sundays), and is extended to include trumpeters when The Queen is in residence at Buckingham Palace.

The splendour of the 18th century Palladian Horse Guards building facing onto the Parade is a much admired part of London's Royal architectural heritage. Designed by William Kent, c. 1748, and completed 1759 by John Vardy it is an impressive backdrop to this and other colourful Royal ceremonies and events. Kent's elegant Palladian Treasury building fronting onto the Parade's south side is also noteworthy.

The hideous windowless former Admiralty citadel facing onto the north side, (a World War II bunker fortress now occupied by the Ministry of Defense), is now mercifully covered in ivy.

Burlington Bertie's Verdict: The daily Guard Changing Ceremonial of the Household Cavalry, (the Queen's Life Guard which provides the Sovereign's mounted escort on all State occasions), is a historic piece of London's Royal pageantry dating back to 1660 and the Restoration of the Monarchy. Horse Guards was originally built to house the Sovereign's Life Guards. It is still the exclusive official Royal entrance to St.James's and Buckingham Palaces, which explains the presence of these mounted guards with their thigh boots, red or blue tunics, plumed helms, shining cuirasses and drawn swords. As with the Changing of the Queen's Guard at Buckingham Palace, this is worth watching. Time budget 30 minutes.

Venue: Whitehall SW1.
Access: Unrestricted.

What to see: London's official public war memorial. Designed by Sir Edwin Lutyens, as a memorial to the fallen in the 1914-18 war, it was unveiled on Armistice Day, 11 November, 1920, and has been the focus, as a national symbol, at the Remembrance Day Parade ever since. Each year on the Sunday nearest 11 November, Whitehall is closed to traffic and the Royal Family leads the placing of wreaths at the Cenotaph before taking the salute at a March Past of Veterans on Horse Guards Parade.

Burlington Bertie's Verdict: Edwin Landseer Lutyens was Britain's pre-eminent architect during the first half of the 20th century, imposing a new classical style which supplanted the richly decorated Edwardian age of ornate Baroque. Make a point of looking at his monumental stone masterpiece on your visit. The apparent simplicity of its Stripped Classical design hides an extraordinary subtle geometrical composition of stark beauty. Admire also Lutyens's spreading pools and fountains in Trafalgar Square.

The Sovereign's Remembrance Day Service and Parade at the Cenotaph and Horse Guards Parade in November is a most moving event. Members of the public are encouraged to attend. Attendance is free but you are advised to dress on that occasion for possibly inclement weather.

Venue: Clive Steps, King Charles Street, SW1A 2AQ
Access: 9.30am-6pm daily, (last admission 5pm). Closed 24-26 Dec, 2006. Wheelchair accessible. No toilet facilities.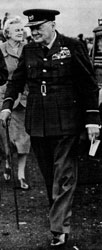 Sir Winston Churchill. Credit: Churchill Society, London.

What to see: The Cabinet War Rooms, once secret underground wartime headquarters of Sir Winston Churchill, K.G., are the core of the Imperial War Museum's museum of the life and times of Britain's World War II leader. The War Rooms have been meticulously restored and provide a riveting insight into the dark days of 1940 - 1942 when Britain stood alone against a seemingly unassailable Nazi Germany. The Museum exhibition examines Churchill's roles as a leader, statesman, politician, soldier, father, husband and son.

Burlington Bertie's Verdict: This is essential viewing for all who admire Churchill as a leader, politician and writer or who are interested in the history of World War II. A visit will prove an intensely emotional and memorable experience for many.

Tickets, 2006: Adult: £11 for both War Rooms and Museum, including Acoustiguide, (Concessions). Prices increased annually.



OfftoLondon Tips:


We recommend you give yourself up to a whole day to see all the Whitehall attractions described above at leisure.

Visit other Royal residences in and around London as well as Whitehall. The Tower of London, Kensington Palace, Hampton Court Palace, Kew Palace and Royal Greenwich all offer an interesting day out. You can save money on entrance tickets by taking out a year's membership of Historic Royal Palaces, the Charitable Trust managing these historic sites. Your membership gains you unlimited free entrance to all these historic palaces for one year as well as other bonuses.

Driving and parking in central London is expensive. The simplest, hassle-free way to see London is with an all inclusive guided OfftoLondon bus tour. There are many to choose from.

Consider buying a The London Pass. It is your passport to London, giving you FREE entry to over 60 favorite London attractions as well as travel on London's buses, tubes and trains. Starting from USD $50 per person. Details

Pause for a drink and snack or larger lunch at the Red Lion, a classic late 19th century pub just a few steps from the Cenotaph at 48 Parliament Street. Rub shoulders with Members of Parliament, journalists and civil servants or detectives from nearby Scotland Yard.

Comfortable and sturdy walking shoes, a shoulder bag and a collapsible umbrella are essential accessories. The bag will hold your umbrella, camera, a snack and all the pamphlets and guide literature and souvenirs you collect during the day.

Getting to Whitehall: Nearest Tubes: Charing Cross, (Northern and Bakerloo Lines), for access from Trafalgar Square; Westminster, (Jubilee, Circle and District Lines), for access from Parliament Square; St. James's Park, (Circle and District Lines), for access from St. James's Park.

Burlington Bertie's Accommodation Choice:
Dukes Hotel, 35 St. James's Place. Described by the NYTimes as "the ultimate Country House hotel", this member of the 'Small Luxury Hotels of the World' consortium is situated in the heart of St.James's, London's most exclusive quarter, just around the corner from St. James's Palace and Clarence House. It hides 5-Star, award-winning and elegantly sumptuous comfort in quietly understated luxury behind its discreet exterior. Special summer offers are worth pursuing, as are the famed dry martinis mixed by Tony in the hotel's relaxed Dukes Bar which was popular with US Officers serving in England during the 1940s when the hotel was a US Officers Club.

The Crowne Plaza St. James offers 4-Star accommodation in a beautiful turn-of-the-century Edwardian setting that offers sybaritic comfort in stately surroundings that are within easy walking distance of Buckingham Palace, Westminster, Whitehall and the best of West End shopping. Three restaurants and two bars cater for a variety of tastes and moods. Disabled access throughout.

Consider also the quality hotels Hilton Trafalgar, the Thistle Trafalgar Square, or the Thistle Royal Horseguards; all within the Whitehall area.

OfftoLondon Reservations

If you have a question, contact us and we will do our best to provide answers.

© 2006 offtolondon.com All rights reserved.