I love London at this time of year. The weather is invariably benign; an Indian Summer interlude before the cold winds of autumn strip the leaves from the plane trees lining Hyde Park's Rotten Row where I go riding on Saturday mornings,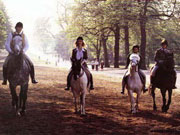 just as Society did 150 years ago when the Row was the place to see and be seen before lunchtime.

September and October are also perfect for West End shopping. The summer tourist crowds of August have left, the children are safely back at school and we can shop at leisure, acquiring that new wardrobe for the Autumn season's whirl of parties, theatre nights and Private Views. There is a welcome lull after the summer hordes and before the frenzy of Christmas shopping; that between - seasons pause when I can see what's new at Selfridges, Debenhams and Topshop in bustling Oxford Street, before wistfully browsing at leisure in Mayfair's expensively elegant boutiques lining Bond Street and Bruton Street.

Right now Oxford Street enjoys a brief calm, (if Oxford Street could ever be described as "calm"), before the shop-until-you-drop grind of Christmas and January Sales. It is pleasantly accessible now, but I shall keep well clear of the shopping hordes there once the Christmas Lights are turned on in November.

Having grown up at Marble Arch within sight of Speaker's Corner, I have a soft spot for nearby Selfridges founded by American entrepreneur Gordon Selfridge a century ago. In the late 1920s and early 1930s dear Grandmama graced the catwalk there, modelling before fashion editors and glitterati like the Dolly Sisters, the famous cabaret artistes who had captured the big heart and fat wallet of Mr Selfridge. The store interior then looked like an Art Deco set out of a Ginger Rogers and Fred Astaire film. That's all changed now in the name of 21st century modernisation, (the glorious Art Deco elevators have been preserved for us to admire at the Museum of London). The store continues its seasonal fashion shows however, retaining its cutting edge in High Street fashion for clothes, jewelry and accessories. Its remarkably successful Superbrands area with designer boutiques selling everything from Warehouse to Lanvin is well worth a visit.

I fell in love with the exclusive Doré Doré hosiery from France when I visited Selfridges on my Oxford Street trawl last week. The opaque look is big this autumn and their Coloré hold-ups provide a welcome splash of vibrant colour to the mean and moody greys, browns and blacks we shall be wearing this season. And they will certainly add a touch of pizzazz to the Selfridge's autumn collection of Preloved, the increasingly popular Canadian label of vintage-inspired retro streetwear.

One thing is certain. Autumn's downbeat colours need bright, chunky accessories, big handbags, lots of chains and pearls as an essential fashion statement to lift the sombre monochrome pencil dresses we shall be buying.

Do you get the message I don't go a bundle on this season's drab? I'm none too happy either with Fashion's retro 1980s androgynous look, typified by men's cut pants, oversized shirts and slouchy knitwear, (surely best left to Professor Higgins in My Fair Lady). Well enough endowed as I am in what fashion pundits describe as "the boob area" to fill a skin-tight cashmere sweater with feminine conviction, I find little relevance in styles designed to drape a stick. So I'm delighted the equestrian look is back, (did it ever leave in some circles?). Wearing a tailored jacket that enhances my sort of figure, form-fitting jodhpurs and boots, I hope to catch an appraising eye or two when I canter down Rotten Row in the autumn sunshine on Dobbin from the Hyde Park Riding Stables!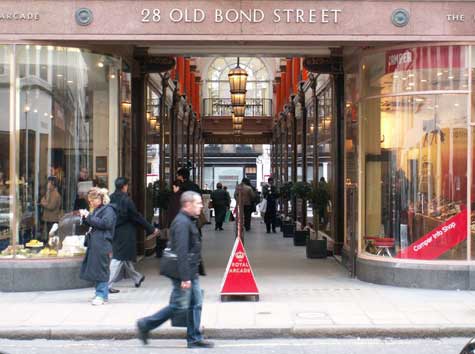 Royal Arcade, Bond St


At the bottom of Harley Street, where London's more select medical practitioners offer expensively discreet consultations, is Cavendish Square; a quiet leafy haven sandwiched between Upper Regent and Oxford Streets. No.5, and its restaurant of that name, is my bolthole where I can relax and repair the ravages after a morning traipsing down Oxford Street. I met up there with Georgina, (she works just around the corner in the BBC at Broadcasting House), for a pick-me-up glass of champagne and a light lunch. We enjoyed the excellent two-course lunchtime special for £15, and it was warm enough to lunch outside on the smart rooftop terrace.

A short walk from No.5 after lunch brought me to the quietly expensive elegance of Bond Street. It's a different world to adjoining Oxford Street. The exclusive London salons of Armani, Chanel, Ferragamo, Gucci, Hermes, Eves Saint Laurent and Prada and Pringles are here; the powerhouses of European fashion whose designers' flights of inspiration ultimately filter down from the catwalks of Paris, Milan and London, onto the racks of Marks & Spencer, B&H and Tesco stores across the country.

In the Bond Street windows of Asprey, Cartier, De Beer, David Morris and Tiffany, gleams a royal ransom in diamonds, emeralds and other priceless glitter set in understated platinum splendour. Luis Vuitton, whose luxury luggage graced the state cabins of transatlantic liners long before the Titanic went down, have their showrooms here. Behind the Bond Street doors of Sotheby's and Bonham's, millionaires and their agents gather to bid for the rich trappings of success; fine art, antiques, and the odd priceless boudoir bauble for a favored lady perhaps. The galleries of Agnews, The Fine Art Society and Partridge are in Bond Street, which was once better known for its top end art dealers than the Fashion houses which have recently moved in.

And at 27 New Bond Street, six doors down from Sotheby's, Jimmy Choo, my favourite shoe designer who shot to fame on the feet of Princess Diana, has his London showrooms. Although expensive, his are the only heels I will wear. Platforms, which have been around since Venetian ladies wowed Casanova, are back with a vengeance this season to tempt modern lotharios. Whether wearing boots, peep toes or courts, fashionistas who like to live dangerously will be teetering on platforms this autumn. They are challenging to wear but with finer heels and rounded off toes to produce that party or boardroom elegance demanded by the modern woman, they are becoming classics. But they are definitely not for running to catch a bus, or for a day out shopping. I am breaking in the pair I bought at home, before I venture out in them - I don't want to emulate the unfortunate model wearing them the other day during London FashionWeek. She turned her ankle and fell off the catwalk. Painfully embarrassing.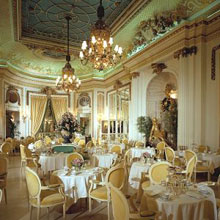 The Palm Court at the Ritz

By the time I had browsed the length of Bond Street from Oxford Street to Piccadilly, pausing for a moment in the Royal Arcade to buy some scrumptious hand made chocolate truffles for Mother at Charbonnel et Walker, the desire to sit down for a cup of tea was overwhelming. Years ago Grandmama, suitably squired by an admiring beau, would take afternoon tea in the Palm Court at the Ritz, while a string orchestra dressed like penguins played Viennese waltzes in the background. Today, Afternoon Tea at the Ritz is a top London tourist attraction and you will need to book six weeks ahead to enjoy pouring your cup of Darjeeling, Orange Pekoe or Earl Grey from a silver teapot in the Palm Court while a resident pianist tickles the ivories. So I headed down Piccadilly to the Fountain Restaurant at Fortnum and Masons. It's best favourite with daughter Samantha, (now mercifully back at school), because of its gargantuan ice cream sundaes. I love them too, but the Rubens silhouette will have to make a fashion comeback before I can ever indulge again.

Places and Facilities


Hyde Park

Henry VIII's onetime hunting ground and now one of London's great Royal Park facilities. Events and facilities.

Hyde Park Stables.

Central London riding and riding lessons. Well established BHS approved stables off Hyde Park.

Selfridge's, Oxford Street.

Website for all departments and branches in Manchester and Birmingham.

Museum of London.

Excitingly displayed history of London from the days of primeval swamp to yesterday.

Doré Doré.

Chic French tights in fab colours.

Warehouse.

Store locator and online shopping for the Warehouse range of fashions and accessories.

No.5 Cavendish Square.

Restaurant, bar, private club and exclusive boutique hotel all rolled into one. Online booking and membership.

Bond Street.

Visual map of this and other main shopping streets in London's West End.

Jimmy Choo.

Jimmy ChooGreat heels for special occasions

Charbonnel et Walker.

London's finest chocolate shop founded in 1875 under the patronage of chocoholic Bertie, Prince of Wales, (the future Edward VIII).

Afternoon Tea at the Ritz.

Book online for a memorable experience.

Fortnum and Mason.

The 300 year old, quintessentially English, department store. Excellent Food Halls, hampers, gifts. Buy online UK, or USA.





© 2005 offtolondon.com All rights reserved.
Contact Us