Tea at the Ritz

with Shophound Alexia & Burlington Bertie.

An up-to-date guide for Tea at the Ritz, together with insider tips from Offtolondon's Shophound Alexia, and London accommodation recommendations from Burlington Bertie.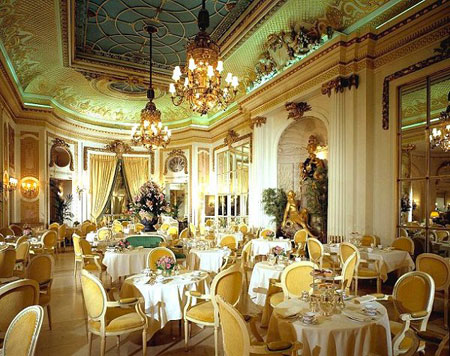 Tea at the Ritz

Venue: The Palm Court, Ritz Hotel, 150 Piccadilly, London, W1J 9BR. Tel: 020 7493 8181. Toll free from the USA: 1 877 748 9536
Access: Hotel entrance in Arlington Street. Smart dress code in public areas includes jacket and tie for gentlemen. Jeans and training shoes not permitted.
Timed and dated Reservations Only: 37 per head. Gift Voucher for Two: 81, (valid for 1 year). Book Online or telephone: 020 7493 8181.
Getting There: Nearest Tube, (should you or your partner choose to leave the Rolls at home for the occasion): Green Park.

Getting There: Nearest Tube: (should you choose to leave the Rolls at home on this occasion), Green Park.

Burlington Bertie's Accommodation Choice: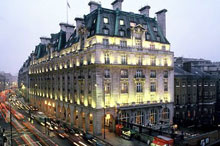 Beaux Arts room decor is luxurious, with service to match. 'Spring into Easter' and 'Putting on the Ritz' are just two of a number of special accommodation packages available through 2008.



Find Another Hotel


ea at the Ritz is a London legend! They have been providing the English Teatime experience at the Ritz since 1906 when the doors of this architectural masterpiece were first opened to the aristocracy in all its Edwardian 'French Renaissance' splendour. While others may offer a cup of tea with cucumber or smoked salmon sandwiches and a pastry or two for considerably less, there is nothing to compare with the atmosphere of the Ritz's sumptiously decorated "winter garden" saloon, (known as the Palm Court). Here Afternoon Tea is served with accomplished panache in Beaux Arts elegance to the accompanying rattle of expensive jewellery and tinkling piano selections from My Fair Lady and other light airs from hit musicals of the day. Over the past century, the well dressed patrons sitting down to English Afternoon Tea have included kings, queens, princes and politicians; haut monde duchesses, dowagers and dames; pampered darlings of the demi-monde and their well-heeled sugar daddies; and a glittering procession of glamorous stars of the stage and screen including such luminati as Charlie Chaplin, Noel Coward and Judy Garland.

Penguin-suited waiters offer a silver service with delicate china; an assortment of daintily cut, de-crusted, sandwiches, (Smoked Salmon, Egg Mayonnaise & Cress, Ham, Chicken & Mayonnaise, Cucumber & Cream Cheese); Freshly Baked Raisin & Apple Scones with Devonshire Clotted Cream and Organic Strawberry Preserve; an assortment of Pastries with English Cream, together with a quite remarkablely wide variety of Ritz Selected Teas or Ritz Blend Filter Coffee.

The selection of teas deserves mention. The choice, served in silver teapot with strainer, (no teabags), is impressive: Ritz Royal English - a well rounded blend of Assam, Ceylon and Kenya. Darjeeling First Flush - grown in the foothills of the Himalayas and picked early to produce a light liquor with delicate flavour of green muscatel - my own personal favourite which I regard as the 'Champagne of black teas' and should preferably be drunk without milk; Assam Leaf (Tippy Orthodox) - a full bodied, richly aromatic black tea, high grown in the north of India; Ceylon Orange Pekoe - a high grown, lightly flavoured, large leaf black tea with scented aroma; Russian Caravan - a historic blend of China, Formosa, and Darjeeling leafs; Earl Grey - the popular China tea aromatically flavoured with citrus bergamot; Lapsang Souchong Imperiale - a large black leaf tea from the Fujien province, smoked over pine fires to give a distinct smoky flavour with a silky tarriness; Jasmine with Flowers (green) - a China based light semi-fermented tea from the Fujien province, flavoured with fragrant jasmine flowers; Rose Congou/Pouchong - a light China black tea from the Guangdong province enriched with fragrant rose petals; Chun Mee (green) - an unfermented, lightly scented, pale China tea with long fine jade leaves; Oolong, (Formosa-Taiwan) - a semi-fermented aromatic tea with slightly nutty flavour from Formoza-Taiwan. Many of these fine teas are best drunk without milk to appreciate their delicate flavour.

The Ritz now serves no less than four separate two-hour sittings for Afternoon Tea in the Palm Court, which like the rest of this historic hotel's interiors, has been superbly renovated to its pristine Beaux-Arts clarity and splendour. The sitting is at 11.30 am and the last at 5.30pm. If you wish to partake of Afternoon Tea at what Oscar Wilde's redoubtable Lady Bracknell would surely have considered the socially acceptable hour of half past 3 o'clock, you will be constrained to pre-book your table at least two or three months in advance. You will hardly wish to take tea at 11.30 am; a time of day when you will probably be touring nearby Buckingham Palace or Clarence House, or busy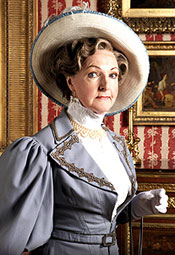 Penelope Keith as Lady Bracknell. Vaudeville theatre.

shopping at Harrods and Harvey Nichols in Knightsbridge or the boutiques and galleries of Bond Street and Burlington Arcade before popping into the Hibiscus, my favourite Mayfair luncheon spot off Bond Street. And by 6pm, a civilised hour for cocktails rather than Afternoon Tea, you would probably rather be sipping an iced Bellini or a Kir Royale in the art deco elegance of the Ritz's Rivoli Bar before a visit to the theatre.

You can see veteran actress Penelope Keith CBE luxuriating in the meaty role of the imposing Lady Bracknell at the Vaudeville Theatre in Peter Gill's much heralded production of Oscar Wilde's classic comedy of manners, The Importance of Being Earnest, (from 22 Jan - 26 April, 2008). Wilde's madcap farce about mistaken identities, secret engagements, and lovers' entanglements in a picturesquely late Victorian 'tea-and-cucumber-sandwiches' world still delights theatregoers more than a century after its first performance in 1895. His rapid-fire perfumed wit and eccentric characters have ensured that it is rarely absent from London's West End stage. Two front stall tickets at the Vaudeville Theatre after Tea at the Ritz...now that's a recipe for a perfect day out!




Other Options for taking Afternoon Tea:

London Afternoon Tea at Grosvenor House
Enjoy a traditonal London Afternoon Tea at the exclusive Park Lane residence of Grosvenor House. Delight in the view of Hyde Park from the Park Room window while you sip your tea and savor the many tasty treats on offer.