SPOTLIGHT: 10 April, 2007
Browsing on London's Antiques Trail

with Shophound Alexia .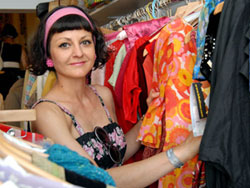 Vintage Shopping. Courtesy Alfie's Market.


here are many opportunities for the London visitor to browse for antiques, vintage collectibles and bric-a-brac in London's West End. Markets and Arcades range from the renowned London Silver Vaults specializing in hallmarked silver to the crammed Arcades lining bustling Portobello Road; colourful Camden Passage; Bennie Gray's posh Mayfair establishment or more raffish Chelsea. They are all colourful places to browse, haggle and buy antiques, curios or vintage memorabilia, or just enjoy the atmosphere, which may be cheap and cheerful or elegant and expensive, depending on your wallet, mood, choice of venue and vendor. Entry is always free. Here are some of my favourite antiques trails where can spend an enjoyable few hours browsing for that special gift or memento for yourself or your loved one this summer.

Burlington Bertie's Accommodation Choice: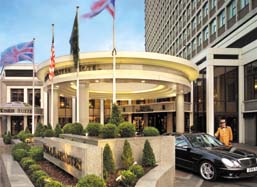 Lancaster Terrace, Bayswater, W2 2TY.
4-Star comfort in this immaculate modern hotel with truly breathtaking views over Hyde Park and Kensington Gardens from the en-suite rooms, make this a perfect place to enjoy London in springtime. The Royal Parks are now at their most beautiful and London's West End shops, theatres and restaurants are nearby. Enjoy Saturday hunting for antiques and collectibles in the famed Portobello Road Market just a few minutes walk away, then relax over a drink in the Lounge Bar before sampling the award winning Thai cuisine, or dining in the super-chic Island Restaurant overlooking Queen Victoria's Italian Gardens.



Find Another Hotel

Alfie's Antiques Market, Marylebone
Venue: 13-15 Church Street, Marylebone, NW8. Tel: 020 7723 6066.
Access: Open Tuesday-Saturday, 10am-6pm.
Description: More a warren than an arcade, this onetime Edwardian department store taken over by the ebullient dealer entrepreneur Bennie Gray, (who also runs the posh Gray's Market in Mayfair), now houses lots of specialist dealers selling a wide range of antiques and vintage goodies. This is excellent for Vintage Fashion and accessories, thanks to the famed The Girl Can't Help It run by the aptly named 'Sparkle' Moore, who transfered from Soho New York to Alfie's via Camden Passage. And it's a good place to buy retro furniture and cocktail shaker to go with that sexy satin dress cut on the bias that Patricia Ellis might have worn in Melody for Two back in 1937.

If you get lost in the warren, make your way upwards till you come out onto the rooftop restaurant. It does a fine cooked breakfast all day plus a daily special.
> London Transport: Nearest Tube. Marylebone.

Gray's Antiques Market, Mayfair
Venue: 58 Davies Street and 1-7 Davies Mews, W1. Tel: 020 7629 7034.
Access: Open Monday-Friday, 10am-6pm.
Description: This onetime showroom for posh loos in the heart of Mayfair, now elegantly houses some 200 specialist dealers selling a variety of antiques and collectibles, notably Hornby and Lionel Railway sets for my grandson, antique dolls and Steiff Teddy Bears for my granddaughter, Victorian bird books for my husband, and Victorian Jet from Whitby for me! This is quality browsing time without the rarified atmosphere of snobbery you might associate with a Mayfair showroom.

If Victorian and Edwardian gems, Art Nouveau or Art Deco jewellery, vintage costume jewellery or vintage fashion and lace delight you as much as me, you will be severely challenged to see all in a single morning or afternoon, but Claridges Hotel is just around the corner and provides an elegant pit stop for luncheon or afternoon tea!
London Transport:Nearest Tube. Bond Street.

Antiquarius, Chelsea
Venue: 131-141 King's Rd. SW3. Tel: 020 7351 5353.
Access: Open Monday-Saturday, 10am-6pm.
Description: Antiquarius is one of two good reasons for visiting King's Road in Chelsea on a weekday, (the other is Manicomios Italian Restaurant in Duke of York Square). Some specialist 80 dealers offer a variety of antiques and collectibles, including antique monogrammed Luis Vuitton steamer trunks, (the ones that didn't go down with the Titanic); antique bird, flora and fashion illustrations; vintage and antique fashions and accessories; and movie art and studio stills dating back to the days of Theda Bara.
London Transport:Nearest Tube. Sloane Square.

Admiral Vernon Antiques Arcade, Portobello Road
Venue: 141-149 Portobello Rd, W11. Tel: 020 7727 5242.
Access: Monday-Sunday, 5am-5pm.
Description: 200 dealers offering a vast range of antiques of every description are crammed into this historic Arcade, the largest of a number of Antiques Arcades on the Portobello Road. The Saturday Portobello Road Antiques Market is colourful and becomes very crowded on a sunny summer's day so be an early bird and rise with the dawn, (the market opens at 5am).

Pounding the pavements on the Portobello Antiques Trail is tiring and thirsty work. Pause to rest and enjoy a drink in the patio garden of the 250-year-old pub The Sun In Splendour at No.7 Portobello Road. I always enjoy the traditional pub grub here. A plate of the publican's homemade cottage pie washed down with a cool pint of Robinson's Old Stockport draught beer 'drawn from the wood', will set you up for the afternoon's foray.
London Transport:Nearest Tube. Notting Hill Gate.

The Mall Antiques Arcade, Islington
Venue: 359 Upper Street, Islington, N1. Tel: 020 7823 3900.
Access: Open Tue, Thur, Fri 10am-5pm; Wed 7.30am-6pm; Sat 9am-6pm; Sun 11am-4pm.
Description: Some 40 specialist, and sometimes colourful, dealers, (Count Alexander von Beregshasy, the dealer in repro royal jewellery springs immediately to mind), in everything from militaria and war memorabilia to Lalique glass are gathered in this 19th century onetime Tram depot. The Mall provides a focus for Londoners' 50 year love affair with Camden Passage antiques trading. Popular with interior designers looking for something quirky, this is a fun place to browse on a Wednesday or, more particularly, Saturday, when the Camden Passage Antiques Market is in full swing. Prices range from £5 to £5,000 or more and there are some superb Vintage Fashions, Art Nouveau, Art Deco dealers here.

Make sure to browse among the many little shops in Camden Passage while you are here. Famously notable among these is Grannie's Goodies, the specialist antique Dolls, Teddy Bear and Doll's House shop run by dealer Brenda Gerwat-Clark.

Upper Street is awash in trendy bistros but I prefer to relax at the good old Camden Head, (2 Camden Walk), a fine old Victorian pub, after drooling over a Steiff Teddy at Grannie's Goodies during my Camden Passage antiques browsing forays. Sit outside in the paved area and watch the world go by as you sip your cooling drink.
London Transport:Nearest Tube. Angel.

London Silver Vaults
Venue: Chancery House, 53-64 Chancery Lane, WC2. Tel: 020 7242 3844.
Access: Open Monday- Friday, 9am-5.30pm; Saturday, 9am-1pm.
Description: Once the Chancery Lane Safe Deposit back in the 19th century, this is now a silver market with 20 specialist dealers selling everything from an Edwardian toothpick to a Victorian Tiffin Tea set from the days of the Raj or a complete silver dinner service. If you are interested in silver, this is an essential port of call.
London Transport:Nearest Tube. Chancery Lane.