It's Pimms, Strawberries & Cream Time
Yes, it's almost that magical time of year again; the early part of the summer when sports fans all over the world look to London and the most special of all tournament Grand Slam events - Wimbledon.
The Championships have been held at Wimbledon's All England Croquet and Lawn Tennis Club since 1877; it is the only major tennis tournament played on real grass courts, and is the single most prestigious tournament. In fact, the first ever Championships were held to raise money for the repair of a grass roller. This was the first organized tennis tournament in the world.
In short, Wimbledon is steeped in tradition and is a fine reason to coincide a visit to London with early July. Of course, the weather is famously changeable, but when the sun is shining, the Pimms and lemonade is flowing, and you have a bowl of strawberries and cream in front of you - there's surely no better place to be than West London.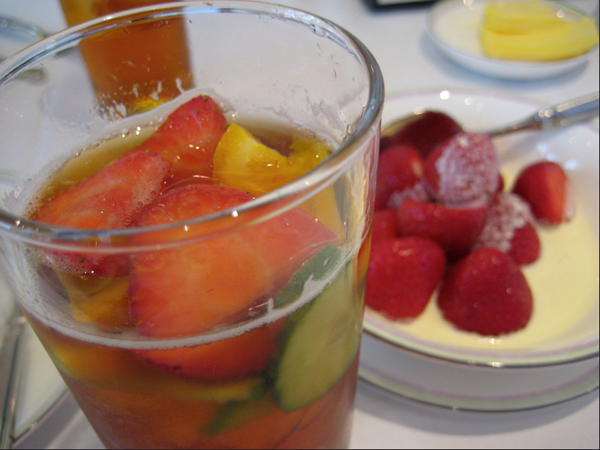 ""Lush" (CC BY 2.0) by Phillie Casablanca 
This year's tournament, to be held from 3-16 July, promises to be extra special thanks to the resurgent form of record seven-time winner Roger Federer. Currently, Federer is one of the favourites with bookmakers including Guts.com at 3.9, behind Britain's Andy Murray at 3.4.
If Federer could win the famous trophy again, it would be the greatest achievement the game has ever witnessed. Now aged 35, which is old indeed by tennis singles' standards, this may be the maestro's final tilt at the title he last won five years ago (though he made the final in both 2014 and 2015 when he lost, on each occasion, to Djokovic, who is 3.55 with the likes of William Hill and bet365 to triumph at Wimbledon).
Federer seems to truly embody all that is great about Wimbledon and the early summer in London in a way that no other player does. He's all about class, grace and style; he never appears ruffled and is a true gentleman - all the things that bring out the best in London at this time of year.
Apparently, two days after winning his first Wimbledon title in 2003, Roger, who is Swiss, was presented with a 1,760 lb. milking cow he named Juliette! So maybe he'll get another one named Romeo if he can make it a record eighth. He's already won a record 18 Grand Slam tennis titles, including five US Opens, and five Australian Opens - the fifth of which he won this year.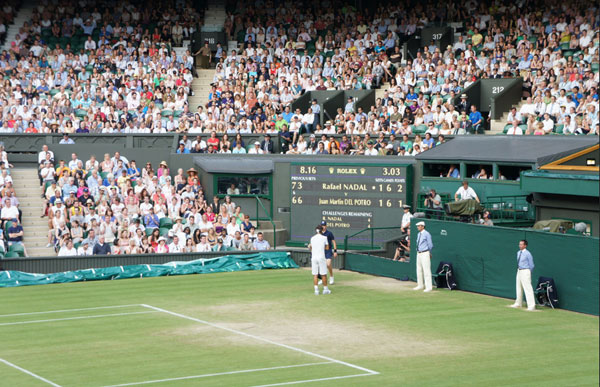 Nadal vs Del Potro on Wimbledon Centre C" (CC BY 2.0) by ReeSaunders

Really, though, Roger Federer is simply the icing on the cake. This is the quintessential tennis tournament at a time when England's famous old capital looks its best - barring summer showers, anyway.

Wimbledon is famously associated with strawberries and cream, but also elegance from a bygone age - which is partly what draws in the tourists. The club is also a year-round museum today, and the English garden-like design of the courts lends the Championships a very special atmosphere that you really have to behold at first-hand to understand. It's well worth the effort. 

© offtolondon.com All rights reserved. Contact Us