Burlington Bertie's Top Tips
A Night 'On the town'
While in London, treat your partner to a superb evening out 'On The Town' with OfftoLondon's theatre and dinner package.
Choose your Hotel
Use OfftoLondon's hassle-free and secure booking facilities to obtain the best internet prices for your overnight, 'City Break' or longer term accommodation requirements; from de-luxe 5-star hotels to comfortable hostels.
Book your tickets online
Book before your visit book all your tickets with Offtolondon.com. This way you will ensure best seats and best prices at the events, exhibitions and shows of your choice without the hassle of price bargaining and queuing on the day.
London Transport Oyster Card
The Central London congestion charge zone for visitors driving in London now covers all main areas of attraction. It makes sense to travel by the safe London Transport bus or Tube. Buy a multi-journey Oyster Card before you arrive, (you can top this up at will), and you will save money, time and hassle.
Something for the Weekend, Sir?
Add spice to your London visit with a Paris or Rome "Weekender". These city gems are now within your reach, thanks to cheap speedy travel. Enjoy a Day Trip to Paris via Eurostar for shopping, sightseeing and dining while you are in London. Let Offtolondon's associates, Travel Specialists OfftoParis and OfftoRome take care of all your travel, accommodation and sightseeing requirements at best price.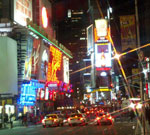 New York City Breaks
The dive in the dollar makes Christmas Shopping in the Big Apple this year's most attractive option for UK and European visitors. New York has never been better value! Spend time soaking up style on Fifth Avenue at Bergdorf Goodman or Sachs Fifth Avenue. Buy your digital cameras and gadgetry for fabulous prices at specialist Adorama on West 18th Street. Take in a Broadway Show, dine superbly and see all the landmark sites . New York! New York! Its a Wonderful Town! Check it all out on our sister site A Traveller's Guide to New York where you will find discount hotels, NYC tours, information on NYC neighborhoods and more.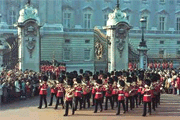 Discovering London - Full Day London City Tour
8.5 - 9 hours - Drive to Westminster, past Downing Street, home of the Prime Minister, and on to the Houses of Parliament and Big Ben. Stop for a visit inside Westminster Abbey, site of many royal coronations. Visit Poets' Corner and the tombs of many well-known scientists and monarchs. Also see the Chapel of Henry VII.
Stop near Buckingham Palace to see the colourful ceremony of the Changing of the Guard before driving through busy streets and past peaceful parks to Piccadilly, home of London's Theatreland. Pass Trafalgar Square with its impressive Nelson's Column and fountains, before reaching a traditional London pub for lunch.
The afternoon starts with a cruise on the River Thames, during which a Thames Waterman will point out the places of interest along the way. Disembark to visit the Tower of London where you will meet the Beefeaters clad in Tudor uniforms, hear the legend of the ravens and some spine chilling tales from the Tower's 900 year history. You will also see the Crown Jewels, magnificently displayed in the new Jewel House.
Click for more information
London Highlights in October, 2007.
by
Burlington Bertie
London highlights in October, 2007. A guide to London's summer of Royal pageantry, performing arts, fine art festivals, and sporting highlights from the diary of Burlington Bertie, OfftoLondon's Man About Town.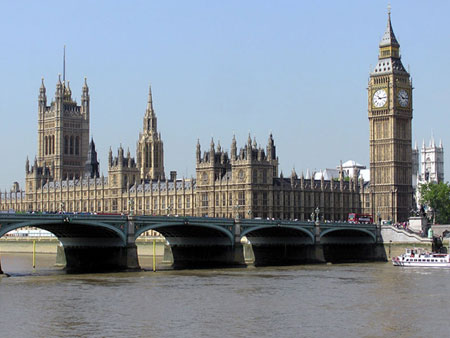 Parliament 2007. Photo credit: Wikipedia

Pageantry & Heritage
Buckingham Palace State Rooms and Gardens
Venue: Buckingham Palace, Westminster, SW1A 1AA, London.
Access: Closed to public until Summer, 2008.
Tickets:2008 Dates and Advance Booking will be announced before December, 2007.
Description: Annual summer opening of the State Rooms and Gardens of Buckingham Palace to the public during August and September while Queen and court reside in Scotland. The State Rooms form the heart of the working palace and are lavishly furnished with some of the finest treasures from the Royal Collection - paintings by Rembrandt, Rubens, Poussin, Canaletto; sculpture by Canova and others; exquisite examples of Svres porcelain, Chelsea china; and some of the finest English and French furniture in the world. A special themed exhibition of Royal collection artifacts and memorabilia is put on each year in the State Ballroom
The Royal Mews
Access: Daily, 10am - 4pm, (last admission 3.15pm), Closed Fridays; 28 July to 25 September, open daily, 10:00-5pm (last admission 4.15pm). Closes 31 October, 2007. Reopens March 2008.
Venue: Buckingham Palace, Westminster, SW1A 1AA, London. Entrance in buckingham Palace Road.
2007. 24 March - 31 October.
Tickets:Adult 7. (Concessions). Royal Mews and Queen's Gallery Joint ticket: 13.50. Book Online or at door. Take advantage of special online discounts.
London Transport: Nearest Tube. Hyde Park Corner (Piccadilly Line), Victoria Rail Terminal, (Victoria, Circle and District Lines).
Description: The Royal Mews maintains and displays the Queen's State vehicles. These include the magnificent Gold State Coach used for Coronations, together with those open and closed carriages used by The Queen and members of the Royal Family for Royal and State occasions, State Visits, weddings, the State Opening of Parliament, Trooping the Colour, etc. A State motor vehicle is also usually on display.
The Queen's Gallery. The Art of Italy
Access: Ongoing. 10am-5.30pm daily, (closed 25/26 December). Ends 20 January, 2008.
Venue: Buckingham Palace, Westminster, SW1A 1AA, London. Entrance in Buckingham Palace Road.
Tickets: Book Online, (timed and dated ticket entry), or at door. Take advantage of special online discounts.
London Transport: Nearest Tubes. Green Park, Hyde Park Corner (Piccadilly Line), Victoria Rail Terminal, (Victoria, Circle and District Lines).
Description Superbly appointed gallery at the Palace dedicated to changing exhibitions of items from the Royal Collection, the wide-ranging collection of art and treasures held in trust by The Queen for the Nation. Current exhibition (ending 20 January, 2008), brings together 90 paintings and 85 drawings from royal palaces and residences across Britain. It focuses on the artistic legacy of the Stuart kings, Charles I and his son, Charles II, whose refined taste so profoundly influenced the character of the British Royal Collection and popular taste.
Clarence House
Access: Closed to public until Summer 2008.
Tickets:2008 Dates and Advance Booking will be announced before December, 2007.
Description: Clarence House is the official London residence of Charles, Prince of Wales and his wife Camilla, Duchess of Cornwall, and Princes Wiliam and Harry. It is a part of the St. James's Palace complex. The ground floor rooms open to the public are used for official receptions, etc., and are decorated with a superb collection of art and artifacts collected by Queen Elizabeth The Queen Mother during her lifetime. Reflecting Her Majesty's particular refined taste and patronage of the Arts, this is a fascinating time capsule of her life and period. Wheelchair accessable. No public toilet facilities.
Palace of Westminster Summer Opening
Access:Until 3 October, 2007. 9.15am-4.30pm.
Venue: Westminster, London SW1A 1AA.
Tickets: Online only.
London Transport: Nearest Tube. Westminster.
Description: An unrivalled opportunity to see the Victorian Gothic magnificence of the Palace of Westminster and its Chambers of the House of Commons and House of Lords together with the magnificent mediaeval Westminster Hall with its remarkable hammer beam roof, used for centuries first as the royal banqueting hall, later as a Court of Justice, (King Charles I was 'tried' here), and more recently for the lying in state of sovereign or eminent persons. The guided tour is made under strict security and lasts one hour only, which gives little time to admire the architecture of Sir Charles Barry, the ornamentation of Augustus Pugin or the statuary in the detail they deserve. Despite this proviso, the visit is still worthwhile however and this is a good opportunity to make a separate visit to the nearby mediaeval Jewel Tower, Westminster Abbey, (tickets at the door) and London Eye. Note the newly unveiled stature of Nelson Mandela and the many other monuments to famous people in Parliament Square and environs.
Hampton Court Palace: Preparing a Tudor Banquet
Date: 6/7 October, 3/4 November, 1/2 December, 27 December. 2007.
Venue: The Tudor Kitchens, Hampton Court Palace, East Molesey, KT8, 9AU. Tel: 0870 751 5175
Tickets: Online booking. Adults 12.30, (Concessions), or at the door. Tickets valid for entire Palace. Check times online or telephone.
London Transport: Nearest Tube: Richmond.
Description: Discover the smells and tastes of Tudor cookery first hand and have your questions answered by the Palace's Historic food archaeologists who will experiment with Tudor recipes, ingredients, utensils and traditional cooking methods, preparing a Tudor banquet, and giving you a fascinating look at the historic kitchens in operation as they would have been when King Henry VIII lived at the palace.
Music
BBC Henry Wood Promenade Concerts
Date: Nightly. Last Night of the Proms 8 Sept, 2006.
Venues: Royal Albert Hall, SW7 2AP, (symphonic and choral works); Cadogan Hall, (lunchtime Chamber music concerts); Royal Geographical Society, (pre-concert lectures). Tickets: Online or Tel: 020 7589 8212.
London transport: Nearest Underground South Kensington.
Description: The annual series of concerts performed nightly at the Royal Albert Hall. For a full background description see Music Festivals in Britannia Travelsleuth's Diary, July.
Fairs
London International Classic Car Show
Date: 10am-5pm, 6 - 7 October, 2007.
Venue: Alexandra Palace, Wood Green, N22 4AY
Tickets: 12, (Concessions), at the door. .
London transport: Nearest Tube. Wood Green and shuttle bus service.
Description: No information at time of writing. Check Website.
The Cycle Show
Date: 11 - 14 October, 2007.
Venue: Earls Court Exhibition Hall, Warwick Road, SW5 9TA. Tel: 020 7385 1200
Tickets: 10.50 Online or 13.50 at the door. .
London transport: Nearest Tube. Earls Court, West Brompton
Description: Timed to fit with the launch season for new bikes, the Cycle Show offers an opportunity to preview the best 2008 models before they reach the shops. See also the latest clothing, cycling magazines, fantastic new test tracks, cycling clubs, a duathlon challenge, cycling holidays and more. Everything in fact for the two wheeled pedaller.
The Baby Show
Date: 9.30am-5.30pm, 19-21 October, 2007.
Venue: Earls Court Exhibition Hall, Warwick Road, SW5 9TA. Tel: 020 7385 1200.
Tickets: 12.50 Online 14.50 at door. .
London transport: Nearest Tubes. Earl's Court, West Brompton.
Description: Created for parents-to-be and parents of young children, the Show has everything you need for pregnancy, birth, baby and beyond. There are 1000s of must-have products to try and buy; lots of expert advice around the Show; fashion shows and entertainment.
London MCM Expo
Date: 11am - 6pm. 20 - 21 October, 2007.
Venue: ExCel, London. E16 1XL.
London Transport: Check ExCel Online for road, rail and river access details.
Tickets: 8 at door.
Description: London's answer to San Diego's fabulous annual Comic-Con.
Music, Theatre, Dance
Monday Lunchtime Concerts, Banqueting House
Date: 1 October, 2007. 12.15pm - 2pm.
Venue: Banqueting House, Whitehall, SW1A 2ER, Tel: +44 (0)870 751 5187
Tickets: 15 inc. drinks & buffet lunch. Book by venue telephone or in person.
London Transport: Nearest Tube: Westminster, Embankment.
Description: There can surely be no better opportunity to enjoy this magnificent hall than in the way it was conceived by the Stuart kings; as a spectacular venue for the performing arts. As you admire the incomparable Rubens ceiling, listen to the soaring voice of renowned tenor Jos Maria Guerrero, (Romantic Songs and Arias). Further monthly dates not available at time of writing. Check Website or telephone.
Shakespeare's Globe Theatre Summer Season
Venue: New Globe Walk, SE1. Tel: 020 7401 9919
Date: Until 7 October, 2007. Matinees 2pm. Eves 7.30pm
Tickets: Online booking, (recommended), or at Box Office.
London Transport: Nearest Tube: Southwark.
Programme: See Shakespeare's plays as they would have been performed in Elizabethan and Stuart times in the Globe Theatre reconstructed on its original Tudor site overlooking the Thames. This season's repertory programme on the theme of Renaissance and Revolution: Othello, Love's Labours Lost, The Merchant of Vencie. Aslo Howard Brenton's critically acclaimed In Extremis; Jack Shepherd's Holding Fire; Eric Schlosser's We the People. See website for schedule.
Encore online
Venues: 37 West End and City theatres
Description: Your online guide to London's vibrant summer theatre programme of plays, musicals and variety.
Date: Ongoing.
Tickets: Book online with Offtolondon for all seats. Book ahead to avoid disappointment.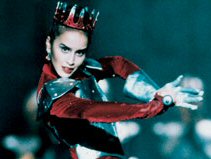 Credit Photo:  Birmingham Royal Ballet

Sadler's Wells
Venue: Sadlers Wells, Rosebury Avenue, EC1R 4TN. Tel: 020 7863 8198.
Date: October, 2007.
Tickets: Book online Early booking recommended. Discounts for Friends of Sadler's Wells.
London Transport: Nearest Tube. Angel, (Northern Line). A special Theatre Bus facility connects with Waterloo and Victoria Rail termini after each evening performance.
Description: An exciting Autumn season of Dance begins with the Birmingham Royal Ballet, Carlos Acosta and the Natiomnal Ballet of Cuba; and the Shaolin monks.

Royal Ballet: La Bayadere
Venue: Royal Opera House, Bow Street, Covent Garden, WC2E 9DD.
Date: 7pm, 6 - 27 October, 2007.
Tickets: Book online (recommended). Box Office: 020 7304 4000.
London Transport: Nearest Tube. Covent Garden.
Description: La Bayadre 'The Temple Dancer' is a full-length, (2 hrs, 40 mins), 19th-century ballet classic. The story of love, murder and vengeful judgement by the gods is set against colourful exoticism of India. Superbly choreographed by Natalia Markarova and Marius Petiva.

Royal Ballet: Romeo and Juliette
Venue: Royal Opera House, Bow Street, Covent Garden, WC2E 9DD.
Date: 7.30pm, 16 October - 25 November, 2007.
Tickets: Book online (recommended). Box Office: 020 7304 4000.
London Transport: Nearest Tube. Covent Garden.
Description: Kenneth MacMillan's great interpretation of Shakespeare's enduring tragedy is one of the most popular works in the Royal Ballet repertory and one of the greatest examples of 20th-century choreography.

55th Annual International Ballroom Dancing Championships Date: 11 October, 2007. 5.45pm start.
Venue: Royal Albert Hall, Kensington Gore, SW7 2A.
Tickets: From 17. Online booking or at the Box Office. Limited parking offered. See venue website for details.
London Transport: Nearest Tube: Knightsbridge, Kensington High Street.
Description: Some 360 of the world's foremost amateur and professional dancers compete in the International Professional Latin Championship finals, the International Amateur Standard finals and Amateur Latin Championship finals. Just one of 26 events, including symphonic, choral and pop concerts, taking place at London's historic and most prestigious hall during October. For interesting tours of this historic rotunda hall, opened 1871 by Queen Victoria, see the venue website.

Museum/Palace Exhibitions

Diana - A Princess remembered
Date: Ongoing. Ends 31 December, 2007.
Venue: Kensington Palace, Kensington Gardens, W8 4PX. Tel: 0870 751 5170.
Tickets: 12, Historic Royal Palaces Members FREE. (Concessions). Online or at the door. Ticket allows access to other parts of the Palace.
London Transport: Nearest Tube. Kensington high Street.
Description: An audiovisual exhibition marking the 10th anniversary of Diana's untimely death, draws on memorable moments in her life. Follow Diana's growth from childhood into a sophisticated princess and dedicated mother, who became internationally respected and admired as much for her beauty as for her tireless work for charities. These themes are explored through the largest collection of images of Princess Diana on public display in this anniversary year.

The First Emperor: China's Terracotta Army
Date: 10am-5pm daily. Ongoing until 6 April, 2008., 2007.
Venue: British Museum, Great Russell Street, WC1B 3DG. Tel: 020 7323 8299.
Tickets: 12, (Concessions). Buy online, (strongly recommended); Box Office 020 7323 8181, or queue at the door.
London transport: Nearest Tube. Tottenham Court Road; Russell Square.
Description: A once-in-a-lifetime opportunity to see the famed army of Emperor Qin! This unique exhibition explores one of the greatest archeological finds of the 20th century, providing an insight into China's first Emperor, 221 BCE. See some of the world-famous lifesize Terracotta Warriors together with recent discoveries made in the ongoing excavations of the remarkable site at Xi'an, China.

19th Century London; Sherlock Holmes, Jack the Ripper and more

Sherlock Holmes Museum
Venue 221b Baker Street, NW1 6XE. Tel: 020 7935 8866.
Tickets Adult 6, Child 4. Daily 9:30a.m. 6:00p.m. Discount Group admissions for 10 + persons. Advance booking telephone: 020 7738 1269, Online or email: info@sherlock-holmes.co.uk
London Transport Nearest Tube. Baker Street. Nos 13 and 139 buses run between Baker Street and Trafalgar Square. The trams and Hansom Cabs of Sherlock holmes's day are however a thing of the past.
Description Sherlock Holmes and Doctor Watson lived at 221b Baker Street, (built 1815), between 1881-1904, according to Holmes's biographer Sir Arthur Conan Doyle. The famous 1st floor study, where the world's most illustrious detective played the violin while pondering and solving those mystifying cases before the use of fingerprints or DNA made detection so much easier, is still faithfully maintained as it was kept in those late Victorian and Edwardian days of gaslamps, horse drawn Hansom cabs and London fogs. Nothing has changed. The rooms are exactly as described by Conan Doyle. Sherlock Holmes's possessions are in their usual places: his deerstalker, magnifying glass, calabash pipe, violin, chemistry equipment, notebook, Persian slippers and disguises, soda water gasogen on the sideboad. Dr Watson's hand-written notes made at the time of the famous case of the Hounds of the Baskervilles may be perused and visitors will be interested to see a waxwork in the likeness of the infamous Moriarty. Recommended.

Jack The Ripper's Sinister London
Venue: Selected departure points by coach.
Date: Fridays, Sundays. from 6.40pm
Tickets: Online Booking
Description:Tread in the footsteps of the infamous Jack The Ripper down the dark, narrow, gas-lit alleyways immortalized in such films as "From Hell". Led by one of the renowned London Blue Badge Guides, you will visit four murder sights. Your "Ripperologist" will run through some of the suspects who sparked a Victorian Whodunit that'll leave you as gripped as its victims. Approx. 4 hours.

Blood & Tears Walk
Venue: Start from outside Barbican Tube Station.
Date: Daily except Tues, Sats,Suns. 7pm and afternoons. See website for details. Closes 7 December, 2007. Recommences 3 January, 2008.
Tickets: 7, (Concessions). Pay Guide at start.
London Transport: Nearest Tube: Barbican, (Circle line, Metropolitan line and the Hammersmith & City line).
Description: This award-winning Horror London walk by qualified researcher and former professional actor Declan McHugh is now in its eighth year. The walk took years of research and covers sites connected with London's darkest past, including places associated with grave robbers, serial killers (including Jack the Ripper), secret tunnels, witchcraft and conspiracy. Learn about London's hidden history of Horror! Prisons, Prostitutes and Punishment; Highwaymen, Hangings and Hauntings; Disease, Disaster and Death.

Jack the Ripper Walk
Venue: Aldgate, Whitechapel, Spitalfields. EC. Tel: 020 8530 8443
Date: Daily. 7pm-9pm.
Tickets: 6.50. Online Booking
London Transport: Aldgate East, (District, Hammersmith and City Lines).
Description: Guided Exploration of the Whitechapel and Spitalfields alleys and pubs where serial killer Jack the Ripper murdered at least five and possibly many more prostitutes in a reign of terror during 1888.

The Shakespeare City Walk
Venue: Starts from Blackfriars Tube Station, Exit 8. (Circle and District Line).
Date: Mondays and Fridays, 11am. Enbds 7 December, 2007. Tel: 020 7625 5155 before date for confirmation. Recommences 3 January, 2008.
Tickets: 6.(Concessions). Book online or pay guide at start.
London Transport: Nearest Tube. Blackfriars.
Description: Former professional actor Declan McHugh leads you on a 90 minute walk through the City of London, uncovering often little-known monuments and locations with connections to Shakespeare's life, his friends, his loves and his work, while declaiming the Bard's poetry and prose in true thespian style.

Permanent collections in many galleries and museums are entry free. Some individually mounted temporary exhibitions within specified rooms may carry a ticket charge however, (bookable online or at the door). Check Shophound Alexia's comprehensive Free London Diary for details.

Fine Art and Craft Exhibitions

Seaman Schepps (1881-1972): America's Court Jeweller
Date: Extended to 11 November, 2007.
Venue The Gilbert Collection, Somerset House, Strand. .
Tickets Adult 5, (Concessions).
London Transport Nearest Tube. Strand.
Description Shepps bold, colourful jewellery entranced mid 20th century American society, and commissions from many White House families led The Washington Post to dub him 'America's Court Jeweller'. Marlene Dietrich, Katharine Hepburn, Doris Duke, Wanda Toscanini Horowitz, and the Duchess of Windsor as well as members of the du Pont, Mellon and Roosevelt families were amongst his clients. His eye-catching jewellery not only appealed to the modern, independent 20th century woman, who found his pieces visually striking and fun to wear, but also to Pop Art icon Andy Warhol who was an avid collector. This exhibition organized by the Museum of Arts & Design, New York, and generously sponsored by the Bauer and Hopenhajm families, brings together some 150 pieces of jewellery, designs and related material which trace the development of this innovative jeweller.

Royal Academy Autumn Season Exhibitions
Date: 10am-6pm. Ongoing. Various closure dates, 2007.
Venue: Royal Academy, Burlington House, Piccadilly, W.1.
Ticketing Information: Various prices and concessions. Online booking or at the door.
London transport: Nearest Tube: Piccadilly, Green Park.
Description: Three notable Autumn Exhibitions: Making History: Antiquaries in Britain 1707-2007, (ends 2 December); George Baselitz, (ends 9 December); An American's Passion for British Art: Paul Mellon's Legacy, (20 October, 2007 - 27 January, 2008).

Fine Art Fairs

Goldsmith's Fair
Date: 11am-7pm Mon-Fri; 10am-6pm Sat/Sun; (Closed 1 Oct.); 24 September - 7 October, 2007.
Venue: .
Goldsmiths' Hall, Foster Lane, EC2V 6BN. Tel. +44 (0)20 7606 701.
Tickets: By catalogue. 6 one week. 10 two weeks. Buy at door.
London Transport: Nearest Tube: St. Paul's.
Description: Annual selling exhibition of contemporary jewelry and silverware by British designers and makers showing everything from cufflinks to centre pieces. The 80 exhibitors include the young and up and coming as well as the already established. A unique opportunity to buy, to admire and to commission - in the encouraging and stately circumstance of the Livery Hall of the Goldsmiths' Company. Philip Harwick's magnificent 'palazzo' design for Goldsmith's Hall near St. Paul's Cathedral, (opened 1835), is one of London's hidden treasures. The Hall is the third on this site, the Goldsmiths' Company being located here since 1339. Little is known of the first Hall but the second was erected in 1634-6 and, like other great Livery Halls, was restored after the Great Fire of 1666. It lasted until 1820, when the present Hall was designed and built.

Origin - The London Crafts Fair Date: Week One: 2 - 7 October, Week Two: 9 - 14 October, 2007. Tues-Fri 11am 7pm; Sat-Sun 10am - 6pm; Thurs 11am-9pm.
Venue: Somerset House, Strand, WC2.
Tickets: Online booking or at door. Single: 8 (6 concessions);One visit in each week 12 (10 concessions); Season pass (unlimited entry) 15.
London Transport: Nearest Tube: Temple.
Description: Over 300 selling exhibitors in Week One, and a further 120 in Week Two, show off the best of modern British craftwork in this Crafts Council sponsored Fair. Jewelry, Precious Metals, Pottery, Woven and Fashion Textiles and Accessories, Knitwear, Glass, Wood, Furniture, and more from UK regional studios. an important Crafts event.

Art London
Date: 11am - 8pm; 4 - 8 October, 2007.
Venue: The Royal Hospital Chelsea, SW3.
Tickets: 12 for one, 18 for two, inc. illustrated catalogue. Valid for multiple entrances during the Fair and for Scupture Garden. Buy online, (recommended to avoid queues), or at the Marquee entrance.
London Transport: Nearest Tube: Sloane Square.
Description: Over 75 leading international, London and regional Fine Art galleries show C20, contemporary art and sculpture in the grounds of Sir Christopher Wren's Royal Hospital, (where the Chelsea Flower Show takes place each year). The vast selection of works on display for sale includes paintings, sculpture, photography, works on paper and ceramics, ranging from 300 to over 100,000. An important art event that kicks off London's autumn season.

Frieze Art Fair
Date: 11am - 7pm; 16 - 19 October, 2007.
Venue: Regent's Park, NW1.
Tickets: Prices not available at time of writing. Refer to website for details.
London Transport: Nearest Tube: Baker Street.
Description: An important art event following on from Art london. Over 150 international, London and regional contemporary art galleries exhibit alongside specially commissioned artists' projects, together with a prestigious talks programme and an artist-led education schedule. See also Scope London which coincides with Frieze.

Affordable Art Fair
Date: 11am - 6pm; 18 - 21 October, 2007.
Venue: Battersea Park, SW11 4NJ.
Tickets: 10 at door. Advance booking discount and concessions. Tel: 0870 777 2255 .
London Transport: Nearest Tube: Pimlico.
Description: Some 100 Fine Art galleries offer first time buyers and bargain hunting collectors paintings, prints, sculpture and photography from upcoming artists and 2007 Art graduates. There is traditionally a particularly strong showing by UK regional art galleries. All work is under 3,000. Charity Preview 17 October. See website for details. Good parking facilities.

Fine Art , Antiques Auctions

Sothebys.
Date: Various. October, 2007.
Venue: Exhibition and Sales; 34-35 New Bond Street, W.1. Tel: 020 7293 5000.
London Transport: Nearest Tube: Bond Street.
Description: October Fine Art and Artifacts. London and New York Exhibition days, London Sales. Online illustrated catalogues, estimated sales prices, etc.

British and Continental Paintings.
Exhibition: 28 September - 2 October. Sale: 10.30am. 3 October, 2007.
Contemporary Art
Exhibition New York: 7 - 11 September; Exhibition London: 7 - 12 October. Sale: 7pm. 12 October, 2007.
Contemporary Art
Exhibition: 8 - 14 October. Sale: 9.30am. 15 October, 2007.
20th Century Italian Art
Exhibition: 7 - 15 October. Sale: 6pm. 15 October, 2007.
Arts of the Islamic World incl. Carpets and Textiles.
Exhibition:: 19 - 23 October. Sale: 9 am. 24 October, 2007.
Modern and contemporary Irish Art.
Exhibition: 25 - 29 October. Sale: 10am. 30 October, 2007.
The Library of the Earls of Macclesfield. Pt.10. Applied Arts & Sciences.
Exhibition: 24 - 29 October. Sale: 10am and 2.30pm. 30 October, 2007.

Burlington Bertie's diary. Book now for these popular autumn events:- The Olympia London International Horse Show, 17-23 December, 2007.

Tutankkamun Exhibition, O2 Greenwich. November, December, 2007 and onward. See both this and the British Museum's Terracotta Army exhibition in one short Offtolondon break. Available November 2007 - April, 2008.

If you have a question, contact us and we will do our best to provide answers.

© 2007 offtolondon.com All rights reserved.