Burlington Bertie's Top Tips
A Night 'On the town'
While in London, treat your partner to a superb evening out 'On The Town' with OfftoLondon's theatre and dinner package.
Choose your Hotel
Use OfftoLondon's hassle-free and secure booking facilities to obtain the best internet prices for your overnight, 'City Break' or longer term accommodation requirements; from de-luxe 5-star hotels to comfortable hostels.
Book your tickets online
Book before your visit book all your tickets with Offtolondon.com. This way you will ensure best seats and best prices at the events, exhibitions and shows of your choice without the hassle of price bargaining and queuing on the day.
London Transport Oyster Card
The Central London congestion charge zone for visitors driving in London now covers all main areas of attraction. It makes sense to travel by the safe London Transport bus or Tube. Buy a multi-journey Oyster Card before you arrive, (you can top this up at will), and you will save money, time and hassle.
Something for the Weekend, Sir?
Add spice to your London visit with a Paris or Rome "Weekender". These city gems are now within your reach, thanks to cheap speedy travel. Enjoy a Day Trip to Paris via Eurostar for shopping, sightseeing and dining while you are in London. Let Offtolondon's associates, Travel Specialists OfftoParis and OfftoRome take care of all your travel, accommodation and sightseeing requirements at best price.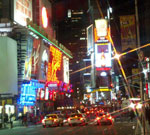 New York City Breaks
The dive in the dollar makes Christmas Shopping in the Big Apple this year's most attractive option for UK and European visitors. New York has never been better value! Spend time soaking up style on Fifth Avenue at Bergdorf Goodman or Sachs Fifth Avenue. Buy your digital cameras and gadgetry for fabulous prices at specialist Adorama on West 18th Street. Take in a Broadway Show, dine superbly and see all the landmark sites . New York! New York! Its a Wonderful Town! Check it all out on our sister site A Traveller's Guide to New York where you will find discount hotels, NYC tours, information on NYC neighborhoods and more.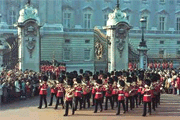 Discovering London - Full Day London City Tour
8.5 - 9 hours - Drive to Westminster, past Downing Street, home of the Prime Minister, and on to the Houses of Parliament and Big Ben. Stop for a visit inside Westminster Abbey, site of many royal coronations. Visit Poets' Corner and the tombs of many well-known scientists and monarchs. Also see the Chapel of Henry VII.
Stop near Buckingham Palace to see the colourful ceremony of the Changing of the Guard before driving through busy streets and past peaceful parks to Piccadilly, home of London's Theatreland. Pass Trafalgar Square with its impressive Nelson's Column and fountains, before reaching a traditional London pub for lunch.
The afternoon starts with a cruise on the River Thames, during which a Thames Waterman will point out the places of interest along the way. Disembark to visit the Tower of London where you will meet the Beefeaters clad in Tudor uniforms, hear the legend of the ravens and some spine chilling tales from the Tower's 900 year history. You will also see the Crown Jewels, magnificently displayed in the new Jewel House.
Click for more information
London Highlights in November, 2007.
by
Burlington Bertie
London highlights in November, 2007. A guide to London's summer of Royal pageantry, performing arts, fine art festivals, and sporting highlights from the diary of Burlington Bertie, OfftoLondon's Man About Town.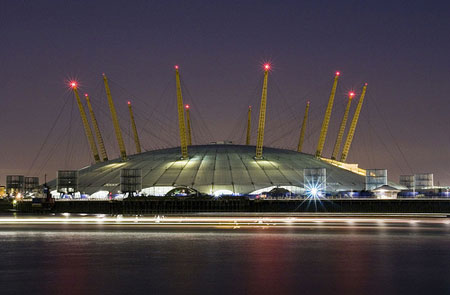 The O2 Arena. Formerly the Millennium Dome.


Pageantry & Heritage

Buckingham Palace State Rooms and Gardens
Venue: Buckingham Palace, Westminster, SW1A 1AA.
Access: Closed to public until Summer, 2008.
Tickets: 2008 dates available this month. Take advantage of special online discounts and advance booking.
Description: The State Rooms and Gardens of Buckingham Palace are open to the public in August and September while Queen and court reside in Scotland. The lavishly furnished State Rooms form the heart of the working palace and hold some of the finest treasures from the Royal Collection - paintings by Rembrandt, Rubens, Poussin, Canaletto; sculpture by Canova and others; exquisite examples of Sèvres and Chelsea porcelain; and some of the finest English and French furniture in the world. A special themed exhibition of Royal Collection artifacts and memorabilia is put on each year in the State Ballroom.

Clarence House
Access: Closed to public until Summer 2008.
Tickets: 2008 dates available this month. Take advantage of special online discounts and advance booking.
London Transport: Nearest Tube. Green Park, (Piccadilly Line).
Description: Clarence House is the official London residence of Charles, Prince of Wales and his wife Camilla, Duchess of Cornwall, and Princes William and Harry. It is a part of the St. James's Palace complex. The ground floor rooms open to the public are used for official receptions, etc., and are decorated with a superb collection of art and artifacts collected by Queen Elizabeth The Queen Mother during her lifetime. Reflecting Her Majesty's particular refined taste and patronage of the Arts, this is a fascinating time capsule of her life and period. Wheelchair accessable. No public toilet facilities.

The Royal Mews
Access: Closed for the winter. Reopens March 2008.
Venue: Buckingham Palace, Westminster, SW1A 1AA, London. Entrance in Buckingham Palace Road.
Tickets:Adult £7. (Concessions). Royal Mews and Queen's Gallery Joint ticket: £13.50. Book Online or at door. Take advantage of special online discounts and advance booking.
London Transport: Nearest Tube. Hyde Park Corner (Piccadilly Line), Victoria Rail Terminal, (Victoria, Circle and District Lines).
Description: The Royal Mews maintains and displays the Queen's State vehicles. These include the magnificent Gold State Coach used for Coronations, together with those open and closed carriages used by The Queen and members of the Royal Family for Royal and State occasions, State Visits, weddings, the State Opening of Parliament, Trooping the Colour, etc. A State motor vehicle is also usually on display.

The Queen's Gallery. The Art of Italy
Access: Ongoing. 10am-5.30pm daily, (closed 25/26 December). Current exhibition ends 20 January, 2008.
Venue: Buckingham Palace, Westminster, SW1A 1AA, London. Entrance in Buckingham Palace Road.
Tickets: Book Online, (timed and dated ticket entry), or at door. Take advantage of special online discounts and advance booking.
London Transport: Nearest Tubes. Green Park, Hyde Park Corner (Piccadilly Line), Victoria Rail Terminal, (Victoria, Circle and District Lines).
Description Superbly appointed gallery at the Palace dedicated to changing exhibitions of items from the Royal Collection, the wide-ranging collection of art and treasures held in trust by The Queen for the Nation. Current exhibition (ending 20 January, 2008), brings together 90 paintings and 85 drawings from Britain's royal palaces and residences. It focuses on the artistic legacy of the Stuart kings, Charles I and his son, Charles II, whose refined taste so profoundly influenced the character of the British Royal Collection and popular taste.

Palace of Westminster
Access: Open to public August and September, 2008. Guided tours daily, Monday to Saturday inclusive.
Venue: Westminster, London SW1A 1AA.
Tickets: Online only.
London Transport: Nearest Tube. Westminster.
Description: An unrivalled opportunity to see the Victorian Neo-Gothic magnificence of the Palace of Westminster with its debating Chambers of the 'House of Commons' and 'House of Lords'. See also Henry Yvele's magnificent mediaeval Westminster Hall with Hugh Herland's remarkable hammer beam roof, (1395-1402), used for centuries first as the royal banqueting hall, later as a Court of Justice, (King Charles I was 'tried' here), and more recently for the lying in state of sovereign or eminent persons. The 75 minute guided tour is made under strict security and lasts one hour only, which gives little time to admire the architecture of Sir Charles Barry, the ornamentation of Augustus Pugin or the statuary in the detail they deserve. Despite this proviso, the visit is still worthwhile and this is a good opportunity to make a separate visit to the nearby mediaeval Jewel Tower; Westminster Abbey, (tickets at the door); and London Eye. Note the newly unveiled statue of Nelson Mandela and the many other monuments to famous people in Parliament Square and environs.

Big Ben
Access: UK residents only.
Venue: Westminster, London SW1A 1AA.
Tickets: FREE but access must be arranged in advance through a Member of Parliament.
London Transport: Nearest Tube. Westminster.
Description: Visitors to the Clock Tower are shown up by a guide, who outlines the history of the tower, the famous bell and how the most accurate public clock in the world works. Tours are open to UK residents who have requested a visit through their local Member of Parliament. Children under the age of 11 are not permitted. When demand is high those with a proven interest in clocks or bells are given preference. Check website for details - and your heart for health before you begin the big climb. It's a long way to the top!

Guy Fawkes Night
Date: 4 November, 2007. 7.30pm.
Venue: Battersea Park, Albert Bridge Road, SW11 or Alexandra Palace, Wood Green, N22 7AY.
Tickets: £5 Battersea Park. £2 donation Alexandra Palace.
London Transport: Nearest Tube: Pimlico, (Battersea Park). Wood Green, (Alexandra Palace).
Description: The 5th November anniversary of the foiling of the infamous 1605 plot by Guy Fawkes and fellow conspirators to blow up King James I and Parliament with gunpowder has been celebrated ever since across the kingdom with fireworks and bonfires. Pepes wrote in his 1660 diary: "This 5 of November is observed exceeding well in the City; and at night great bonefires and fireworks." Now celebrated each year on the nearest Saturday throughout UK. See Battersea or Alexandra Palace for relevant London details. The latter venue offers a particularly lively evening's entertainment, together with a dramatic panoramic view across fireworks-lit London.

Hampton Court Palace: Preparing a Tudor Banquet
Date: 3/4 November, 1/2 December, 27 December. 2007.
Venue: The Tudor Kitchens, Hampton Court Palace, East Molesey, KT8, 9AU. Tel: 0870 751 5175
Tickets: Online booking. Adults £12.30, (Concessions), or at the door. Tickets valid for entire Palace. Check times online or telephone.
London Transport: Nearest Tube: Richmond.
Description: Discover the smells and tastes of Tudor cookery first hand and have your questions answered by the Palace's Historic food archaeologists who will experiment with Tudor recipes, ingredients, utensils and traditional cooking methods, preparing a Tudor banquet, and giving you a fascinating look at the historic kitchens in operation as they would have been when King Henry VIII lived at the palace.

London Eye. Millenium Wheel
Date: Daily.
Venue: Westminster Bridge Road, (Riverside Building County Hall), SE1 7PB. Tel: 0870 990 8883
Tickets: £15. (Concessions). Book online.
London Transport: Nearest Tube: Westminster.
Description: Opened at the beginning of 2000 to celebrate the Millennium, this huge 450-foot British Airways ferris wheel on the South Bank of the Thames gives a fabulous bird's eye view of Royal and Civic London, with spectacular views stretching for 25 miles on a clear day to include views of Windsor Castle. Up to 25 people can fit in each of the wheel's "capsules." The wheel turns surprisingly slowly- it takes thirty minutes to go round, so you will have plenty of time to spot landmarks, take photos, propose to your beloved, get married and celebrate the occasion with champagne! Combine your London Eye experience with a Thames River cruise. Online booking discount, (champagne supplied)!

Performing Arts

Monday Lunchtime Concerts, Banqueting House Date: 13 November, 4 December, 2006. 12.15pm - 2pm.
Venue: Banqueting House, Whitehall, SW1A 2ER, Tel: +44 (0)870 751 5187
Tickets: £15 inc. drinks & buffet lunch. Book by venue telephone or in person.
London Transport: Nearest Tube: Westminster, Embankment.
Description: There can surely be no better opportunity to enjoy this magnificent hall than in the way it was conceived by the Stuart kings; as a spectacular venue for the performing arts. As you admire the incomparable Rubens ceiling, listen to the dulcet voice of soprano Sarah-Jane Dale with Harpist Luisa-Maria Ovett (Wine, Women and Song, November); The Dufay Collective, (A Mediaeval Christmas, December).

James Theirree at Sadler's Wells
Venue: Sadlers Wells, Rosebury Avenue, EC1R 4TN. Tel: 020 7863 8198.
Date: 30 October - 10 November, 2007.
Tickets: Book online Early booking recommended. Discounts for Friends of Sadler's Wells.
London Transport: Nearest Tube. Angel, (Northern Line). A special Theatre Bus facility connects with Waterloo and Victoria Rail termini after each evening performance.
Description: An exciting Autumn season of Dance continues with James Thierree's Au Revoir Parapluie. Acrobat and clown, poet and magician - James Thiérrée is acknowledged as one of today's greatest, and most creative, contemporary circus performers. Performed by a highly skilled cast of acrobats, dancers and musicians, including Thiérrée himself, Au Revoir Parapluie is a stunning physical performance which dazzles with spectacular theatrics.

Royal Ballet: Romeo and Juliet
Venue: Royal Opera House, Bow Street, Covent Garden, WC2E 9DD.
Date: 7pm or 7.30pm, until 25 November, 2007.
Tickets: Book online (recommended). Box Office: 020 7304 4000.
London Transport: Nearest Tube. Covent Garden.
Description: Set to Prokoviev's music, this ballet of Shakespeare's tragic love story interpreted by Kenneth MacMillan is justly considered one of the finest examples of 20th century choreography and remains one of the Royal Ballet's most popular works in their repertory. A memorable evening!

Festival of Remembrance Date: 10 November, 2007.
Venue: Royal Albert Hall, Kensington Gore, SW7 2A
Tickets: Sold Out.
London Transport: Nearest Tube. Knightsbridge, Kensington High Street.
Description: The annual British Legion Festival extravaganza is attended by the Queen, Duke of Edinburgh and members of the Royal Family as part of the Remembrance Day weekend. The superbly produced show in honour of the fallen in battle is televised and inevitably brings a tear to the eye of every veteran. This is just one of 26 events, including symphonic, choral and pop concerts, taking place at London's historic and most prestigious hall during November, ending with the first Carol concert of the Festive season. Check website for tour details and onsite dining at this historic architectural wonder, the Royal Albert Hall, opened 1871 by Queen Victoria.

London Fairs

15th Winter Fine Art & Antiques Fair
Date: 12 - 18 November, 2007. Times vary.
Venue: .
Olympia Exhibition Halls, Hammersmith Road, W14 8UX.
Tickets: £10 single, £16 double at door incl. free catalogue. Ticket hotline: 0870 126 1725, (advance booking discount).
London Transport: Nearest Tube: Kensington Olympia.
Description: London's most important winter Antiques Fair draws thousands to buy from 235 top International dealers offering fine art, furniture and antiques including exceptional, often rare, examples of crystal, ceramics, textiles, clocks, prints, sculpture, Asian art, lighting, Art Deco, mirrors and maps, all checked for authenticity by over 100 experts across 28 categories. This prestigious event is backed up by an interesting and informative loan exhibition of Naive English Paintings and evening lectures.

Country Living Christmas Fair
Date: 14 - 18 November, 2007. 10am-6pm Wed-Fri, (Sat 9:30am), and 10am-3pm Sun.
Venue: Business Design Centre, 52 Upper Street, Islington, N1 0QH. Tel: +44 (0)20 7359 3535.
Tickets: £10.50. Online booking £10.50. At door £14.50, (Concessions). Gala Evening: 14 November.
London Transport: Nearest Tube: Angel.
Description: Visit a dazzling emporium filled with unique gifts, delicious food and beautiful decorations not available on Main Street. Browse the stalls of over 400 exhibitors and soak up the magical atmosphere while you buy everything for christmas under one roof: beautiful hand-made gifts, stunning jewellery, unique home accessories and stylish clothing or Festive food.

Frock Me!
Date: 4 November and 9 December, 2007. 11am-5.30pm.
Venue: Chelsea Town Hall, Kings Road, London SW35EF.
Tickets: £3. At the door.
London Transport: Nearest Tube: South Kensington, Sloane Square.
Description: Specialist Fashion and Accessories event dedicated to Vintage and Period Costumes. Thrift-shop chic and taste for vintage clothes first espoused by Barbra Streisand back in the 1960s and followed ever since by London, Paris, New York and Tinseltown celebs has made this regular period fashion show a a colourfully essential and trendy focus point for the classy girl-about-town. Some 50 specialists offer an unrivalled collection of vintage clothing and accessories including hats, shoes, gloves and jewellery; attracting fashionistas, stylists, models, fashion students, collectors and costume designers for stage and film. Spot top designers and celebrities amongst the crowds searching for one-off fashion finds.

Great Exhibitions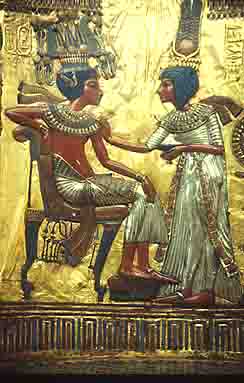 Tutankhamun and the Golden Age of the Pharoahs
Date: Daily, 10am-5pm. 15 November, 2007 - 30 August, 2008.
Venue: O2 Exhibition Centre, Millennium Way, SE10.
Tickets:
£15, timed entry. (Concessions). Book online - Weekend tickets are the first to sell out. Book a Hotel & Ticket Break from £63.50.
London Transport: Nearest Tube. North Greenwich. Thames travel: Riverline O2 Express to Queen Elizabeth II Pier.
Description: For more than 3,000 years Tutankhamun's treasures lay unseen beneath the Egyptian sands until unearthed by Howard Carter in 1922/23. When they were shown at the British Museum in 1972 they were the ultimate 'must see' event. Now Tutankhamun returns in a spectacular new exhibition of 130 priceless treasures from the tomb and other Valley of the Kings royal burials, under the auspices of the Egyptian Supreme Council of Antiquities and its Director, Dr. Zahi Hawass.

The First Emperor: China's Terracotta Army
Date: 10am-5pm daily. Ongoing. Ends 6 April, 2008., 2007.
Venue: British Museum, Great Russell Street, WC1B 3DG. Tel: 020 7323 8299.
Tickets: £12, (Concessions). Buy online, (strongly recommended); Box Office 020 7323 8181, or queue at the door.
London transport: Nearest Tube. Tottenham Court Road; Russell Square.
Description: A once-in-a-lifetime opportunity to see the famed army of Emperor Qin! This unique exhibition explores one of the greatest archeological finds of the 20th century, providing an insight into China's first Emperor, 221 BCE. See some of the world-famous lifesize Terracotta Warriors together with recent discoveries made in the ongoing excavations of the remarkable site at Xi'an, China.
Hotel & Exhibition Package.

The golden Age of Fashion. 1947-1957.
Date: 10am-5.45pm daily. 10.am to 10pm Wednesdays and the last Friday of the month. Ongoing. Ends 6 January, 2008.
Venue: Room 40, V & A Museum, Cromwell Road, SW7 2RL., Tel: 020 7942 2000.
Tickets: £9. (Concessions). At the door or Book online.
London transport: Nearest Tube: South Kensington.
Description: The launch of Christian Dior's New Look in 1947 marked the beginning of a momentous decade in fashion history, one that Dior himself called the "Golden Age". This stunning exhibition explores the post-war development and flowering of the great Parisian couture houses such as Dior, Balenciaga, Balmain and Fath, and London's court dressmakers such as Hardy Amies, Norman Hartnell and John Cavanagh, who attracted worldwide attention for an elegance and glamour not seen since the days of Worth over half a century earlier.

Diana - A Princess remembered
Date: Ongoing. Ends 31 December, 2007.
Venue: Kensington Palace, Kensington Gardens, W8 4PX. Tel: 0870 751 5170.
Tickets: £12, Historic Royal Palaces Members FREE. (Concessions). Online or at the door. Ticket allows access to other parts of the Palace.
London Transport: Nearest Tube. Kensington high Street.
Description: An audiovisual exhibition marking the 10th anniversary of Diana's untimely death, draws on memorable moments in her life. Follow Diana's growth from childhood into a sophisticated princess and dedicated mother, who became internationally respected and admired as much for her beauty as for her tireless work for charities. These themes are explored through the largest collection of images of Princess Diana on public display in this anniversary year.

Somerset House

France in Russia. Empress Josephine's Malmaison Collection
Date: 10am-6pm daily. Ends 4 November, 2007.
Venue: The Hermitage Rooms, Somerset House, Strand, WC2.
Tickets: £5, (Concessions and discounts for joint ticket with other SH exhibitions).
London Transport: Nearest Tubes: Embankment, Covent Garden, Temple.
Description: Empress Josephine's Malmaison Collection, purchased by Tzar Alexander I in 1815 and now held by the State Hermitage Museum in St Petersburg. In addition to 16th and 17th century paintings by Claude, Potter and Teniers, sculpture by Canova and stunning decorative arts, the exhibition brings together sumptuous luxury items borrowed from Josephine's fashionable country retreat Malmaison, such as textiles, personal effects and letters.

Walter Sickert: The Camden Town Nudes
Date: 10am-6pm daily. Ends 20 Janbuary, 2008.
Venue: The Courtauld Gallery, Somerset House, Strand, WC2.
Tickets: £5, (Concessions and discounts for joint ticket with other SH exhibitions).
London transport: Nearest Tubes: .
Description: A remarkable group of paintings of nudes by Walter Sickert (1860-1942), one of the most important British artists of the twentieth century. These paintings are among his most beautiful and complex works; admired both for their virtuoso brushwork and their highly original approach to the nude genre. Against contemporary conventions of the idealised nude, Sickert reinvented the nude between 1905 and 1912, depicting his naked models in the shabby interiors of Camden Town studios, investing the images with the disquieting themes of prostitution and poverty associated with this onetime impoverished working class area of North London where he lived and worked. The exhibition brings together canvases from private and public collections together with Sickert's four so-called Camden Town Murder paintings.

The Gilbert Collection
Date: Ongoing. 10am-6pm. Daily, 2007.
Venue The Gilbert Collection, Somerset House, Strand, WC2.
Tickets Adult £5, ((Concessions and discounts for joint ticket with other SH exhibitions).
London Transport: Nearest Tubes. Embankment, Covent Garden, Temple.
Description The late Sir Arthur Gilbert's Collection of silver, gold boxes, Italian mosaics, Roman enamel mosaics and portrait miniatures, is unrivalled. The silver gallery presents a definitive picture of the range and styles of ornamental European silver from the Renaissance to the Victorian era. The gold boxes are some of the most remarkable works of art of the eighteenth century and a microcosm of their age. The gold & treasury galleries contain an extraordinary diversity, including a 16th century jewelled partridge, (Nuremberg); a pair of royal gates, (Kiev); an Indian Maharaja's silver howdah or elephant chair; and an Anatolian ewer, dating back to the third millennium BC. Two kinds of Italian mosaic are celebrated in the incomparable Gilbert Collection of snuffboxes. vases, jewellery and furniture; pietre dure, (literally hard stones), developed in Renaissance Florence and enamel micromosaics made in Rome. Art in enamel describes the 100 or more miniature portraits created using enamel paints, where each colour is fired separately in a kiln before the next is applied; an exacting art form, which became fashionable in eighteenth century Europe.

Royal Academy Autumn Season Exhibitions
Date: 10am-6pm. Ongoing. Various closure dates, 2007.
Venue: Royal Academy, Burlington House, Piccadilly, W.1.
Ticketing Information: Various prices and concessions. Online booking or at the door.
London transport: Nearest Tube: Piccadilly, Green Park.
Description: Three notable Autumn Exhibitions: Making History: Antiquaries in Britain 1707-2007, (ends 2 December); George Baselitz, (ends 9 December); An American's Passion for British Art: Paul Mellon's Legacy, (ends 27 January, 2008).

Sothebys Sales.
Date: Various. November, 2007.
Venue: Exhibition and Sales; 34-35 New Bond Street, W.1. Tel: 020 7293 5000.
London Transport: Nearest Tube. Bond Street.
Description: Fine Art and Artifacts. London and New York Exhibition days, London Sales. Online illustrated catalogues, estimated sales prices, etc. Check Offtolondon Spotlight for up-to-date news and comment on the London Antiques scene.

19th Century London; Sherlock Holmes, Jack the Ripper and more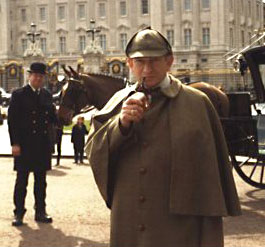 Holmes outside of Buckingham Palace.

Sherlock Holmes Museum
Venue 221b Baker Street, NW1 6XE. Tel: 020 7935 8866.
Tickets Adult £6, Child £4. Daily 9:30a.m. - 6:00p.m. Discount Group admissions for 10 + persons. Advance booking telephone: 020 7738 1269, Online or email: info@sherlock-holmes.co.uk
London Transport Nearest Tube. Baker Street. Nos 13 and 139 buses run between Baker Street and Trafalgar Square. The trams and Hansom Cabs of Sherlock holmes's day are however a thing of the past.
Description Sherlock Holmes and Doctor Watson lived at 221b Baker Street, (built 1815), between 1881-1904, according to Holmes's biographer Sir Arthur Conan Doyle. The famous 1st floor study, where the world's most illustrious detective played the violin while pondering and solving those mystifying cases before the use of fingerprints or DNA made detection so much easier, is still faithfully maintained as it was kept in those late Victorian and Edwardian days of gaslamps, horse drawn Hansom cabs and London fogs. Nothing has changed. The rooms are exactly as described by Conan Doyle. Sherlock Holmes's possessions are in their usual places: his deerstalker, magnifying glass, calabash pipe, violin, chemistry equipment, notebook, Persian slippers and disguises, soda water gasogen on the sideboad. Dr Watson's hand-written notes made at the time of the famous case of the Hounds of the Baskervilles may be perused and visitors will be interested to see a waxwork in the likeness of the infamous Moriarty. Recommended.

Jack The Ripper's Sinister London
Venue: Selected departure points by coach.
Date: Fridays, Sundays. from 6.40pm
Description:Tread in the footsteps of the infamous Jack The Ripper down the dark, narrow, gas-lit alleyways immortalized in such films as "From Hell". Led by one of the renowned London Blue Badge Guides, you will visit four murder sights. Your "Ripperologist" will run through some of the suspects who sparked a Victorian Whodunit that'll leave you as gripped as its victims. Approx. 4 hours.

Blood & Tears Walk
Venue: Start from outside Barbican Tube Station.
Date: Daily except Tues, Sats,Suns. 7pm and afternoons. See website for details. Closes 7 December, 2007. Recommences 3 January, 2008.
Tickets: £7, (Concessions). Pay Guide at start.
London Transport: Nearest Tube: Barbican, (Circle line, Metropolitan line and the Hammersmith & City line).
Description: This award-winning Horror London walk by qualified researcher and former professional actor Declan McHugh is now in its eighth year. The walk took years of research and covers sites connected with London's darkest past, including places associated with grave robbers, serial killers (including Jack the Ripper), secret tunnels, witchcraft and conspiracy. Learn about London's hidden history of Horror! Prisons, Prostitutes and Punishment; Highwaymen, Hangings and Hauntings; Disease, Disaster and Death.

Jack the Ripper Walk
Venue: Aldgate, Whitechapel, Spitalfields. EC. Tel: 020 8530 8443
Date: Daily. 7pm-9pm.
Tickets: £6.50. Online Booking
London Transport: Aldgate East, (District, Hammersmith and City Lines).
Description: Guided Exploration of the Whitechapel and Spitalfields alleys and pubs where serial killer Jack the Ripper murdered at least five and possibly many more prostitutes in a reign of terror during 1888.

The Shakespeare City Walk
Venue: Starts from Blackfriars Tube Station, Exit 8. (Circle and District Line).
Date: Mondays and Fridays, 11am. Enbds 7 December, 2007. Tel: 020 7625 5155 before date for confirmation. Recommences 3 January, 2008.
Tickets: £6.(Concessions). Book online or pay guide at start.
London Transport: Nearest Tube. Blackfriars.
Description: Former professional actor Declan McHugh leads you on a 90 minute walk through the City of London, uncovering often little-known monuments and locations with connections to Shakespeare's life, his friends, his loves and his work, while declaiming the Bard's poetry and prose in true thespian style.

Permanent collections in many galleries and museums are entry free. Some individually mounted temporary exhibitions within specified rooms may carry a ticket charge however, (bookable online or at the door). Check Shophound Alexia's comprehensive November Free London Diary for details.

Burlington Bertie's Highlights Memo - Book tickets for the Dec 22 Christmas concert by the world famous Choir of Kings College Cambridge at the Royal Albert Hall. Check out what's on for the traditional Christmas Pantomime season and book tickets for the family, 27 Dec. Possibles: The Snow Queen at Theatre Royal, Stratford; Peter Pan at New Wimbledon Theatre; Cinderella at the Hackney Empire.

If you have a question, contact us and we will do our best to provide answers.

© 2007 offtolondon.com All rights reserved.