Burlington Bertie's Top Tips
A Night 'On the town'
While in London, treat your partner to a superb evening out 'On The Town' with OfftoLondon's theatre and dinner package.
Choose your Hotel
Use OfftoLondon's hassle-free and secure booking facilities to obtain the best internet prices for your overnight, 'City Break' or longer term accommodation requirements; from de-luxe 5-star hotels to comfortable hostels.
Book your tickets online
Book before your visit book all your tickets with Offtolondon.com. This way you will ensure best seats and best prices at the events, exhibitions and shows of your choice without the hassle of price bargaining and queuing on the day.
London Transport Oyster Card
The Central London congestion charge zone for visitors driving in London now covers all main areas of attraction. It makes sense to travel by the safe London Transport bus or Tube. Buy a multi-journey Oyster Card before you arrive, (you can top this up at will), and you will save money, time and hassle.
Something for the Weekend?
Add spice to your London visit with a Paris or Rome "Weekender". These city gems are now within your reach, thanks to cheap speedy travel. Enjoy a Day Trip to Paris via Eurostar for shopping, sightseeing and dining while you are in London. Let Offtolondon's associates, Travel Specialists OfftoParis and OfftoRome take care of all your travel, accommodation and sightseeing requirements at best price.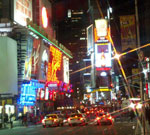 New York City Breaks
The dive in the dollar makes Christmas Shopping in the Big Apple this year's most attractive option for UK and European visitors. New York has never been better value! Spend time soaking up style on Fifth Avenue at Bergdorf Goodman or Sachs Fifth Avenue. Buy your digital cameras and gadgetry for fabulous prices at specialist Adorama on West 18th Street. Take in a Broadway Show, dine superbly and see all the landmark sites . New York! New York! Its a Wonderful Town! Check it all out on our sister site A Traveller's Guide to New York where you will find discount hotels, NYC tours, information on NYC neighborhoods and more.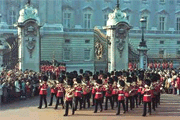 Discovering London - Full Day London City Tour
8.5 - 9 hours - Drive to Westminster, past Downing Street, home of the Prime Minister, and on to the Houses of Parliament and Big Ben. Stop for a visit inside Westminster Abbey, site of many royal coronations. Visit Poets' Corner and the tombs of many well-known scientists and monarchs. Also see the Chapel of Henry VII.
Stop near Buckingham Palace to see the colourful ceremony of the Changing of the Guard before driving through busy streets and past peaceful parks to Piccadilly, home of London's Theatreland. Pass Trafalgar Square with its impressive Nelson's Column and fountains, before reaching a traditional London pub for lunch.
The afternoon starts with a cruise on the River Thames, during which a Thames Waterman will point out the places of interest along the way. Disembark to visit the Tower of London where you will meet the Beefeaters clad in Tudor uniforms, hear the legend of the ravens and some spine chilling tales from the Tower's 900 year history. You will also see the Crown Jewels, magnificently displayed in the new Jewel House.
Click for more information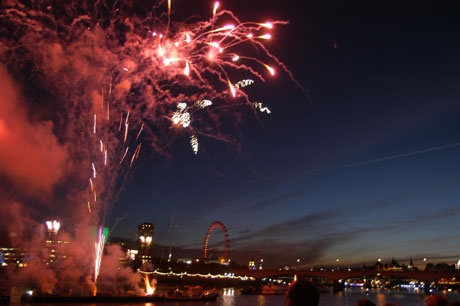 LMS Fireworks. Lord Mayor's Show Fireworks Display.

Shophound Alexia's
November 07 Free London diary.

November highlights for Heritage and Royal pageantry events, Christmas Lights, festivals, Church music, free museums, art galleries and antiques markets.



Royal Heritage & Pageantry

Changing the Guard at Buckingham Palace
Date: Ongoing. 11.30am. October (provisional dates) Even days throughout the month. Check website end of September for confirmed dates.
Venue: Buckingham Palace Forecourt, Westminster, SW1A 1AA
London Transport: Nearest Tubes. Green Park, Hyde Park Corner, Victoria mainline rail terminus
Description: The new guards from one of five Household Guard Regiments, (Coldstream, Grenadier, Scots, Irish or Welsh Guards), arrive at the forecourt of the Palace at 11:30 from Wellington Barracks. Their march takes about 5 minutes and the soldiers are accompanied by a band. The ceremony is conducted on the Palace forecourt and takes approximately forty minutes to complete. Subject to wet weather cancellation. Beware the nuisance of pickpockets outside the Palace gates.
See also the colourful changing of The Queen's Lifeguards, (Blues & Royals or Life Guards), at Horse Guards Parade, (weekdays 11am, Sundays 10am); a spectacular piece of royal pageantry. Excellent photo opportunities at these and at St. James's Palace. Check Changing the Guard for further details, regimental uniform identification, and special guidebook.

Ceremony of the Keys
Date: Ongoing. Daily. 9.30.pm.
Venue: Tower of London, Tower Hill, EC3N 4AB
Tickets: Complimentary tickets are obtainable on application in writing. Check Tower website for details.
London Transport: Nearest Tube. Tower Hill.
Description: The Ceremony of the Keys is the traditional locking up of the Tower of London and has taken place on each and every night, without fail, for at least 700 years. The Yeoman Warders, (the famous Beefeaters), in their royal livery, and military guard, lock the outer gates of the Tower of London and deliver the keys to the Governor of the Tower, (always a retired General), who resides in the Tudor Queen's House overlooking the infamous scaffold site within the walls. The importance of securing this fortress for the night is still relevant because, although the Monarch no longer resides at this royal palace, the Crown Jewels, including the Coronation Regalia and many other historic valuables, still do and felonious attempts have been made to steal them! Check Historic Royal Palaces/Tower of London for daily opening times, etc., for the Tower, Crown Jewels, etc.

London to Brighton Veteran Car Run
Date: 3, 4 November, 2007.
Venue: From Hyde Park Corner, Knightsbridge to Madiera Drive, Brighton Seafront.
Tickets: FREE.
London Transport: Nearest Tube: Hyde Park Corner.
Description: The historic annual rally that the Royal Automobile Club has organized since 1930, in which a few hundred vintage cars built no later than 1 January,1905 travel the 60 miles to Brighton flat out at an average speed of 20 mph. The historic run commemorates the Emancipation Run of 14 November 1896 which celebrated the passing into law of the Locomotives on the Highway Act, which raised the speed limit for `light locomotives' from 4 mph to 14 mph and abolished the requirement for these vehicles to be preceded by a man on foot waving a flag!
The veterans begin at 7a.m., heading through south London and Surrey, past Gatwick airport and the Sussex Downs. Check website for map details. The lucky ones start to arrive by around 10.30am. This is not a race but a rally in which all those arriving by mid-afternoon are "winners". You will be one of up to a million spectators who turn up at Hyde Park Corner Start, Brighton Esplanade Finish, or line the route to admire 650 or more lovingly cherished vintage entries from all over the world and their sometimes vintage drivers in their late Victorian or Edwardian motoring garb.
There will be a Pre-Run Concours d'Elegance of participating vintage cars and their vintage drivers in Regent Street on 3 November, from 11a.m. - 3 p.m. Check website for details.

The Lord Mayor's Show
Date: 10 November, 2007. 11am - 2pm.
Venue: Through the City of London, (Parade); Thames Embankment, (Firework Display). See website for route map.
Tickets: Line the route for FREE.
London Transport: Nearest Tube: Mansion House.
Description: The Lord Mayor's Show winds through nearly 800 years of London's history, with the Mayor Elect of the City of London making his jubilant way to the Royal Courts of Justice to pledge allegiance to the Crown, just as Dick Whittington did in 1397. Afterward the newly sworn-in Mayor returns in state to the Mansion House, (the City's Mayoralty). Over 6000 people take part in the colourful, 3 miles long procession along the 1.7 mile long route, including 2000 servicemen and women, 180 vehicles, 66 floats, 21 marching bands and 21 carriages and the famous golden State Coach. At 5pm the newly confirmed Lord Mayor starts a spectacular Thames-side fireworks display to mark the beginning of his year of office. One of London's most spectacular annual pyrotechnic displays, this is best seen from the Victoria Embankment. See website for full details of route and participants. The annual event is televised live by BBC. The Lord Mayor's Coach can otherwise be seen at the London Museum.

Remembrance Sunday Parade
Date: 11am, 11 November, 2007.
Venue: The Cenotaph, Whitehall, SW1A 2ER.
Tickets: FREE to line the street.
London Transport: Nearest Tube: Westminster.
Description: Click onto the website for an excellent photo documentary with commentary of this most moving annual event attended by The Sovereign, Consort and Royal Family. The annual ceremony at which The Queen, Representatives of Parliament, the Armed Forces, Commonwealth and a host of associations lay wreaths at the foot of the Cenotaph, followed by an impressive march past, is broadcast by the BBC on radio and TV. Similar ceremonies take place at war memorials across Britain at this time.

State Opening of Parliament and The Queen's Speech
Date: November, 2007. Date to be confirmed.
Venue: The House of Parliament, SW1A 1AA
Tickets: To watch from within the Chamber of the House of Lords, you will need to be the guest of a peer and obtain a place in the Strangers' Gallery.
London Transport: Nearest Tube: Westminster.
Description: This is a major annual event in the Sovereign's calender, a moment of pageantry and significant historic symbolism. The Queen drives in state from Buckingham Palace to Westminster formally to open Her Parliament. Members of the Commons are summoned by "Black Rod" in a symbolic ceremony to hear The Queen's Speech from the ornate throne in the Chamber of the House of Lords. The best vantage points to watch The Queen's drive is outside Buckingham Palace or, preferably, the House of Lords, from where one may see the Guard of Honour, the arrival of distinguished guests followed by The Queen in Her State Coach, attended by Her mounted Lifeguards.

Festive London

Christmas Lights
Date: From 7 November, 2007 - 5 January, 2008.
Venue: Regent Street, Oxford Street, Bond Street.
Tickets: FREE.
London Transport: Nearest Tube: Oxford Circus, Bond Street, Marble Arch.
Description: London's famed Christmas Lights provide a spectacular display in Oxford Street, (from 7 November); Regent Street, (from 20 November); and Bond Street, (22 November). Regent Street is closed to traffic for the festive Switch-on. London's top West End Stores are all spectacularly lit up during the festive season.

London's Royal Parks

The Royal Parks play an important and popular role during the Autumn months in the Londoner's Diary, providing a varied programme of events, as well as providing a safe family environment for recreation and relaxation in colourful surroundings of remarkable bio-diversity. London's Royal and municipal parks are superbly kept with seasonally planted flower beds, shrubs, trees, lakes, fountains, historic monumental statuary and teeming, people-friendly, wildlife. Birdlife is remarkably abundant with some 144 species of woodland bird, raptor and wild and ornamental waterfowl recorded, many of which breed in the avian-friendly surroundings from January on.
Most Royal Parks were originally royal hunting grounds and Hyde Park and Richmond Park remain popular equestrian venues, while herds of deer still graze, (no longer chased by Royal huntsmen), at Richmond and Greenwich. There are plenty of restrooms and excellent catering facilities, ranging from tea houses to gourmet restaurants, a wide range of sporting facilities and many interesting historic monuments and Heritage sites in and around each Park.
Schedule of Guided Walks Website of scheduled 'Guided Walks' through October. Check Site for date and time schedules. Tel: 020 7298 2083. Contact: Nick Lane to assure a place on the walks, as places are limited.

St. James's Park
Opening Times; Daily. 5am-midnight.
London Transport: Nearest Tube: St. James's Park.
Description:
This is London's oldest park and, although open to the public, is historically within the grounds of Buckingham Palace. Bounded by the Palace on the west, St. James's Palace, Clarence House and the Mall on the north, Admiralty Arch and Horseguard's Parade on the east, Wellington Barracks and Birdcage Walk on the south, it lies at the very heart of London's Royal heritage and pageantry. The ornamental lake overlooked by the Palace is stocked with fifteen species of exotic waterfowl including Pelicans and Black Swans, and the shady walks are bordered by superbly planted seasonal flowerbeds and flowering shrubs.
As well as Buckingham Palace, Horseguard's Parade and Admiralty Arch, pause to see the Queen Victoria Memorial with its marble statue of Victoria and glittering figures of Victory, Courage and Constancy, bordered by the ornamental gates given by the former Dominions; Australia Gate, South Africa Gate and Canada Gate.
Alexia's Diary: Pelican feeding time. Daily. 2.30pm. Lakeside. A popular time for both Pelicans and spectators!
Changing the guard at Buckingham Palace. Daily through October on even days, 2007. 11.30am. Musical march past from Wellington Barracks down Birdcage Walk on south side of the Park to the Palace and return.
Changing the Queen's Lifeguard at Horseguards Parade. Mornings: Daily 11am, Sundays 10am. Afternoons: Daily 4pm. Horseguard's Parade, situated at the eastern end of the park, is the official entrance to Buckingham Palace.
Guided Walk: 6 October, 2007; 6:45pm - 8:15pm. Going Batty for Bats. A nocturnal stroll through Hyde Park and Kensington Gardens. This fun and informative activity identifies the bats common in Central London and explains some of the mostly fictional myths surrounding them. . Come dressed for outdoors. Children must be accompanied by an adult. Booking is essential. Contact Nick Lane, Engagement Officer, TEL: 020 7298 2083 or check online for more details.

Green Park
Opening Times: Daily. 5am-midnight.
London Transport: Nearest Tube. Green Park, Hyde Park Corner.
Description: Originally called, appropriately, 'Upper St. James's Park' this open space to the north of Buckingham Palace was a once popular dueling spot. In Regency times there was a small sanitized dairy farmhouse here where fashionable ladies could pay an afternoon visit and play at being milkmaids. The park is now a peaceful grassland devoid of rapier wielding and pistol toting duelists and bovine attractions. Its mature tree'd open space is much enjoyed by Londoners in the spring for its picturesque sea of daffodils and in summer as a picnic and sunbathing spot. Few events take place here, other than the firing of a Royal Salute on the occasion of a State Visit by a foreign Head of State.
The Park is bordered in the north by Hyde Park Corner and Piccadilly, in the east by leafy Queen's Walk overlooked by the imposing Ritz Hotel, Spencer House and Lancaster House, and in the south by Buckingham Palace's walled gardens.
Alexia's tip: Wander down Queen's Walk after tea at the Ritz on your way to the Canada Memorial and the Canada Gates facing Buckingham Palace and pause to admire the superb Palladian facade of Spencer House, onetime ancestral London residence of Princess Diana's family. At Hyde Park Corner see Decimus Burton's 1828 triumphal Wellington Arch, (English Heritage Museum); his imposing Ionic Screen, (1825) and his charming little neo-Classical lodge next to it. Note also the Greek Revival frontage of the Lanesborough Hotel, (William Wilkins, 1827); the neo-Classical frontage of Apsley House, (Benjamin Wyatt, 1828/9), London home of the Duke of Wellington, (English Heritage Museum).
Alexia's Diary: Stop for refreshment at the Ritz Corner and Canada Gate. Featuring: Bean to cup coffee, ice cream, snacks and freshly made sandwiches. Open 9am-8pm summer and 10am-4pm winter. The Lanesborough Hotel is a civilised if somewhat expensive venue for Afternoon Tea.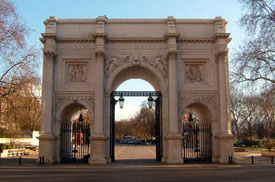 Marble Arch

Hyde Park
Opening Times: Daily. 5am-midnight.
London Transport: Nearest tubes. Hyde Park Corner, Marble Arch, Lancaster Gate.
Description: Onetime private Royal hunting ground, opened to the public in 1637 by Charles I. Site of the 1851 Great Exhibition Crystal Palace; Speaker's Corner; the annual Prince's Trust open-air concert; Last Night of the Proms Concert; and the 300 year old bridleway Rotten Row, England's most famous equestrian venue where kings, consorts and courtesans once paraded in style each morning and where smartly accoutred ladies and their squires exercise their mounts. For more about this historic site read my Spring in Rotten row.
Among many famous landmarks, be sure to see: Decimus Burton's Ionic Screen, (1825), marking the Park's S.E. entrance at Hyde Park Corner; the controversial Diana Memorial Fountain, (2004).; Sir John Nash's triumphal Marble Arch, (1828), originally designed as the entrance to Buckingham Palace and now marking the Park's N.E. entrance near the site of Tyburn gallows and the famous Speaker's Corner.
Alexia's Diary:
Guided Walk. 9 October, 2007; 6:45pm - 8:15pm. Going Batty for Bats. A nocturnal stroll through Hyde Park and Kensington Gardens. This fun and informative activity identifies the bats common in Central London and explains some of the mostly fictional myths surrounding them. Come dressed for outdoors. Children must be accompanied by an adult. Booking is essential. Contact Nick Lane, Engagement Officer, TEL: 020 7298 2083 or check online for more details.

Kensington Gardens
Opening Times: Daily. 5am-midnight.
London Transport: Nearest tube. High Street, Kensington.
Description: Originally part of Hyde Park, the gardens were laid out with formal avenues of magnificent trees, shrubs and ornamental flower beds as a setting for Kensington Palace, (Sir Christopher Wren 1689-1702); birthplace of Queen Victoria who later commissioned the beautiful, peaceful Italian Gardens at the head of the Serpentine Lake and later still the Albert Memorial, (Sir Gilbert Scott 1863-72), facing the Royal Albert Hall in Kensington Gore. The Memorial is an example of the best of Victorian craftsmanship, designed like a medieval reliquary shrine built on a monumental scale.
Children, (and parents), will love the Peter Pan bronze statue by the Serpentine Lake; the Elfin Oak carved with fairies, goblins and animals; and the fabulous Diana Princess of Wales Memorial Playground with its Captain Hook's pirate galleon. Pause to admire the Palace's stately south frontage and the water lilies and sunken garden created by Edward VII on the Palace's east wing on your way to take tea in the Orangery, (Nicholas Hawksmoor, 1704-05). Note the statue of Queen Victoria outside the Palace, sculpted by her gifted daughter Louise to celebrate her Golden Jubilee, 1857.

Alexia's Diary:
Guided Walk-Art and Architecture. 25 Oct. 2007. 2pm - 3:30pm. Discover that Kensington Gardens is not just grass, trees and flowers. It also contains many fascinating buildings and monuments, each with its own unique story to tell. Take a look at these and hear some of their more intriguing tales. Meeting point location will be provided once your booking is confirmed. Tel: 020 7298 2083. Contact: Nick Lane. Places are limited, book early.

Alexia's tip: Make a point of seeing the four Royal Parks by taking the Princess Diana Memorial Walk; a seven mile figure-eight walkway with its hub at Hyde Park Corner, (the obvious starting and finishing point). You can pick up a free leaflet on the Walk there at the little neo-Classical lodge next to the Burton's Ionic Screen. The fascinating walkway is marked by 70 plaques set into the ground and passes a number of places with which Diana was associated in her life - and death. Break the walk into at least two parts unless you have legs and stamina for a marathon. Do the Green Park and St. James's Park stretch on one day, Hyde Park and Kensington Gardens section on another. Be sure to wear sensible shoes and take your time to pause and see all the places of interest. There are restrooms and refreshment points in St. James's Park, Hyde Park and Kensington Gardens.

Battersea Park
Opening Times; Daily. 5am-midnight.
London Transport: Rail. Battersea Park. See also Wandsworth Council.
Description: A 200 acre green riverside gem with beautiful planting, quiet lake and delightful Thames-side walks, Battersea Park, managed by a forward looking and energetic Wandworth Borough Council Parks Service, is much loved by the local residents but relatively unknown to visitors despite its full programme of events, Fairs, Exhibitions and Cultural Festivals throughout the year. It is also notable for its beautiful Buddhist Temple.
Once marshy land notorious as a venue for dualists, (the Duke of Wellington and Lord Winchilsea famously fought a dual here over a matter of honour), the Park was landscaped with one million cubic yards of soil, dug out during the construction of Victoria Docks and shipped upriver. Queen Victoria opened it in 1858. The park has recently undergone a 11 million restoration programme and is now one of London's finest amenities lying on the south bank of the Thames opposite the Royal Hospital Chelsea, home of the Chelsea Pensioners. The charming boating lake is home to a flourishing heronry and many speciies of waterfowl. Note the Barbara Hepworth sculpture and the Australian War Memorial bordering the lake.

Alexia's Diary ThriveBattersea Garden Project's Annual Flower Show.
Date:10 October, 2007. Open to the public from 12:00pm to 3:00pm at the Events Arena.
Description: Annual Flower Show that gives Thrive Gardeners and disabled gardeners from other projects in the area, an opportunity to enter their work in a number of competition categories. Last year, the event attracted entries from 10 garden projects in and around London. This is both an enjoyable afternoon and a worthy cause, helping diasbled people to live fuller lives through gardening. This is a great opportunity to acquire some plants for your own garden, window box or indoors. In addition to the traditional Flower Show, there will be a cafe and a raffle, stalls selling quality produce and crafts, and plants sold by Thrive gardeners.

Street Markets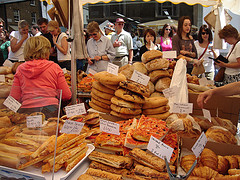 Portobello Road. Photo courtesy Leora Chai

London is well-known for its popular street markets which provide rich pickings for the collectors of antiques, collectibles and vintage clothing. Shophound Alexia's favourite hunting grounds for antiques, collectibles and clothes are the Camden Town markets and Portobello Road area in Bayswater.

Camden Market
Dates: Daily and weekends. Busiest day Sunday.
Venue: Camden Town. NW1.
London Transport: Nearest Tube. Camden Town, Chalk Farm.
Description: Once a weekend affair, the Camden Market complex in North London has now become a daily fixture. Camden Lock Market, by the Regent's Canal, began as a craft market but now has a much wider spectrum of goods on sale. Add to this the Camden Stables Market, (Alternative Fashion); Camden (Buck Street) Market and Inverness Street Market, which are all now trading in parts throughout the week. The markets at their most lively weekends however, with the Camden Canal Market opening Friday to Sunday and the indoor fashion market at the Electric Ballroom drawing crowds on Sunday. Local pubs and ethnic restaurants offer the visitor good and reasonably priced neighbourhood nosh.

Portobello Market Dates: Saturdays, (Street Market). Daily ( some dealers and arcades).
Venue: Portobello Road, Westbourne Grove, W11.
London Transport: Nearest Tubes. Notting Hill Gate, Ladbroke Grove.
Description: The Portobello Antiques dealers Association, (PADA), runs what is described as the largest antiques market in the world. The famous Saturday Market starts from around 5.30am with trading between dealers from the UK and overseas. Most stall holders are open to the public by 8.00am and the market is in full swing for the rest of the day, with collectors and visitors from all over the world. The shops and stalls of Portobello Road and Westbourne Grove offer an extraordinary variety of goods and specialist services, with antiques and collectibles ranging in price from a few pounds to several thousands. Be sure to check out the PADA website before your visit.

Music in Churches and Cathedrals

Westminster Abbey
Dates: Sundays and special Holy Days, 2007.
Venue: Parliament Square, SW1P. Tel: 020 7222 5152.
London Transport: Nearest Tube. Westminster.
Description: Attendance at services is free. Check Westminster Abbey to confirm scheduled times of services and music.
The Abbey is closed to sightseers on Sundays and special days in the Abbey's Royal calendar, (the Abbey is a 'Royal Peculiar' under the personal attention of the Sovereign). the inspired Gothic interior, (Thomas Yevele 1320-1400), royal history and tombs dating back to King Edward The Confessor, (d.1066), Poet's Corner, etc.

St. Paul's Cathedral
Dates: Sundays and special Holy Days, 2007.
Venue: EC4M 8AD. Tel: 020 7236 4128.
London Transport: Nearest Tube: St. Paul's.
Description: Attendance at services is free. The Cathedral is closed to sightseers on Sundays and special dates in the Cathedral calendar. Check St. Paul's Cathedral to confirm scheduled times of services and music.
Sightseers are charged an entrance fee on weekdays to see the stunning grandeur of Sir Christopher Wren's Renaissance interior, the dome, crypt, etc. Tickets can be bought online through the Cathedral website.

St. Martin-in-the-Fields
Dates: Sundays and special Holy Days.
Venue: Trafalgar Square WC2N Tel: 020 7766 1100
London Transport: Nearest Tube: Charing Cross Station.
Description:10am - Sung Eucharist. 1.15pm - Service in Mandarin. 2.15pm - Service in Cantonese. Check St. Martin-in-the-Fields to confirm times and services. Historic landmark church overlooking Trafalgar Square; an interesting fusion of High English Baroque and Palladianism. Considered to be the church masterpiece of architect James Gibbs, (1682-1754), it replaced an earlier church built by Henry VIII, (1542), which itself replaced a 13th century Gothic edifice. Noted for its popular lunchtime concerts, (Mons/Weds/Fris). Check website for details.

Westminster Cathedral
Dates: Sundays and special Holy Days.
Venue: 42 Francis Street, SW1P. Tel: 020 7798 9055
London Transport: Nearest Tube: Victoria Station.
Description: 10.30am. Solemn Mass, (sung by the Cathedral's world famous choir). Check http://www.westminstercathedral.org.uk/">Westminster Cathedral for full details of this and other sung services.
This is the Mother Church of the Roman Catholic Archdiocese of Westminster (built between 1895 and 1903), in the Neo-Byzantine style; the architectural masterpiece of John Francis Bentley (1839 1902). It ranks architecturally as one of the noblest of all English churches. The interior which was never completed, provides a serene, quiet and inviting place to worship and meditate. Entry is FREE at all times.

Brompton Oratory
Dates: Sundays 11:00am.
Venue: Brompton Road, Knightsbridge, SW3.
London Transport: Nearest Tube: Knightsbridge.
Description: 11am. Solemn Mass, (Sung Latin Novus Ordo). Check Brompton Oratory for other services.
Fashionably popular Roman Catholic church for the Knightsbridge, Belgravia and Kensington communities. Built 1880-84 by Herbert Gribble who was awarded 200 by the incumbent Oratorian monks of St. Phillip Neri's Order for his winning Renaissance design. Several other architects worked on this structure through the years, contributing to its distinctive character and rather florid interior. Entry is FREE at all times.

Performing Arts

London Television Shows
Venues: Various BBC and ITV studios
Dates: Various throughout the year.
Tickets: FREE. Online download
Description: Free online tickets to some of the best entertainment TV show recordings in London. Register, choose a show, print an e-ticket, then, go to the show! Most studios prefer their audiences to be at least 16, so check the age limit before you book. Expect to be sat in the studio for between 1.5 and 2.5 hours. The website has some useful FAQs for those who have never been to a live TV recording before.

Fine Art & Cultural Exhibitions

Permanent collections in London's public art galleries and museums are entry free. Individually mounted temporary exhibitions within specified rooms of the gallery or museum normally carry a ticket charge however. This is bookable online, (recommended) or at the door if tickets are still available. See Burlington Bertie's London Diary for current ticketed exhibition highlights.

Courtauld Institute of Art Gallery
Venue: Courtauld Gallery, Somerset House, Strand, WC2R ORN. Tel: 020 7848 2526
Dates: Permanent Collections ongoing.
Tickets: FREE on Mondays 10am-2pm, and to under 18s, registered UK students.
London Transport: Nearest Tube: Temple.
Description: One of the most important Art collections in Britain, including world-famous Old Master, Impressionist and Post-Impressionist paintings; an outstanding prints and drawings collection featuring works by Michelangelo, Rembrandt, Cézanne and Turner. The collection includes around 530 paintings, 7000 drawings and 15,000 prints as well as significant holdings of medieval, Renaissance and modern sculpture, ceramics, metalwork, furniture and textiles. The collection has been formed through a series of major gifts and bequests made by some of the leading collectors of the 19th and 20th centuries.

Tate Britain
Venue: Tate Britain, Millbank, SW1P 4RG. Tel: 020 7887 8888.
Opening Times: Daily. 10am-5.40pm.
London transport: Nearest Tube: Pimlico.
Description: Tate has the world's finest collection of British Art 1500 - 2007, presenting an unrivalled picture of its development from the 16th century to present day. Special attention is given to Blake, (1757-1827), Constable, (1776-1837), and Turner, (1775-1851), the three outstanding British artists from the Romantic age who have dedicated spaces within the gallery, while the unique Turner Collection of some 300 paintings and many thousands of watercolours is housed in the specially built Clore Gallery. The gallery also holds rich collections of Hogarth, Gainsborough, Reynolds, Stubbs, the Pre-Raphaelites, twentieth century artists Stanley Spencer, Henry Moore, Francis Bacon and young British Artists of the 1990s. There are free lecture tours of the gallery's various collections daily. An entrance charge is made for some temporary exhibitions which may be mounted in association with other galleries.
The gallery itself is notable as a good example of Edwardian Grand Manner architecture, ( S.R.J.Smith, 1897-1900).

Tate Modern
Venue: Bankside, SE1. Tel: 020 7887-8008.
Opening Times: Daily. 10am-5.40pm.
London Transport: Nearest Tube. Embankment.
Description: Britain's national gallery of international Modern Art. A converted power station on the Thames embankment, Tate Modern houses work from the 1900s Fauvists to today's Arte Povera. The collection can be interactively explored online. An entrance charge is made for some temporary exhibitions which may be mounted in association with other galleries or sponsors.

The National Gallery
Venue: National Gallery, Trafalgar Square, WC2N 5DN. Tel: 020 7747 2885.
Opening Times: Daily 10am-6pm. Weds 10am-9pm.
London transport: Nearest Tube: Charing Cross, Leicester Square.
Description: The National Gallery houses one of the greatest permanent collections of European painting in the world, suitably catalogued and illustrated on the gallery website. These range from 13th century altar-pieces to the work of modern artists such as Tim Gardner. There are free guided tours and lectures daily. See website for details. Admire the Greek Classical revival facade which faces onto Trafalgar Square, (William Wilkins, 1834-38). An entrance charge is made for some temporary exhibitions which may be mounted in association with other galleries.

National Portrait Gallery
Venue: National Portrait Gallery, St. Martin's Place, WC2 0H3. Tel: 020 7312 2463.
Opening Times: 10am-6pm. Thurs/Fri 10am-9pm.
London Transport: Nearest Tube. Charing Cross, Leicester Square.
Description: The National Portrait Gallery has some 92,000 portraits of great and famous British men and women in its unrivalled permanent collection, some 51,000 of which can be researched online. A selection is on permanent display here together with others which are shown for shorter periods due to their fragility. An entrance charge is made for some temporary exhibitions which may be mounted in association with other galleries.

Free Museums

British Library
Venue:St. Pancras, 96 Euston Road, NW1. Tel: 020 7412-7332.
Opening Times: Mon/Wed/Thurs 9:30am-6pm. Tues 9:30am-8pm, Fri/Sat 9:30am-4:30pm, Closed Sun.
London Transport: Nearest Tube: King's Cross/St. Pancras, Euston and Euston Sq.
Description: An exhibition of antiquarian maps and views from the Library's collections bring the city's transformation from medieval to modern life.

British Museum
Venue: Great Russell Street, WC1B. Tel: 020 7323 8299.
Opening Times: 10am-5:30pm. Thurs/Fri 10am-8:30pm.
London Transport: Nearest Tube. Tottenham Court Road.
Description: One of the world's greatest collections of Human History and Culture artefacts dating from the dawn of civilization. Ancient Civilizations, Elgin Marbles, Rosetta Stone, Sutton Hoo Burial, etc. An entrance charge is made for some temporary exhibitions, (currently The First Emperor: China's Terracotta Army), which may be mounted in association with other museums. Very popular with children.
Sir Robert Smirke's main frontage, (1823-47), embodying a giant Ionic colonnade with pedimented portico is London's finest example of early 19th century Greek Classical revival, a fitting entrance for visitors to the Elgin Marbles taken from the Athens Colosseum.

Freemasonry Library and Museum
Venue:60 Great Queen St. WC2B 5AZ. Tel: 020 7395 9257.
Opening times: Mon-Fri 10am-5pm.
London Transport: Nearest Tube: Covent Garden.
Description: Free Mason's Hall has been the center of Freemasonry for 230 years. It is the meeting place of over 1000 Masonic Lodges and is the headquarters of the United Grand Lodge of England, the oldest Grand Lodge in the world. It is a Grade II listed Building, by architects, H. V. Ashley, and F. Winton Newman. The interior of the building is richly decorated.

Geffrye Museum
Venue:Kingsland Road, E2 8EA. Tel: 020 7739 9893.
Opening Times:Tues-Sat 10am-5pm, Sundays and Bank Holiday Mondays 12- 5pm, 2007.
London Transport: Nearest Tube: Liverpool Street, Old Street.
Description: The Geffrye Museum is one of London's best loved museums. It depicts the quintessential style of English middle-class living rooms, with collections of furniture, textiles, paintings, and decorative arts displayed in a series of period rooms from 1600 to the present day. The museum is set in elegant 18th century almshouses with a contemporary wing surrounded by attractive gardens, which include an award-winning walled herb garden and a series of period gardens.

Hunterian Museum
Venue: 35-43 Lincoln Inn Fields, Holborn WC2A 3PE. Tel: 020 7869 6560.
Date: Mon-Sat. 9:30am 5pm, 2007.
London Transport: Nearest Tube: Hillhead.
Description: Founded by William Hunter, Anatomist, the Hunterian Museum is celebrating 200 years in 2007. Works of art by Chardin, Fergusson, Pissaro, Gavin Hamilton, and The Mackintosh House.

Museum of London
Venue: London Wall, EC2Y 5HN. Tel: 0870 444 3851
Opening Times: Mon-Sat 10am-5:50pm. Sun 12pm-5:50pm.
London Transport: Nearest Tube. St. Paul's.
Description: London's urban history backed by a remarkable collection of artefacts dating from prehistory to present. Ongoing programme of free temporary exhibitions and projects, archaeological digs and surveys. This is a superb museum, imaginatively laid out to take the visitor through 3000 years of London's history. Strongly recommended as part of your visit to the City of London. Very popular with children.

Natural History Museum
Venue: Cromwell Road, SW7 2RL. Tel: 020 7942 5000.
Opening Times: Daily 10am-6pm.
London Transport: Nearest Tube. South Kensington.
Description: A remarkable world collection of flora, fauna, minerals, mammals, dinosaurs, etc., housed in Alfred Waterhouse's superb Romanesque building, (opened 1881). The Dinosaur collection is brilliantly laid out. Not surprisingly this is a top pop venue for children.
Take out a Reader's pass to view the fine library collection of original Victorian book illustrations by pre-photography flora and fauna bird illustrators such as J.G.Keulemans, (1841-1911).

Percival David Foundation of Chinese Art
Venue:53 Gordon Sq. WC1H OPD. Tel: 020 7387 3909.
Opening Times: Mon-Fri. 10-12:30 and 1:30-5:00pm. Closed Bank Holidays and weekends.
London Transport: Nearest Tube. Covent Garden.
Description: The Percival David Foundation exists to promote the study and teaching of Chinese Art and Culture. Its unique collection of Chinese ceramics and library of East Asian and Western books related to Chinese Art were both presented to the University of London in 1950 by the collector and scholar Sir Percival David.

The Petrie Museum of Egyptian Archaeology
Venue:University College London, Malet Pl., London WC1E 6BT. Tel: 020 7679 2884.
Date:Tues-Fri, 1pm-5pm; Sat 10am-1pm, 2007.
London Transport: Nearest Tube. Euston Square.
Description: Part of the University College London teaching faculty hidden away on campus, the Petrie Museum houses one of the greatest collections of Egyptian and Sudanese archaeology in the world with c. 80,000 objects illustrating some 6,000 years of life in the Nile Valley from pre-history through the time of the Pharaohs to the Islamic period. Notable exhibits are one of the earliest pieces of Linen, (c. 5000 BCE), two lions from the Temple of Min at Koptos from the first group of monumental sculpture (c. 3000 BCE), a fragment from the first Kinglist or calendar (c. 2900 BCE), the earliest example of Metal from Egypt, the first worked iron beads, the earliest example of glazing, the earliest 'cylinder seal' in Egypt (c. 3500 BCE), the first 'wills' on papyrus paper, the oldest gynecological papyrus, and many more firsts. No concession is made to spectacular display techniques and you will not see any fabulous treasures from Tut's tomb, (you'll have to pay to see those at the Millenium Dome from November), but if you have any interest in Ancient Egypt and an outline of its historical background you will, like me, find your visit to this teaching resource memorable. Created by the bequest of the Victorian enthusiast Amelia Edwards (1831-1892).

Science Museum
Opening Times: Daily 10am-6pm.
Venue: Exhibition Road, South Kensington, SW7 2DD. Tel: 0870 870 4868.
London Transport: Nearest Tube. South Kensington.
Description: Comprehensive record of scientific, technological and medical change since the eighteenth century. Though rich in British material, this is a worldwide collection. Very popular with children because of the interactive hands-on touchy/feely/smelly displays, (fossilised Dino dung is a popular exhibit), the Museum often features.

University College London Collections
Venue: Malet Pl., London WC1E 6BT. Tel: 020 7679 2884.
Opening times: Tues-Fri, 1pm-5pm; Sat 10am-1pm, 2007.
London Transport: Nearest Tube: Euston Square.
Description: These collections of Art, Archaeology, Medicine, Anthropology, Geology, Anatomy, and Science Collections, are scattered over the UCL campus. Obtain a map of the campus when you get there and let it be your guide to the Collections used by the University as teaching resources.

Victoria & Albert Museum
Venue: Cromwell Road, SW7 2RL. Tel: 020 7942 2000.
Opening Times: Daily 10am-5:45pm, Fri 10am-10pm.
London Transport: Nearest Tube. South Kensington.
Description: 3000 Years of Art and Culture. Permanent Collection collected from the four corners of the Globe from the days of Empire. An entrance charge is made for some temporary exhibitions which may be mounted in association with other museums.
Admire Aston Webb's eclectic design of the building, (1891). He is better known for his later Neo-Classical facade of Buckingham Palace, (1912-13) and Admiralty Arch leading from Trafalgar Square to the Mall.

V & A Museum of Childhood
Venue: Cambridge Heath Road, E2 9PA. Tel: 020 8983 5200.
Opening Times: 10am-6pm. Thurs/Fri 10am-9pm.
London Transport: Nearest Tube. Bethnal Green, Central Line, Zone 2.
Description: UK's national collection of childhood related objects from 1600. Toys, dolls, teddy bears, games, costumes, childcare, etc. A superb Collection. Very popular with children.

V & A Museum of the Performing arts
Venue: Russell Street, Covent Garden, WC2E 7PR. Tel: 020 7943 4735.
London Transport: Nearest Tube. Covent Garden.
Description: British Theatre and performing arts history from 1600. Costumes, designs, manuscripts, posters, etc. Permanent Collection of memorabilia and theatrical history that will fascinate anyone involved with, or interested in, the Theatre.
Opens August, 2007.

Sir John Soane's Museum
Venue: 13 Lincoln's Inn Fields, London, WC2A 3BP. Tel: 020 7440 4263.
Opening Times: Tues-Sats, 10am-5pm; First Tues of month, 10am-9pm. Closed Suns/Mons, Public Holidays, 24 Dec, 1 Jan.
London Transport: Nearest Tube. Holborn, (Central Line).
Description: Sir John Soane ranks among the great designers of originality in the history of British architecture. Sadly, much of his Neo-Classical London work, including his dramatic Bank of England edifice, rotunda and interiors, have been demolished or ruined in later "restoration". Soane's life and work, (1753-1837), are displayed in his own amazing house which he built in 1812-14, together with his superb collection of antiquities, drawings and books which he left to the nation. Both the collection, (described as the British Museum in miniature), and the architectural magic of Soane's interiors are worth your visit.

The Wallace Collection
Venue: Hertford House, Manchester Square, W1. Tel: 020-7563-9500
Opening times: Open daily 10am - 5pm
Children under 8 must be accompanied by an adult. The use of buggies is not permitted within the building.
London Transport:Nearest Tube. Baker Street; Bond Street
Opening times: The Wallace Collection is both a national museum and the finest private collection of art ever assembled by one family. It was bequeathed to the nation by Lady Wallace, widow of Sir Richard Wallace, in 1897, and opened to the public just over three years later on 22 June 1900. Its first visitors were variously delighted, amazed and bemused. Among its treasures are one of the best collections of French 18th-century pictures, porcelain and furniture in the world, a remarkable array of 17th-century paintings and a superb armoury.
Free general guided tours of the Collection are usually given on each weekday at 1pm, also Wednesdays and Saturdays at 11.30am, and Sundays at 3pm. These are sometimes replaced by specialist gallery talks covering aspects of the Collection in more detail, often given by members of The Wallace Collection staff.

London Walks

Four guided walks from 'Walk This Way' which explore Thames-side points of architectural and historical interest. Check the downloadable pdf guide.
1. Southbank: London Eye - Imperial War Museum.
2. Millenium Bridge: St. Paul's Cathedral - Borough Market.
3. Golden Jubilee Bridges. Soho and Covent Garden - South Bank.
4. Riverside London: Tate Britain - Design museum.

London's Blue Plaques
Venue: Various throughout London.
Description: Directory of houses bearing commemorative plaques to famous occupants together with a history of the blue plaque scheme and the (sometimes fictional), people who once lived or were born there. Top 5 Plaques: Sherlock Holmes, 221b Baker Street, (now a Museum, pay to enter); Charles Dickens, 48 Doughty Street, (now a Museum, pay to enter); John Fitzgerald Kennedy, 14 Princes Gate; Karl Marx, 28 Dean Street; John Logie Baird, 22 Frith Street.
Alexia's tip: Make a note, or, if you have children in tow, have them make a note of each blue plaque you see. See who can spot the most! You and they can learn about the famous occupants on the internet when your return.

If you have a question, contact us and we will do our best to provide answers.

© 2007 offtolondon.com All rights reserved.