May Highlights
---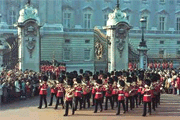 Discovering London - A Full Day London City Tour
8.5 - 9 hours - Enjoy sightseeing in London via motor coach in the morning including a stop near Buckingham Palace to see the colorful ceremony of the Changing of the Guard. After visiting a traditional London pub for lunch, the afternoon starts with a cruise on the River Thames, during which a Thames Waterman will point out the places of interest along the way. Disembark to visit the Tower of London.
Starting from USD $109.34 per person
Click to buy tickets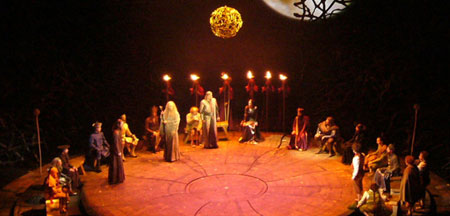 London highlights in May, 2007

A guide to Heritage and Royal pageantry; the Chelsea Flower Show; Shakespeare at the Globe and Regent's Park; Meatloaf at Wembley; Monet and Renoir Exhibitions; Theatre, Opera and Ballet; festivals, fairs, art galleries, and museums; sporting fixtures. From the diaries of Burlington Bertie, OfftoLondon's Man About Town, and Shophound Alexia.

Royal Heritage & Pageantry


Changing the Guard at Buckingham Palace
Venue: Buckingham Palace Forecourt, Westminster, SW1A 1AA
Date: 11.30am Daily through July, 2007.
Tickets: FREE
London Transport: Nearest Tube: Green Park, Hyde Park Corner, Victoria mainline rail terminus
Description: See Shophound Alexia's Free London for details of this and other free Royal Pageantry events.

Ceremony of the Keys
Venue: Tower of London, Tower Hill, EC3N 4AB
Date: Daily. 9.30.pm.
Tickets: Complimentary tickets are obtainable on application in writing. Check Tower website for details.
London Transport: Nearest Tube: Tower Hill.
Description: See Shophound Alexia's Free London for details of this and other free Royal Pageantry events.

Hampton Court Palace Gardens Exhibition
Venue: Hampton Court Palace, East Molesey, KT8, 9AU. Tel: 0870 751 5175
Date: Ongoing.
Tickets: Book online.
London Transport: Nearest Tube: Richmond.
Description: Situated adjacent to the East Front Gardens, this new exhibition will help visitors understand the evolution of the historic royal gardens at Hampton Court, from their Tudor beginnings in the early 16th century right up to the present day.

Tudor Cookery at the Palace
Venue: Hampton Court Palace, East Molesey, KT8, 9AU. Tel: 0870 751 5175
Date: 5-7 May; 26-28 May, 2007.
Tickets: Book online.
London Transport: Nearest Tube: Richmond.
Description: History chefs experiment with ingredients, recipes and utensils to produce a tudor banquet. see website for other May events,

Banqueting House Lunchtime Concerts
Venue: Banqueting House, Whitehall, SW1A 2ER, Tel: 0870 751 5187
Date: 21 May, 11 June, 9, 30 July 2007. From 12 noon.
Tickets: £15 inc. buffet lunch. Book by venue telephone or in person.
London Transport: Nearest Tube: Westminster, Embankment.
Description: The renowned monthly lunchtime concerts of chamber music and song recitals. The perfect way to admire the Rubens ceiling. See website for details.

The Golden Hinde
Venue:Pickfords Wharf/Clink St., London SE1 9DG. Tel: 020 7407 7056.
Date:Daily 10am - 6pm, 2007.
Tickets: £5.50, (Concessions).
London Transport: Nearest Tube: London Bridge.
Description: This is an exact working replica of Sir Francis Drake's Naval Flagship the Golden Hinde. Living history experience particularly of interest to young scholars. Explore the 5 decks and the 22 canons.

Guided London Walks


Jack The Ripper's Sinister London
Venue: Selected Departure Points.
Date: Fridays, Sundays. from 6.40pm
Description:Tread in the footsteps of the infamous Jack The Ripper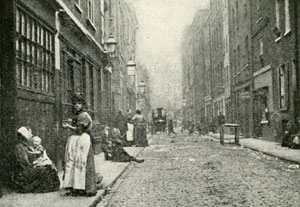 Dorset Street 1902.

down the dark, narrow, gas-lit alleyways immortalized in such films as "From Hell". Led by one of the renowned London Blue Badge Guides, you will visit four murder sights. Your "Ripperologist" will run through some of the suspects who sparked a Victorian Whodunit that'll leave you as gripped as its victims. Approx. 4 hours.

Blood & Tears Walk
Venue: Start from outside Barbican Tube Station.
Date: Daily except Tues and Suns. 7pm and afternoons. See website for details
Tickets: £7, (Concessions). Pay Guide at start.
London Transport: Nearest Tube: Barbican, (Circle line, Metropolitan line and the Hammersmith & City line).
Description: This award-winning Horror London walk by qualified researcher and former professional actor Declan McHugh is now in its eighth year. The walk took years of research and covers sites connected with London's dark past including places associated with grave robbers, serial killers (including Jack the Ripper), secret tunnels, witchcraft and conspiracy. Learn about London's history of prisons and punishment, prostitution, haunted and occult London, disasters and diseases in London's past.

Jack the Ripper Walk
Venue: Aldgate, Whitechapel, Spitalfields. EC. Tel: 020 8530 8443
Date: Daily. 7pm-9pm.
Tickets: £6.50. Online Booking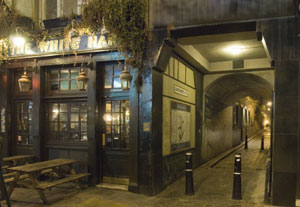 White Hart, Gunthorpe Street today.

Public Transport: Aldgate East, (District, Hammersmith and City Lines).
Description: Guided Exploration of the Whitechapel and Spitalfields alleys and pubs where serial killer Jack the Ripper murdered at least five and possibly many more prostitutes in a reign of terror during 1888.

The Shakespeare City Walk
Venue: Starts from Blackfriars Tube Station, Exit 8. (Circle and District Line).
Date: Mondays and Fridays, 11am. 2007. Tel: 020 7625 5155 before date for confirmation.
Tickets: £6.(Concessions). Book online or pay guide at start.
London Transport: Nearest Tube. Blackfriars. (Circle & District Line).
Description: Former professional actor Declan McHugh leads you on a 90 minute walk through the City of London, uncovering often little-known monuments and locations with connections to Shakespeare's life, his friends, his loves and his work, while declaiming the Bard's poetry and prose. in true thespian style.

Festivals and Fairs


159th Royal Caledonian Ball
Venue:
Date: 4 May, 2007.
Tickets: £90. £155 inc. champagne reception and dinner.Download Booking form.
London Transport: Nearest Tube: Marcle Arch.
Description: One of the better connected, (Patron The Queen), and well established tiara-bedecked charity balls on the annual London circuit, with a strongly committed Scottish flavour. If you can't dance the set reels, don't own or won't hire full formal evening dress, (preferably Highland dress), this evening is not for you.
You can brush up on your Scottish dancing by attending London Reels, (St.Columba's, Pont Street, Knightsbridge) at their social reeling evenings; an ideal and probably necessary, opportunity to learn the the required dances before attending the ball.

The Kensington Dolls House Festival
Venue: Kensington Town Hall, Hornton Street, W8.
Date: 11-13 May, 2007. Times vary by day.
London Transport: Nearest Tube: High Street, Kensington, (Circle & District Line).
Tickets: £10, Friday, $8 Saturday, Sunday. (Concessions). £18 for 3-day ticket.Book online, (recommended), or buy at the door.
Description: Some 175 craftsmen make this the world's top international show for quality dolls' houses, miniatures & models. Visitors can also attend free lectures on dollshouse topics.

Rock & Gem Show
Venue: Alexandra Palace, Alexandra Palace Way, Wood Green, N22 7AY.
Date: 10am-6pm, 19 May; 10am-5pm, 20 May, 2007.
Tickets: £3.75. (Concessions).
London Transport: Nearest Tube. Wood Green.
Description: Minerals, fossils, crystals, gemstones & gem-set jewellery, for collectors or healers are for sale to trade and public.


RHS Chelsea Flower Show. Photo: Chris Beardshaw Show Garden, 2006.

The RHS Chelsea Flower Show
Venue: The Royal Hospital, Royal Hospital Road, Chelsea, SW3 4SR.
Date: 22-26 May, 2007.
Tickets: £12.50 - £40. Online booking or telephone essential. No tickets sold at gate.
London Transport: Nearest Tube: Sloane Square, (Circle & District Line).
Description: The gardening highlight and traditionally the start of London's social season. Usually visited on Opening Day by The Queen and green fingered members of the Royal Family. Prince Charles sometimes exhibits. The show gardens display everything from modern sculptured exhibits to wild rambling and water fantasies, while the pavilions provide award winning blooms and plants of every conceivable variety. The first two days are for RHS members only.

Theatre, Dance & Music


Royal Opera House
Venue: Royal Opera House, Covent Garden, WC2. Tel: 020 7304 4000
Date: May, 2007.
Tickets: £6-£15. Book online.
London Transport: Nearest Tube: Covent Garden.
Programme: May productions: Verdi's Stiffelio, (20 April-10 May); Benjamin Brittain's Owen Wingrave, (22 April-5 May); Debussy's Pelléas et Mélisande, (11-23 May); Beethoven's Fidelio, (24 May-24 June).

Shakespeare's Globe Theatre Summer Season
Venue: New Globe Walk, SE1. Tel: 020 7401 9919
Date: 4 May - 7 October, 2007. Matinees 2pm. Eves 7.30pm
Tickets: Online booking, (recommended), or at Box Office.
London Transport: Nearest Tube: Southwark.
Programme: See Shakespeare's plays as they would have been performed in Elizabethan and Stuart times in the Globe Theatre reconstructed on its original Tudor site overlooking the Thames. This season's repertory programme on the theme of Renaissance and Revolution; : Othello, Love's Labours Lost, The Merchant of Vencie. Aslo Howard Brenton's critically acclaimed In Extremis; Jack Shepherd's Holding Fire; Eric Schlosser's We The People. See website for schedule

Sadler's Wells
Venue: Sadler's Wells, Rosebury Avenue, Islington, EC1R 4NT.
Date: 5 - 26 May, 2007.
Tickets: £10-£14. (Concessions). Online booking, in person at Box Office, or Tel: +44 (0)870 737 7737. Matinees and Evening perfs.
London Transport: Nearest Tube: Angel.
Programme: Breakin' Convention 07, Hip Hop Dance; (5-7 May); Nederlands Dans Theater, (9-12 May); Rambert Dance Company, (22-26 May).

Lord of the Rings
Venue: Theatre Royal, Drury Lane, Catherine Street, WC2 Tel: 0870 154 4040.
Date:Premiere 9 May, 2007.
Tickets: Book online. Early booking strongly recommended.
London Transport: Nearest Tube: Covent Garden.
Description: If nothing else you are sure to come away whistling the scenery, thanks to Rob Howell's spectacular sets and costumes that attempt to rival the film in this three-and-a-half hour long musical production costing a record breaking £11.5 million. Rahman and Värttinä's music and choreography by Peter Darling add to this night to remember.

Meatloaf
Venue: Wembley Arena, Wembley Middlesex, UK HA9 0DW
Date: 23, 25 May, 2007. 7.00 pm.
London Transport: Nearest Tube. Wembley.
Tickets: From £50. Book Online
Description: The moment all we aging fans of Meatloaf have been waiting for!

75th Regent's Park Open Air Theatre Summer Season
Venue: Regent's Park, NW1 Tel: 0870 060 1811
Date: 8pm, 28 May - 15 September, 2007.
Tickets: Online booking, (recommended), or at Box Office.
London Transport: Nearest Tube: Baker Street.
Programme: The perfect setting to watch Shakespeare's A Midsummer Night's Dream, (30 May-18 Aug); on a summer evening. Also in this season's repertory programme: Macbeth, (28 May-16 Aug); George and Ira Gershwin'sLady Be Good, (17 July-25 Aug); Roald Dahl'sThe Fantastic Mr Fox, (31 July-25 Aug); and Sandy Wilson's ever popular musical The Boy Friend(28 Aug-15 Sep).

Official London Theatre Guide
Venue: 37 West End and City theatres
Date: Ongoing.
Tickets: Online booking with Offtolondon for all seats. Book ahead to avoid disappointment.
Description: Your guide to London's theatre programme, theatre seating plans, disability access etc.

Fine Art & Cultural Exhibitions


Alvar Aalto
Venue: Barbican Centre, Silk Street, EC2.
Date: 11am-8pm except 11am-6pm Tues, Thurs. Until 13 May, 2007.
Tickets: £6 Book online. £8 at door.
London Transport: Nearest Tube. Barbican, (Circle, Metropolitan and Hammersmith and City Lines).
Description: Finnish architect Alvar Aalto (1898-1976), is one of the masters of modernism, ranking alongside figures such as Le Corbusier and Mies van der Rohe. In his first UK retrospective, Aalto's work is presented through the eyes of contemporary Japanese architect Shigeru Ban.

Surreal Things; Surrealism and Design
Venue: Victoria and Albert Museum. Cromwell Road, SW7.
Date: Until 22 July, 2007.
Tickets: £10.40, (Concessions). Book online or at the door. Free to V&A members.
London Transport: Nearest Tube: South Kensington.
Description: "I try to create fantastic things, magical things, things like in a dream". Salvador Dali's words aptly describe this exhibition exploring the history and inate sexiness, sensuality and fantastic surprises of Surrealism that are now a part of our daily life. Some 300 surrealist objets d'art, paintings, jewellery, and items from the worlds of fashion and advertising entertain and bemuse, though their earlier ability to shock has passed. While at the V&A, compare this with the free exhibition, (until 27 June, 2007), of the Neo-Classicist, James 'Athenian' Stuart, a compelling figure in English design history.

Renoir Landscapes
Venue: National Gallery, Trafalgar Square, WC2N 5DN. Getty Entrance.
Date: Until 20 May, 2007. 10am-6pm. Weds 10am-9pm.
Tickets: Standard Timed entry £12, (Concessions); Unlimited entry: £30. Audio guide: £3.50. (recommended). Advance booking online recommended to guarantee day and time of choice.
London transport: Nearest Tube: Charing Cross, Leicester Square.
Description: 70 landscapes painted by the artist between 1865 and 1883. A major exhibition of the artist's work put together with the support of the National Gallery of Canada, Ottawa, and the Philadelphia Museum of Art. CLOSES 20 May.

The Face of Fashion
Venue: Wolfson Room, National Portrait Gallery, St. Martin's Place, WC2 0H3.
Date: Until 20 May, 2007. 10am-6pm. Thurs/Fri 10am-9pm.
Tickets: £8.(Concessions). Book online or at door.
London Transport: Nearest Tube. Charing Cross, Leicester Square.
Description: Timed to open during London Fashion Week, the exhibition focuses on five outstanding fashion photographers from Europe and America: Mert Alas & Marcus Piggott, Corinne Day, Steven Klein, Paolo Roversi and Mario Sorrenti.

The Unknown Monet
Venue: Royal Academy, Burlington House, Piccadilly, W1.
Date: Until 10 June, 2007. 10am-6pm.
London Transport: Nearest Tube: Piccadilly, Green Park.
Tickets: Book Online.
Description:An important and revealing exhibition of 80 works by the artist from major international collections, many of which have never been exhibited before.

Sport and Recreation


The Royal Windsor Horse Show
Date: 10 - 13 May, 2007. .
Venue: Home Park, Windsor Castle, Windsor, Berkshire, SL$ 1UT
Tickets: £13, (Concessions). Book online for tickets, enclosure, carparking, etc., (recommended), or at gate.
Getting There: Trains run from London/Paddington to Windsor Town Centre station, (50 mins). The London/Waterloo - Windsor Riverside, (40 mins), is closer to the showground.
Description: Practically every known equestrian activity is represented here. The Queen is Patron and the Duke of Edinburgh is President, and they attend with other Royal Family members. Events take place in two arenas and two rings each day, as well as in Windsor Great Park, (the British Horse Driving Association's three-day event), so you would be severely challenged to do justice to this show in a single day.
Dress: Dress is smart, particularly on Sunday.
Burlington Bertie's Accommodation Choice: The Castle Hotel. This 17th century hotel's Georgian frontage looks onto Windsor high Street in the castle's shadow. Excellent restaurant and four-poster bedrooms will delight visitors.

F.A.Cup Final
Date:19 May, 2007.
Venue: Wembley Stadium, Empire way, Wembley, HA9.
Tickets: Book online, (recommended), or take your chance at the turnstyles.
London Transport: Nearest Tube: Wembley Park.
Description: The FA Cup Final finally returns to the rebuilt Wembley Stadium the home of football for the first time in six years. All eyes will be as much on the stunning new stadium as well as on the football which is likely to be a battle of titans Manchester United versus Chelsea.

12th Heineken Cup Final
Date:20 May, 2007. .
Venue: Twickenham, Rugby Way, TW1 1BZ.
Tickets:. Book online, (Recommended), or take your chance at the turnstyles.
London Transport: Nearest Rail: Twickenham.
Description: Rugby Union's top clubs from UK, Ireland, France and Italy have fought to appear at this final championship play off. Expect an capacity international crowd of over 80,000 fans at Twickenham Stadium.


Permanent collections in many galleries and museums are entry free. Individually mounted temporary exhibitions within specified rooms may carry a ticket charge however, (bookable online or at the door).

Shophound Alexia's Free London, May gives full details including address, opening times, getting there and description for the following free museums:

British Library
Courtauld Gallery
Geffrye Museum
Hunterian Museum
Kenwood House
Museum of London
National Gallery
National Portrait Gallery
Natural History Museum
Science Museum
UCL Museum complex
Victoria & Albert Museum
V & A Museum of Childhood
V & A Museum of the Performing Arts

Burlington Bertie's Highlights Memo
Last chance to see the exhibition of Renoir Landscapes 1865-1883, National Gallery, (ends 20 May, 2007). Last chance to buy tickets online for the RHS Chelsea Flower Show public days, (24-26 May, 2007). Book tickets and hotel accommodation for Hampton Court Palace Music Festival, (5 - 23 June, 2007); RHS Hampton Court Palace Flower Show, (public days: 5-8 july, 2007) and the Charity Gala Preview on 2 July, 2007; Matthew Bourne's thrilling modern ballet The Car Man at Sadlers Wells, (limited season only, 10 July - 5 August).
Choose your Hotel OfftoLondon provides expert advice and secure booking facilities for your overnight, 'City Break' or long term London accommodation requirements; from de-luxe 5-star hotels to comfortable backpacker's hostels.
The Central London congestion charge zone for visitors driving in London now covers all main areas of attraction. It makes sense to travel buy London Transport bus or Tube. Buy a multi-journey London Transport Oyster Card before you arrive, (available in most countries), and save money, time and hassle.
If you have a question, contact us and we will do our best to provide answers.

© 2007 offtolondon.com All rights reserved.