June Highlights
---

Burlington Bertie's
Top Tips
A Night 'On the town'
While in London, treat your partner to a superb evening out 'On The Town' with OfftoLondon's theatre and dinner package.
Choose your Hotel
Use OfftoLondon's hassle-free and secure booking facilities to obtain the best internet prices for your overnight, 'City Break' or longer term accommodation requirements; from de-luxe 5-star hotels to comfortable hostels.
Book your tickets online
Book before your visit book all your tickets with Offtolondon.com. This way you will ensure best seats and best prices at the events, exhibitions and shows of your choice without the hassle of price bargaining and queuing on the day.
London Transport Oyster Card
The Central London congestion charge zone for visitors driving in London now covers all main areas of attraction. It makes sense to travel by the safe London Transport bus or Tube. Buy a multi-journey Oyster Card before you arrive, (you can top this up at will), and you will save money, time and hassle.
Something for the Weekend, Sir?
Add spice to your London visit with a Paris or Rome "Weekender". These city gems are now within your reach, thanks to cheap speedy travel. Enjoy a Day Trip to Paris via Eurostar for shopping, sightseeing and dining while you are in London. Let Offtolondon's associates, Travel Specialists OfftoParis and OfftoRome take care of all your travel, accommodation and sightseeing requirements at best price.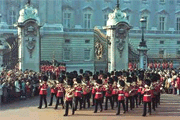 Discovering London - A Full Day London City Tour
8.5 - 9 hours - Enjoy sightseeing in London via motor coach in the morning including a stop near Buckingham Palace to see the colorful ceremony of the Changing of the Guard. After visiting a traditional London pub for lunch, the afternoon starts with a cruise on the River Thames, during which a Thames Waterman will point out the places of interest along the way. Disembark to visit the Tower of London.
Starting from USD $109.34 per person
Click to buy tickets



London highlights in June, 2007

London highlights in June, 2007. A guide to London's midsummer of Royal pageantry, open gardens, music, performing arts, fine art and food festivals, together with the great sporting highlights of Wimbledon, Ascot and Epsom Derby Day; from the diary of Burlington Bertie, OfftoLondon's Man About Town.

Your London weather in June: Expect about 11 wet days and an average of 7 hours sunshine on dry days with average temperatures between a high of 68°F (20°C) and low of 55°F (13°C).

Summer Foodie Festivals


Elizabeth Street Summer Party
Venue: Elizabeth Street, Belgravia, SW1.
Dates: 16 June, 2007.
Description: A Street Party with a difference! Enjoy an evening of oysters and champagne, strawberries an cream, Vermeer chocolate truffles and music, and wander among the couture, fashion jewellery and perfume boutiques, specialist wine and cigar merchants, smart wine bars and candlelit bijou restaurants of Belgravia's elegant Elizabeth Street with its Georgian and Regency frontages. While home to an affluent residential population, embassies and consulates, Belgravia still retains the atmosphere of the village it once was, with its small shops, quaint mews and cottages. While visiting, pop into our 'local', The Duke of Wellington, an excellent neighborhood pub around the corner in Chester Row. It has been lubricating us locals for nigh on 200 years!
Tickets:N.A.
London Transport: Nearest Tube. Sloane Square.
Dress: Casually elegant. This is Belgravia dammit!

4th Taste of London.
Venue: Marylebone Green, Regent's Park,
Dates: 21-24 June, 2007. sessions: Thursday 12pm - 4pm, 5.30pm - 9.30pm; Friday 12pm - 4pm, 5.30pm - 9.30pm; Saturday 12pm - 4pm, 5.30pm - 9.30pm; Sunday 11am - 3pm, 4pm - 8pm
Description: London's famous summer festival of gourmandise, now in its fourth gluttonously gratifying year. This is an opportunity to indulge your taste buds in Michelin starred cuisine and signature dishes and fine wines prepared by London's top restaurateurs, (including Marc of Shophound Alexia's favourite award-winning Greenhouse Restaurant in Mayfair), at special sample prices. Seasoned foodies with a long-suffering digestion will spend the month expanding their waistbands by commuting to other events in this month's Taste series, (Edinburgh, Dublin, Bath, Birmingham), prior to a visit to the physician for a cholesterol check.
Tickets: Available from 30 March. Book your priority tickets online. Prices from £21, (standard), to £50, (join Burlington Bertie in the VIP Champagne enclosure).
London Transport: Baker Street.
Dress: Casual.

Fine Art Festivals and Exhibitions


Free Range - Art & Design; Degrees Shows
Venue:The Old Truman Brewery, 91 Brick Lane, E1 6QL. Tel: 020 7770 6100.
Dates: 31 May-23 July, 2007. Opening Thursdays 6pm-10pm & Show Days; Fridays-Mondays 10am - 7pm.
Tickets:No entry fee.
London Transport: Liverpool Street Station.
Dress: Casual.
Description: This is Europe's largest graduate art and design show and the hottest way to buy art straight from the artist. Over the 8 week period thousands of students from the UK's top art and design colleges will exhibit their work giving them the best opportunity to promote their work to you, their potential buyer. Over 100,000 art lovers visited the show last year, putting it in league with the Royal Academy of Art and the Victoria and Albert Museum.

Royal Academy Summer Show
Venue: Burlington House, Piccadilly, W1J 0BD. Tel: 020 7300 8000.
Dates: 11 June-19 August, 2007. 10am-6pm daily. Fridays 10am-10pm.
Description: The two centuries old Royal Academy Summer Exhibition is now world's largest open submission contemporary art exhibition, with a tradition of showcasing work for sale by unknown and emerging artists alongside that of more established and even august names. Past Royal Academicians include William Blake and JMW Turner, whose work is now permanently on exhibition at Tate Britain, (see Shophound Alexia's Free London for details), and more recently Sir Peter Blake and David Hockney, whose 2007 English landscape exhibit takes up an entire gallery wall and will be the largest painting ever hung at the Royal Academy.
The Summer Exhibition attracts about 9,000 paintings, sculptures, photographs, drawings, prints and architectural models, most of which you can buy, though what you may like may well have received a red sticker at the opening Private View. This event is very much a part of the London social scene and tickets to the Private View, (obtainable from the Special Events Manager), are a notable and sometimes memorable occasion.
Friday late evenings are now a popular option, with table service dining and jazz music, (advance booking recommended).

Tickets: £7, (Concessions). Book online or Tel: 0870 8488 484.
London Transport: Nearest Tube. Green Park; Piccadilly Circus.
Dress: Artistically casual - or casually artistic. The opening Private View is artistically smart or artistically eccentric, or even a colourfully idiosyncratic fusion of the two.

The Unknown Monet
Venue: Royal Academy, Burlington House, Piccadilly, W1.
Date: Ongoing. Closes 10 June, 2007. 10am-6pm daily.
Description:Your last opportunity to see this important and revealing exhibition of 80 works by the artist from major international collections, many of which have never been exhibited before.
Tickets: Book Online.
London Transport: Nearest Tube: Piccadilly, Green Park.
Dress:Casual.

BP Portrait Awards at National Portrait Gallery
Venue:National Portrait Gallery, St. Martin's Place, WC2H 0HE. Tel: 020 7312 2463 recorded info.
Dates:mid-June - mid-Sept. Open daily 10am-6pm. Thurs/Fri 10am - 9pm.
Description: The BP Portrait Award is the most prestigious portrait competition in the world, promoting the very best in contemporary portrait painting. With a first prize of £25,000 the exhibition has proved the launch pad for the careers of a number of successful portrait artists. The 2006 exhibition featured over fifty works from an international list of artists that together display a diverse range of styles and painterly techniques, highlighting the vitality of portrait painting today.
Tickets:Pay at door. (the rest of the gallery is Free).
London Transport:Nearest Tube: Leicester Square (not disabled accessible).
Dress:Casual.

Surreal Things; Surrealism and Design
Venue: Victoria and Albert Museum. Cromwell Road, SW7.
Date: Ongoing. Closes 22 July, 2007.
Description: "I try to create fantastic things, magical things, things like in a dream". Salvador Dali's words aptly describe this exhibition exploring the history and innate sexiness, sensuality and fantastic surprises of Surrealism that are now a part of our daily life. Some 300 surrealist objets d'art, paintings, jewellery, and items from the worlds of fashion and advertising entertain and bemuse, though their earlier ability to shock has passed. While at the V&A, compare this with the free exhibition, (until 27 June, 2007), of the Neo-Classicist, James 'Athenian' Stuart, a compelling figure in English design history.
Tickets: £10.40, (Concessions). Book online or at the door. Free to V&A members.
London Transport: Nearest Tube: South Kensington.

Star Wars: The Exhibition
Venue: County Hall, Westminster, London.
Date Until 1 September, 2007. 10am-8pm daily.
Description: The exhibition celebrates the 30th anniversary of Star Wars. It features original archived Lucasfilm props, models, art, vehicles, and costumes from the Star Wars Saga trilogy; Star Wars, The Empire Strikes Back, The Return of the Jedi. There are over 240 original objects, costumes, props, drawings, vehicles, and models, including the spectacular life-size Naboo N-1 Starfighter. The exhibition provides a unique opportunity to discover the secrets behind the making of the trilogy by George Lucas, who revolutionized film making with his special effects and produced three of the most popular films in the screen history of Hollywood.
Walk through different exhibition zones that bring to life the worlds of Tatooine, Naboo, Endor, Hoth, Coruscant, Kamino, Geonosis, Kashyyyk, Utapau, and Mustafar. Enjoy a number of interactive hands-on activities from Jedi training to a green screen simulation that puts you right into the movie and browse in the official Star Wars merchandise store.
Further Information: Visit also the Star Wars Fair at ExCel, (see July Events Diary).
Tickets: £16.50 adults. £12.50 Children. Book Online, (recommended). or at door.
London Transport: Nearest Tube. Westminster, Waterloo Station.



Antiques & Vintage Fairs


This is perhaps the busiest month of the year on the London Antiques and Fine Arts scene, with buyers and dealers from all of the world flocking to London's special interest fairs and sales. High;lights of the month are the annual summer Antiques and Fine Art Fair at Olympia together with specialist Antiquarian and Map Fair running in tandem, and the prestigious annual Grosvenor House Art and Antiques Fair. This latter has become an important event on the London social scene.

Antique Textiles, Vintage Costumes, Tribal Art & Antiques Fair
Venue: Hammersmith Town Hall, King Street, W6T.
Date: 7 June, 2007. 10am-5pm.
Description: Antiques textiles, Aubussons, lace, fine linen, tapestries, quilts costumes from 1600 - 1930, and some tribal art and decorative antiques offered for sale by some 50 leading specialist dealers.
Tickets £5.Pay at door. FREE to members of the Vintage Fashion Circle.
London Transport: Hammersmith.

48th ABA Olympia Book Fair
Venue: Olympia 2 Exhibition Centre, Hammersmith Road, Kensington, London W14 8UX.
Date: 7-9 June, 2007. Times vary.
Description: The annual summer Fair of the Antiquarian Booksellers Association at which over 150 specialist show material for sale.
Tickets Pay at door. Tickets allow entry to the Olympia Antiquues & Fine Art Fair.
London Transport: Nearest Tube. Olympia.

27th International Map Collectors' Society (IMCoS) Map Fair
Venue: Olympia 2, Hammersmith Road, Kensington, London W14 8UX.
Date: 8, 9 June, 2007.
Description: A forum for collectors, curators & dealers from all over the world to buy, sell or swap old atlases, maps & prints. Once one of six fairs a year, this is now the sole survivor, thanks to the change in buying and selling brought about by the internet.
Access FREE.
London Transport: Nearest tube. Olympia.

Olympia Summer Antiques and Fine Art Fair
Venue: Olympia Exhibition Centre, Hammersmith Road, London W14 8UX .
Date: 7-17 June, 11am-7pm or later. 2007.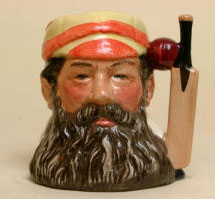 W.G.Grace. Royal Doulton.

Description: One of the most comprehensive and respected London events in the international art and antiques calendar with some 400 distinguished UK and international dealers showcasing some of the finest works of art in a stylish and historic setting. This includes furniture, fine art, antiquities, oriental works, books, textiles, clocks, ceramics, glass, lighting, maps, sculpture, silver and objects of vertu. Every item on display has been vetted for authenticity. Many LAPADA members show at this event. Shipping and insurance available.
Tickets £12 single or £20 double on the door. Advance tickets concession. Tel: 0870 126 1725.
London Transport: Olympia. A courtesy bus shuttle service operates from 141 Bond Street to Olympia every half hour from 11am-6pm daily.

Textile & Tribal Art Fair
Venue: National Hall, Olympia. Hammersmith Road, Kensington, W14 8UX
Date: 9-18 June, 2007.
Description: This annual event has been CANCELLED for 2007.
Frock Me
Venue: Chelsea Town Hall, Kings Road, SE3 5EZ.
Date: 10 June, 2007. 11am-5.30pm
Description: Some 50 stalls selling Vintage Fashion and Accessories at this increasingly popular event dedicated to Vintage and Period Costumes, Burlesque and accessories. See Spotlight
Tickets: £3. (Students £1.50 with card). Pay at door.

26th International Ceramics Fair
Venue: Hyde Park Hotel, Piccadilly, W1.
Date: 14-17 June, 2007. 11am-7pm.
Description: Leading ceramics dealers from around the world display and sell exceptional quality European pottery, porcelain, glass and enamels from 16th century to present day. the Fair has a long established and distinguished international reputation as a showcase for the finest and rarest ceramics currently on the market and as a forum for academic discussion through the enormously popular lecture series, (12 scheduled for this fair).
Tickets £12. Pay at door. Lectures: £26 for first lecture, £14 for subsequent lectures.
London Transport: Hyde Park Corner.

Grosvenor House Art & Antiques Fair
Venue: Great Room, Grosvenor House Hotel, Park Lane, W.1.
Date: 14-20 June, 2007. 11am-6pm; 13 June, (restricted), 11am-9pm; 15 & 18 June 11am-8pm.
Description: 85 specialist dealers from London, Paris, Florence, Munich and New York, show over £500 million worth of museum-quality art and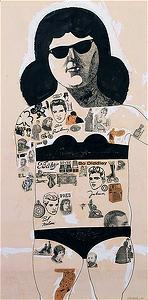 Tattoo'd Lady, Peter Blake. Hazzlitt Holland-Hibbert, (Grosvenor House Art Fair)

antiques for sale in the elegant surroundings of the newly refurbished Grosvenor House Hotel, overlooking Park Lane. First launched here in 1934 shortly after the opening of this hotel with its impressive landmark exterior designed by Sir Edwin Lutyens, (1930), this is London's longest established social and charity event in the antiques trade.
The Fair is noted for English furniture, Fine Art, Ceramics, Crystal, Chinoiserie, Jewellery, manuscripts and rare books. From Brueghel to Bacon, from Grendey to Gimson and from Crespin to Cartier...the list of artists, craftsmen and designers represented at the Fair by the specialist dealers is endless. Many LAPADA members show at this event. Shipping and insurance available.
The Fair, honoured by the patronage of HRH Princess Alexandra, takes place in the hotel's Great Room which has been themed in the Palladian and Neo-Classical inspiration of architects Kent, Vanbrugh, Gibbs and Soane. The event's social highlight, (when celebrity spotting is a favourite pastime), is a glittering Charity Gala on 14 June, which includes a champagne reception and Private View.
Tickets From £15 with illustrated Fair handbook; £65, Preview 13 June; £120 Charity Gala Reception and Private View; £350 Charity Gala Reception, Private View and Dinner. (Black Tie). Buy online(recommended for Fair, essential for Private View and Charity Gala).
Dress: This is a smart West End social event highlighted by a black-tie evening attended by Royalty and the social glitterati of London and Tinseltown. You will wish to dress accordingly. The Gala dinner is a black tie event.
London Transport: Hyde Park Corner, (though a London taxi would be more appropriate on this occasion).

Uxbridge Clock and Watch Fair
Venue: Uxbridge College, Park Road, Uxbridge, Middlesx, UB81NQ B467 . Tel: 01895 834694.
Date: 17 June, 2007.
Description: 106 stands at this regular event, (five fairs per year), showing some £2million worth of antique clocks, watches, books, equipment and mechanical music. Free valuations.
Tickets from £1, depending on time of day. Pay at door.
Getting there: B467 off A40, 1mile east off M40 Exit 1, M25 Exit 16 East; 7 miles north of Heathrow.

Auction highlights
With the annual June Antiques Fairs drawing visitors and specialist dealers from around the world to buy and sell in London, the major auction houses mark their calendar accordingly. A number of important sales take place each year at Bonham's, Christie's, Phillips and Sotheby's during June. Valuation, shipping and insurance can be arranged for buyers and sellers.

The Garden Sale
Venue: Bonham's, 101 New Bond Street, W1S 1SR. Tel: 0207 447 7447 .
Date: 6 June, 2pm. 2007.
Description: Bonham's inaugural Garden Sale dedicated to celebrating the glory of the garden. The sale includes items of horticultural interest from a cross-section of disciplines, including pictures, prints, ceramics, glass, books, furniture, garden statuary, silver and objet d'art. For auction entries, valuations, bidding arrangements etc., together with other June sales events, see website.
London Transport: Bond Street; Green Park.

20th Century Fashion & Accessories
Venue: Christies, 85 Old Brompton Road, SW7 3LD. Tel: 020 7930 6074.
Date: 7 June, 10.30am. 2007.
Description: Browse online catalogue, (available May), to check items which may include vintage dresses and accessories from iconic fashion houses. See website for viewing hours.
London Transport: South Kensington.

Important Silver, Gold Boxes, Objects of Vertu
Venue: Sotheby's, 34-35 New Bond Street, W1. Tel: 020 7293 5000
Date: 7 June, 2007. 10.30am.
Description: An important one-day sale of silver etc., exhibited prior to auction 1-6 June, 9.30am-4pm. Sunday 12pm-4pm.realism, German Expressionism. Check website for details, catalogue and bidding arrangements.
London Transport: Nearest Tube. Green Park; Bond Street.

Fine Jewels
Venue: Sotheby's, 34-35 New Bond Street.. Tel: 020 7293 5000
Date: 13 June, 2007. 2.30pm.
Description: No details at time of writing, but Sotheby's jewellery auctions usually make headlines, thanks to the quality of items on offer and the prices consequently reached. Viewing times 8 - 12 June, 9am-4.30pm; Sunday 12pm-4pm.

Impressionist and Modern Art
Venue: Christies, 8 King Street, St. James's, SW1Y 8QT.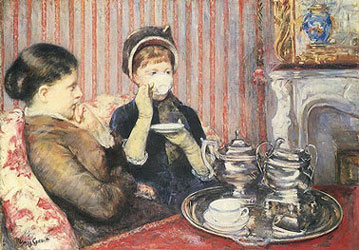 Tea. Mary Cassett.

Date: 18 June, 7pm; 19 June, 10.30am. 2007.
Description: Impressionist and Modern Art. Browse online catalogue, (available May), to check items, viewing times and bidding arrangements.
London Transport: Green Park.

Impressionist and Modern Art
Venue: Sotheby's, 34-35 New Bond Street, W1. Tel: 020 7293 5000
Date: 20 June, 2007. 2pm.
Description: An important three-day sale of Impressionist and Modern Art, covering late 19th century to the end of World War II artists from all major movements - Impressionism, post-Impressionism, Cubism, Fauvism, Dada and Surrealism, German Expressionism, and Italian Futurism. This is an important sale and will be exhibited at Sotheby's from 15-19 June, (times vary), prior to auction. Check website for details, catalogue, viewing times and bidding arrangements.
London Transport: Nearest Tube. Green Park; Bond Street.

Contemporary Art
Venue: Sotheby's, 34-35 New Bond Street.. Tel: 020 7293 5000
Date: 22 June, 7pm; 22 June, 10:20am; 2:30pm. 2007.
Description: Offering a diverse range of artists and schools from early Abstract Expressionism through today. Our sales typically include fine paintings, drawings, photographs, sculptures and installations from nearly every notable Contemporary movement of the 20th and 21st centuries. Contents will be exhibited 16 - 21 June prior to sale. Check website for details, catalogue viewing times and bidding arrangements.
London Transport:: Nearest Tube. Green Park; Bond Street.

Photographs. Contemporary Art
Venue: Phillips de Pury, 9 Howick Place, SW1.
Date: 22 June, 2pm. Photographs; 4pm Contemporary Art. 2007.
Description:. No details at time of writing. The new showrooms will be the venue for specialist sales in contemporary Art, Photography, Design and Jewellery with a regular schedule of sales events commencing Fall, 2007. Viewing 14-22 June.
London Transport:: Nearest Tube. St. James's Park.

19th Century European Art and Orientalist Art
Venue: Christies, 8 King Street, St. James's, SW1Y 8QT.
Date: 26 June, 7pm; 10.30am. 2007.
Description: 19th Century European Art, including Spanish and Orientalist Art. Browse online catalogue, (available May), to check items, viewing times and bidding arrangements.
London Transport: Green Park.

19th century European and British Paintings and Orientalist Works
Venue: Sotheby's, 34-35 New Bond Street.. Tel: 020 7293 5000
Date: 27 June, 2007. Time TBA.
Description: Includes German, Austrian, Hungarian, Czech and Polish paintings, with a particular emphasis on the contributions made by important regional Schools and artists including Albrecht Adam, Wladyslaw Czachorski, Mihály Munkácsy, László Paál, Gyula Benczur, Alfons Karpinski, Karoly Marko and Antoinetta Brandeis. The sale items will be exhibited prior to auction at Sotheby's Hamburg, 7 June; Sotheby's Munich, 11 June; Sotheby's Vienna, 14 June; Sotheby's London, 23 - 26 June. Check website for details, catalogue viewing times and bidding arrangements
London Transport:: Nearest Tube. Green Park; Bond Street.

Summer Sporting Festival highlights


Vodaphone Epsom Derby Day
Venue: Epsom Racecourse, Epsom Downs, Epsom, Surrey, KT18 5LQ.
Dates: 1/2 June, 2007.
Description The Derby has been the world's most prestigious flat race since 1780, and a trip to Epsom Downs for Derby Day has been a popular day's outing for Londoners since the advent of rail and, more recently, the motorcoach. Some £25 million in stud fees is at stake and the Derby is flat racing's betting highlight of the year. King Edward VII's horse Diamond Jubilee was a popular winner in 1900. The suffragettes famously The Queen regularly attends, although she is still waiting for that moment of joy when she leads her horse into the Winner's Enclosure. The closest she has come to emulating her great-grandfather was in 1953, her Coronation Year, when her horse Aureole, came second.
Tickets: Book online for course and dining
Getting there: Rail: London/Waterloo or Victoria - Epsom Town. Road: Take the A217 off the M25 at junction 8 and follow the heavy traffic and AA signs.
Dress: Smart for the Queen's Stand, (Day 1 is Ladies Day), casual elsewhere. Don't forget your binoculars.

Royal Ascot
Venue: Ascot Racecourse, Ascot, Berkshire, SL5 7JN.
Dates: 19-23 June, 2007.
Description: Unbeatable racing in the Turf's most elegant thoroughbred surroundings, (Ascot racecourse is owned by the Sovereign who has just spent a bundle of money in upgrading both course and facilities). The Queen and members of the Royal Family, together with Her select invited castleguests,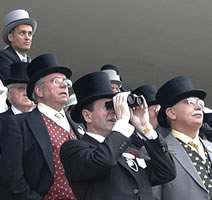 Photo: Mark UK Student life.

attend Tuesday through Friday. The Royal party arrives each day before the first race in open carriages drawn by Windsor greys, driving on the course to the royal box in the main stand. Between races they mingle with jockeys, horses and owners in the paddock. Entrance to the 200 year old 'Royal Enclosure' is strictly controlled from St. James's Palace by the course administrator and first time applicants require sponsorship from someone who has been present in the Royal Enclosure at least four years previously. There are however excellent facilities for those denied entry to hobnob with royalty, though advance booking is essential for this popular society event. There are superb restaurant facilities and plenty of opportunity to celebrate a win with a bottle or two of champagne. Advance booking for dining is essential.
Tickets: Book online for carpark, Stand, dining, etc.
Getting there: Road: Ascot is 45 miles from London. Approach from M4 via A332, (Junction 6), or from M3 via A332, (junction 3). Car parking available. Rail: Join the crowd of toffs in top hat and tails, (a remarkable sight), on the train from London/Waterloo - Ascot.
Dress: Top Hat and Tails for him and an excruciatingly expensive outfit for her lady, (topped by a milliner's confection that will cost the earth but catch the eye of the Society photographers on Thursday's Gold Cup Ladies Day). Morning dress is strictly enforced in the royal Enclosure.
Burlington Bertie's Accommodation Choice: Cliveden House Hotel, Cliveden, Taplow, Berkshire, SL6 0JF. If you decide to see Ascot in grand style, stay at the truly magnificent Cliveden House Hotel nearby. This is the former Thames-side pad of the Astor family, where pleasure, power and politics were mixed in sometimes in equal and sometimes scandalous proportions for over 300 years. Warn your bank manager or have a good win on the last race before you pay your bill however.

Wimbledon Lawn Tennis Championships Venue:All England Lawn Tennis and Croquet Club, Church Road, Wimbledon, SW19 5AE. Tel: 020 8946 2244.
Dates: 25 June-8 july, 2007
Description: Tennis has been England's most popular social summer sport since it superceded croquet when fashions freed ladies from long Edwardian skirts. The green lawns of Wimbledon are its pinnacle. King George VI, when Duke of York, set the royal seal of approval on the Wimbledon Championships when he competed in 1921 in the Men's Doubles. The Wimbledon atmosphere is unrivalled by any other tournament on the world curcuit; emerald green courts, the Royal Box graced my members of the Royal Family, the polite and decorously clad Centre Court spectators, the social ritual of champagne and fresh English strawberries, the inevitable "rain stopped play". And of course there are the players, for whom winning at Wimbledon is the ultimate dream.
Tickets: Although some tickets are available for all courts at the gate for the first week, expect to queue all night. Ground tickets to watch games on courts 3 - 17 are available at the gate only on the day of play. Demand exceeds supply so early arrival is essential. Offtolondon.com has online booking arrangements for all games on Center Court and Court No.1 including the Finals, though availability is limited so early booking is essential. Overseas visitors should consider an Offtolondon Wimbledon accommodation package.
London Transport:Nearest Tube: Wimbledon. The courts are seven miles southwest of central London. We recommend you travel by public transport as parking is extremely limited.
Dress:
Center Court visitors are likely to be expensively dressed in smart casual wear.

SpriteUrbanGames
Venue:Clapham Common,
Dates:29 June - 1 July TBC. Fri 2pm - 8pm, Sat/Sun 10am - 8pm.
Description: Enjoy the highest level of international and British skateboarding and BMXing, with entrants competing for £35,000 in prize money.
Spectacular breakdancing skills are also on display, alongside mixing tents featuring a heavy dose of scratching, with top DJs providing the daily sounds.
Food stalls and covered bars will keep you well fed and watered through a long day of skateboarding, breakdancing and rapping.
Tickets:Fri. £10, Sat/Sun £30, (Concessions).
London Transport:Nearest Tube: Clapham Common.
Dress:Sporty Casual or Hip Hop with knee pads. Baseball caps should be worn backwards as a fashion statement.

Guided London Walks


Jack The Ripper's Sinister London
Venue: Selected Departure Points.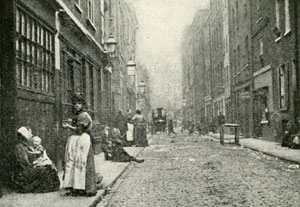 Dorset Street 1902.

Date: Fridays, Sundays. from 6.40pm
Description:Tread in the footsteps of the infamous Jack The Ripper down the dark, narrow, gas-lit alleyways immortalized in such films as "From Hell". Led by one of the renowned London Blue Badge Guides, you will visit four murder sights. Your "Ripperologist" will run through some of the suspects who sparked a Victorian Whodunit that'll leave you as gripped as its victims. Approx. 4 hours.

Blood & Tears Walk
Venue: Start from outside Barbican Tube Station.
Date: Daily except Tues and Suns. 7pm and afternoons. See website for details
Description: This award-winning Horror London walk by qualified researcher and former professional actor Declan McHugh is now in its eighth year. The walk took years of research and covers sites connected with London's dark past including places associated with grave robbers, serial killers (including Jack the Ripper), secret tunnels, witchcraft and conspiracy. Learn about London's history of prisons and punishment, prostitution, haunted and occult London, disasters and diseases in London's past.
Tickets: £7, (Concessions). Pay Guide at start.
London Transport: Nearest Tube: Barbican, (Circle line, Metropolitan line and the Hammersmith & City line).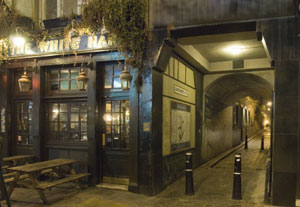 White Hart, Gunthorpe Street today.

Jack the Ripper Walk
Venue: Aldgate, Whitechapel, Spitalfields. EC. Tel: 020 8530 8443
Date: Daily. 7pm-9pm.
Description: Guided Exploration of the Whitechapel and Spitalfields alleys and pubs where serial killer Jack the Ripper murdered at least five and possibly many more prostitutes in a reign of terror during 1888.
Tickets: £6.50. Online Booking
Public Transport: Aldgate East, (District, Hammersmith and City Lines).

The Shakespeare City Walk
Venue: Starts from Blackfriars Tube Station, Exit 8. (Circle and District Line).
Date: Mondays and Fridays, 11am. 2007. Tel: 020 7625 5155 before date for confirmation.
Description: Former professional actor Declan McHugh leads you on a 90 minute walk through the City of London, uncovering often little-known monuments and locations with connections to Shakespeare's life, his friends, his loves and his work, while declaiming the Bard's poetry and prose in true thespian style.
Tickets: £6.(Concessions). Book online or pay guide at start.
London Transport: Nearest Tube. Blackfriars. (Circle & District Line).


Permanent collections in many galleries and museums are entry free. Individually mounted temporary exhibitions within specified rooms may carry a ticket charge however, (bookable online or at the door). Shophound Alexia's Free London gives full details including address, opening times, getting there and description for the free museums.



Burlington Bertie's Highlights Memo
Last chance to see the Monet exhibition at the Royal Academy, (ends 10 June). Book tickets and hotel accommodation for Tutankhamun and the golden Age of the Pharoahs, (opens mid-November); the 2007 season of Promenade Concerts at the Royal Albert Hall, (July-September); RHS Hampton Court Palace Flower Show, (public days: 5-8 July, 2007) and the Charity Gala Preview on 2 July, 2007; Matthew Bourne's thrilling modern ballet The Car Man at Sadlers Wells, (limited season only, 10 July - 5 August).

If you have a question, contact us and we will do our best to provide answers.

© 2007 offtolondon.com All rights reserved.