Burlington Bertie's Top Tips
A Night 'On the town'
While in London, treat your partner to a superb evening out 'On The Town' with OfftoLondon's theatre and dinner package.
Choose your Hotel
Use OfftoLondon's hassle-free and secure booking facilities to obtain the best internet prices for your overnight, 'City Break' or longer term accommodation requirements; from de-luxe 5-star hotels to comfortable hostels.
Book your tickets online
Book before your visit book all your tickets with Offtolondon.com. This way you will ensure best seats and best prices at the events, exhibitions and shows of your choice without the hassle of price bargaining and queuing on the day.
London Transport Oyster Card
The Central London congestion charge zone for visitors driving in London now covers all main areas of attraction. It makes sense to travel by the safe London Transport bus or Tube. Buy a multi-journey Oyster Card before you arrive, (you can top this up at will), and you will save money, time and hassle.
Something for the Weekend, Sir?
Add spice to your London visit with a Paris or Rome "Weekender". These city gems are now within your reach, thanks to cheap speedy travel. Enjoy a Day Trip to Paris via Eurostar for shopping, sightseeing and dining while you are in London. Let Offtolondon's associates, Travel Specialists OfftoParis and OfftoRome take care of all your travel, accommodation and sightseeing requirements at best price.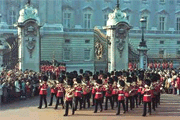 Discovering London - Full Day London City Tour
8.5 - 9 hours - Drive to Westminster, past Downing Street, home of the Prime Minister, and on to the Houses of Parliament and Big Ben. Stop for a visit inside Westminster Abbey, site of many royal coronations. Visit Poets' Corner and the tombs of many well-known scientists and monarchs. Also see the Chapel of Henry VII.
Stop near Buckingham Palace to see the colourful ceremony of the Changing of the Guard before driving through busy streets and past peaceful parks to Piccadilly, home of London's Theatreland. Pass Trafalgar Square with its impressive Nelson's Column and fountains, before reaching a traditional London pub for lunch.
The afternoon starts with a cruise on the River Thames, during which a Thames Waterman will point out the places of interest along the way. Disembark to visit the Tower of London where you will meet the Beefeaters clad in Tudor uniforms, hear the legend of the ravens and some spine chilling tales from the Tower's 900 year history. You will also see the Crown Jewels, magnificently displayed in the new Jewel House.
Click for more information

Free London in June, 2007

Shophound Alexia's Free London diary. June highlights for Heritage and Royal pageantry events, London's summer festivals, summer in the Royal Parks, Church music, concerts, art exhibitions and museums.



Royal Heritage & Pageantry

Trooping the Colour
Venue: Buckingham Palace - The Mall - Horse Guards Parade
Date: 16 June, 2007.
Tickets: FREE to line The Mall.
London Transport:
Nearest Tube. Green Park.
Dress: Casual.
Description: The Trooping the Colour ceremony by the Massed Bands and Troops of the Household Division is the most spectacularly colourful annual event of military pageantry in Royal London. The parade ground ceremony has changed little since 1805, when it became an annual event, (though the actual ceremony was instituted in 1748), in honour of the Sovereign's birthday.
At 10.40am The Queen processes from Buckingham Palace down The Mall. Formerly she rode on horseback dressed in the uniform of a regiment of Her Household Foot

Guards. In later years The Queen has been driven in open carriage. As on all state occasions she is escorted by her Household Cavalry, (The Life Guards and the Blues and Royals, of which the Princess Royal is Colonel), and reaches Horse Guards Parade at 11am. There, with her consort in attendance, she inspects her Household Regiments; the Grenadiers, Coldstream, Scots, Irish and Welsh guards, and takes the salute. Her Majesty then processes back up The Mall to Buckingham Palace where She watches a Royal Air Force fly-past from the Palace balcony at 1pm.
Line The Mall to enjoy a superb free view of the marching Guards, the Royal procession and other Royals being driven in open carriages to and from Horse Guards Parade and then move to the Palace gates to see The Queen and Consort on the balcony for the Fly-Past, (Fly-By).

Royal Gun Salute
Date: 16 June, 2007.
Venue: 11am Hyde Park; 1pm, Tower of London.
Tickets: FREE.
London Transport: Nearest Tube: Hyde Park Corner/Marble Arch for Hyde Park. London Wall for Tower.
Description: The traditional Royal Gun Salute to celebrate The Queen's birthday, (Her Majesty is 81 today). A 41 gun salute is fired by the King's Troop, Royal Horse Artillery, in Hyde Park, (21 plus and extra 20 because it is fired in a 'Royal' Park), and a 62 gun salute is fired from the Tower of London by the Honorable Artillery Company, (21 plus an extra 20 because the Tower is 'Royal' plus an extra 21 in honour of the city of London). The HAC was founded by Henry VIII in 1537as Tower gunners.

Changing the Guard at Buckingham Palace
Date: Ongoing. 11.30am. Daily, (except 16 June), through July, 2007.
Venue: Buckingham Palace Forecourt, Westminster, SW1A 1AA
Tickets: FREE
London Transport: Nearest Tube: Green Park, Hyde Park Corner, Victoria mainline rail terminus
Description: The new guards from one of five Household Guard Regiments, (Coldstream, Grenadier, Scots, Irish or Welsh Guards), arrive at the forecourt of the Palace at 11:30 from Wellington Barracks. The journey takes about 5 minutes and the soldiers are accompanied by a band. The ceremony is conducted on the Palace forecourt and takes approximately forty minutes to complete. Subject to wet weather cancellation.
See also the colourful changing of The Queen's Lifeguards, (Blues & Royals or Life Guards), at Horse Guards Parade, (weekdays 11am, Sundays 10am); a spectacular piece of royal pageantry. Excellent photo opportunities at these and at St. James's Palace. Check Changing the Guard for further details and uniform identification, and special guidebook.

Ceremony of the Keys
Date: Ongoing. Daily. 9.30.pm.
Venue: Tower of London, Tower Hill, EC3N 4AB
Tickets: Complimentary tickets are obtainable on application in writing. Check Tower website for details.
London Transport: Nearest Tube: Tower Hill.
Description: The Ceremony of the Keys is the traditional locking up of the Tower of London and has taken place on each and every night, without fail, for at least 700 years. The Yeoman Warders, (the famous Beefeaters), in their royal livery, and military guard, lock the outer gates of the Tower of London and deliver the keys to the Governor of the Tower, Major-General Sir Geoffrey Field, who resides in the Tudor Queen's House overlooking the infamous scaffold site within the walls. The importance of securing this fortress for the night is still relevant because although the Monarch no longer resides at this royal palace the Crown Jewels, including the Coronation Regalia and many other historic valuables, still do and felonious attempts have been made to steal them! Check Historic Royal Palaces/Tower of London for daily opening times, etc., for the Tower, Crown Jewels, etc.

London's Blue Plaques
Venue: Various throughout London.
Description: Directory of houses bearing commemorative plaques to famous occupants together with a history of the blue plaque scheme and the (sometimes fictional), people who once lived or were born there. Top 5 Plaques: Sherlock Holmes, 221b Baker Street, (now a Museum, pay to enter); Charles Dickens, 48 Doughty Street, (now a Museum, pay to enter); John Fitzgerald Kennedy, 14 Princes Gate; Karl Marx, 28 Dean Street; John Logie Baird, 22 Frith Street.


Alexia suggests: Make a note, or, if you have children in tow, have them make a note of each blue plaque you see. See who can spot the most! You and they can learn about the famous occupants on the internet on your return.
St. James's Park
Opening Times; Daily. 5am-midnight.
London Transport: Nearest Tube: St. James's Park.
Description: This is London's oldest park and, although open to the public, is historically within the grounds of Buckingham Palace. Bounded by the Palace on the west, St. James's Palace, Clarence House and the Mall on the north, Admiralty Arch and Horseguard's Parade on the east, Wellington Barracks and Birdcage on the south, it lies at the very heart of London's Royal heritage and pageantry. The ornamental lake overlooked by the Palace is stocked with fifteen species of exotic waterfowl including Pelicans and Black Swans, and the shady walks are bordered by superbly planted seasonal flowerbeds and flowering shrubs.


Alexia's tip: As well as Buckingham Palace, Horseguard's Parade and Admiralty Arch, pause to see the Queen Victoria Memorial with its marble statue of Victoria and the glittering figures of Victory, Courage and Constancy, bordered by the ornamental gates given by the former Dominions; Australia Gate, South Africa Gate and Canada Gate.
Alexia's Diary: 16 June, Trooping The Colour Ceremony, Horse Guards Parade, (see Heritage and Pageantry above). 10.40am.The Queen processes from Buckingham Palace down The Mall.
Pelican feeding time. Daily. 2.30pm. Lakeside. A popular time for both Pelicans and spectators!
Changing the guard at Buckingham Palace. Daily through July, 2007. 11.30am. Musical march past from Wellington Barracks down Birdcage Walk on south side of Park to the Palace and return.
Changing the Queen's Lifeguard at Horseguards Parade. Mornings: Daily 11am, Sundays 10am. Afternoons: Daily 4pm. Horseguard's Parade, situated at the eastern end of the park, is the official entrance to Buckingham Palace.
Green Park
Opening Times: Daily. 5am-midnight.
London Transport: Nearest Tube. Green Park, Hyde Park Corner.
Description: Originally called, appropriately, 'Upper St. James's Park' this open space to the north of Buckingham Palace was a once popular dueling spot. It is now a peaceful grassland and mature tree'd open space much enjoyed by Londoners in the spring for its picturesque sea of daffodils and in summer as a picnic and sunbathing spot. Few events take place here, other than the firing of a Royal Salute on the occasion of a State Visit by a foreign Head of State.
The Park is bordered in the north by Hyde Park Corner and Piccadilly, in the east by leafy Queen's Walk overlooked by the imposing Ritz Hotel, Spencer House and Lancaster House, and in the south by Buckingham Palace's walled gardens.


Alexia's tip: Wander down Queen's Walk from the Ritz on your way to the Canada Memorial and the Canada Gates which face the Palace and pause to admire the superb Palladian facade of Spencer House, onetime ancestral London residence of Princess Diana's family. At Hyde Park Corner see Decimus Burton's 1828 triumphal Wellington Arch, (English Heritage Museum); his imposing Ionic Screen, (1825) and his charming little neo-Classical lodge next to it; the Greek Revival frontage of the Lanesborough Hotel, (William Wilkins, 1827); the neo-Classical frontage of Apsley House, (Benjamin Wyatt, 1828/9), London home of the Duke of Wellington, (English Heritage Museum).
Alexia's Diary: No June events scheduled.
Hyde Park
Opening Times: Daily. 5am-midnight.
London Transport: Nearest tubes. Hyde Park Corner, Marble Arch, Lancaster Gate.
Description: Onetime private Royal hunting ground, opened to the public in 1637 by Charles I. Site of the 1851 Great Exhibition; Speaker's Corner; the annual Prince's Trust open air Concert; and Rotten Row the 300 year old bridleway, England's most famous equestrian venue where kings, consorts and courtesans once paraded in style each morning and where smartly accoutred ladies and their squires exercise their mounts.


Alexia's tip: Among many famous landmarks be sure to see: Decimus Burton's Ionic Screen, (1825), marking the Park's S.E. entrance at Hyde Park Corner; Diana Memorial Fountain, (2004).; Sir John Nash's triumphal Marble Arch, (1828), marking the Park's N.E. entrance near the site of Tyburn gallows
Alexia's Diary: 16 June, 2007. 11am. Royal Gun Salute. King's Troop Royal Horse Artillery fire a 41 gun salute to mark the start of The queen's Official Birthday celebrations.

Kensington Gardens
Opening Times; Daily. 5am-midnight.
London Transport: Nearest tube. High Street, Kensington.
Description: Originally part of Hyde Park, the gardens were laid out with formal avenues of magnificent trees, shrubs and ornamental flower beds as a setting for Kensington Palace, (Sir Christopher Wren 1689-1702); birthplace of Queen Victoria who later commissioned the beautiful, peaceful Italian Gardens at the head of the Serpentine Lake and later still the Albert Memorial, (Sir Gilbert Scott 1863-72) which stands in the south of Kensington Gardens opposite the Royal Albert Hall in Kensington Gore. This is an example of the best of Victorian craftsmanship, designed like a medieval reliquary shrine built on a monumental scale.


Alexia's tip: Children, (and parents), will love the Peter Pan bronze statue by the Serpentine Lake; the Elfin Oak carved with fairies, goblins and animals; and the fabulous Diana Princess of Wales Memorial Playground with its Captain Hook's pirate galleon. Pause to admire the Palace's stately south frontage and the water lilies and sunken garden created by Edward VII on the Palace's east wing on your way to take tea in the Orangery, (Nicholas Hawksmoor, (1704-05).
Alexia's tip: Make a point of seeing the above four Royal Parks by taking the Princess Diana Memorial Walk; a seven mile figure of eight walkway with its hub at Hyde Park Corner, (the obvious starting and finishing point). You can pick up a free leaflet on the Walk there at the little neo-Classical lodge next to the Burton's Ionic Screen. The fascinating walkway is marked by 70 plaques set into the ground and passes a number of places with which Diana was associated in her life - and death. Break the walk into at least two parts unless you have legs and stamina for a marathon. Do the Green Park and St. James's Park stretch on one day, Hyde Park and Kensington Gardens section on another. Be sure to wear sensible shoes and take your time to pause and see all the places of interest. There are restrooms and refreshment points in St. James's Park, Hyde Park and Kensington Gardens.
Summer Festivals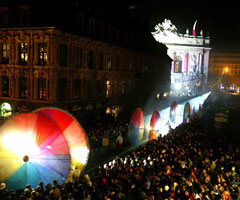 Greenwich Festival

11th Greenwich & Docklands International Festival
Venue: Various outdoor venues in Greenwich and Docklands.
Dates: 1-30 June, 2007.
Tickets: FREE.
London Transport: Nearest Tube. Fenchurch Street for Docklands. Riverboat services Westminster - Tower Piers and Greenwich.
Dress: Casual.
Description: The annual Greenwich & Docklands International Festival is a Midsummer spectacular bringing exciting outdoor performances from major international companies. Enjoy the added bonus of dramatic, skilful and awe-inspiring street theatre and entertainment.

Coin Street Festival
Venue: Bernie Spain Gardens, Oxo Tower Wharf, Bargehouse Street, Southwark. SE1 9PH.
Dates: 3 June-mid September, 2007. Weekends only. Times may vary.
Tickets: FREE.
London Transport: Blackfriars; Waterloo.
Dress: Ethnic Casual.
Description: Colourful Cuban, Caribbean, middle eastern and oriental song, dance and ethnic food stalls make this a fun family affair that enlivens the riverside walkway between Gabriel's Wharf and Oxo Tower Wharf during the summer weekends.

Exhibition Road Music Day
Venue: Various, South Kensington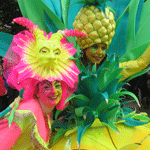 Coin Street Festival

Dates: 21 June, 2007.
Tickets: FREE.
London Transport: Tube: South Kensington.
Dress: Smart Casual.
Description: A unique collaboration between the many cultural institutions in what is known as 'Albertopolis'. The City of Westminster, Goethe-Institut, Institut français, Imperial College, Ismaili Centre, Natural History Museum, Royal Albert Hall, Royal Borough of Kensington and Chelsea, The Royal Parks and the V&A combine to create an exciting and varied program of some 65 free public concerts on 22 outdoor and indoor stages. Music and performers have been chosen to appeal to the widest mix of tastes. Visitors also have the opportunity to participate in a number of workshops run by leading musicians. A hand-on participation programme has been arranged for school children who will enjoy everything from DJ-ing to getting their tiny mitts on a set of drumsticks and letting rip. Check website for further details and ear plugs.

City of London Festival.
Venue:Various, including St. Paul's Cathedral, 6 City churches, Museum of London, and Bank of England.
Dates: 25 June-12 July, 2007.
Tickets: FREE open-air events.
London Transport: Nearest Tube: St. Paul's; Bank.
Dress: Smart Casual.
Description: A summer feast of international music and the arts, covering orchestral and chamber music, recitals, opera, literature, visual arts, film, and architectural walks and talks. As an adjunct to the ticketed events there is a sparkling programme of free open-air events. See website for full details.

Churches & Cathedrals

Westminster Abbey
Date: Sundays and special Holy Days, 2007.
Venue: Parliament Square, SW1P. Tel: 020 7222 5152.
London Transport: Nearest Tube: Westminster.
Description: Attendance at services is free. Check the Abbey website to confirm scheduled times of services and music.
The Abbey is closed to sightseers on Sundays and special days in the Abbey's Royal calendar, (the Abbey is a 'Royal Peculiar' under the personal attention of the Sovereign). Sightseers are charged an entrance fee on weekdays to see the inspired Gothic interior, (Thomas Yevele 1320-1400), royal history and tombs dating back to King Edward The Confessor, (d.1066), Poet's Corner, etc.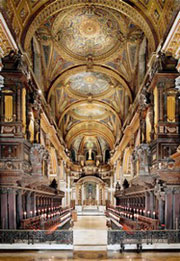 St. Paul's Cathedral. Nave. Photo St. Paul's Cathedral.

St. Paul's Cathedral
Date: Sundays and special Holy Days, 2007.
Venue: EC4M 8AD. Tel: 020 7236 4128.
London Transport: Nearest Tube: St. Paul's.
Description: Attendance at services is free. The Cathedral is closed to sightseers on Sundays and special dates in the Cathedral calendar. Check the St. Paul's Cathedral website to confirm scheduled times of services and music.
An entrance fee is charged at other times for sightseers to see the grandeur of Sir Christopher Wren's Renaissance interior, the dome, crypt, etc. Tickets can be bought online through the Cathedral website.

St. Martin-in-the-Fields
Date: Sundays and special Holy Days.
Venue: Trafalgar Square WC2N Tel: 020 7766 1100
London Transport: Nearest Tube: Charing Cross Station.
Description:10am - Sung Eucharist. 1.15pm - Service in Mandarin. 2.15pm - Service in Cantonese. Check website to confirm times and services.
Historic landmark church overlooking Trafalgar Square; an interesting fusion of High English Baroque and Palladianism. Considered to be the church masterpiece of architect James Gibbs, (1682-1754), it replaced an earlier church built by Henry VIII, (1542), which itself replaced a 13th century Gothic edifice. Noted for its popular lunchtime concerts, (Mons/Weds/Fris). Check website for details.

Westminster Cathedral
Date: Sundays and special Holy Days.
Venue: 42 Francis Street, SW1P. Tel: 020 7798 9055
London Transport: Nearest Tube: Victoria Station.
Description: 10.30am. Solemn Mass, (sung by the Cathedral's world famous choir). Check website for full details of this and other sung services.
This is the Mother Church of the Roman Catholic Archdiocese of Westminster (built between 1895 and 1903), in the Neo-Byzantine style; the architectural masterpiece of John Francis Bentley (1839 - 1902). It ranks architecturally as one of the noblest of all English churches. The interior which was never completed, provides a serene, quiet and inviting place to worship and meditate. Entry is free at all times.

Brompton Oratory
Date: Sundays 11:00am.
Venue: Brompton Road, Knightsbridge, SW3.
Tickets: FREE.
London Transport: Nearest Tube: Knightsbridge.
Description: 11am. Solemn Mass, (Sung Latin Novus Ordo). Check website for other services.
Fashionably popular Roman Catholic church for the Knightsbridge, Belgravia and Kensington communities. Built 1880-84 by Herbert Gribble who was awarded £200 by the incumbent Oratorian monks of St. Phillip Neri's Order for his winning Renaissance design. Several other architects worked on this structure through the years, contributing to its distinctive character and rather florid interior. Entry is free at all times.

Click here for more Free London in June

If you have a question, contact us and we will do our best to provide answers.

© 2007 offtolondon.com All rights reserved.