June Highlights
---
Want to receive our new Out & About Newsletter by email? Just type your email address below and click the submit button.

Burlington Bertie's
Top Tips
A Night 'On the town'
While in London, treat your partner to a superb evening out 'On The Town' with OfftoLondon's theatre and dinner package.
Choose your Hotel
Use OfftoLondon's hassle-free and secure booking facilities to obtain the best internet prices for your overnight, 'City Break' or longer term accommodation requirements; from de-luxe 5-star hotels to comfortable hostels.
Book your tickets online
Book before your visit book all your tickets with Offtolondon.com. This way you will ensure best seats and best prices at the events, exhibitions and shows of your choice without the hassle of price bargaining and queuing on the day.
London Transport Oyster Card
The Central London congestion charge zone for visitors driving in London now covers all main areas of attraction. It makes sense to travel by the safe London Transport bus or Tube. Buy a multi-journey Oyster Card before you arrive, (you can top this up at will), and you will save money, time and hassle.
Something for the Weekend, Sir?
Add spice to your London visit with a Paris or Rome "Weekender". These city gems are now within your reach, thanks to cheap speedy travel. Enjoy a Day Trip to Paris via Eurostar for shopping, sightseeing and dining while you are in London. Let Offtolondon's associates, Travel Specialists OfftoParis and OfftoRome take care of all your travel, accommodation and sightseeing requirements at best price.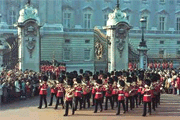 Discovering London - A Full Day London City Tour
8.5 - 9 hours - Enjoy sightseeing in London via motor coach in the morning including a stop near Buckingham Palace to see the colorful ceremony of the Changing of the Guard. After visiting a traditional London pub for lunch, the afternoon starts with a cruise on the River Thames, during which a Thames Waterman will point out the places of interest along the way. Disembark to visit the Tower of London.
Starting from USD $109.34 per person
Click to buy tickets



London highlights in June, 2007

London highlights in June, 2007. A guide to London's midsummer of Royal pageantry, open gardens, music, performing arts, fine art and food festivals, together with the great sporting highlights of Wimbledon, Ascot and Epsom Derby Day; from the diary of Burlington Bertie, OfftoLondon's Man About Town.

Your London weather in June: Expect about 11 wet days and an average of 7 hours sunshine on dry days with average temperatures between a high of 68°F (20°C) and low of 55°F (13°C)

Royal Heritage & Pageantry


Trooping the Colour
Venue:Horse Guards Parade, Whitehall, SW1.
Date: 16 June, 2007. 11am.
Description: The Trooping the Colour ceremony by the Massed Bands and Troops of the Household Division is the most spectacularly colourful annual event of military pageantry in Royal London. At 10.40am The Queen processes down The Mall. Formerly she rode on horseback dressed in the uniform of a regiment of Her Household Foot Guards. In later years The Queen has been driven in open carriage. As on all state occasions she is escorted by her Household Cavalry, (The Life Guards and the Blues and Royals), and reaches Horse Guards Parade at 11am. There, with her consort in attendance, she inspects her Household Regiments; the Grenadiers, Coldstream, Scots, Irish and Welsh guards, and takes the salute. Her Majesty then processes back up The Mall to Buckingham Palace where She watches a Royal Air Force fly-past from the Palace balcony at 1pm.
The parade ground ceremony has changed little since 1805, when it became an annual event, (though the actual ceremony was instituted in 1748), in honour of the Sovereign's birthday. What are effectively dress rehearsals for the ceremony take place on the two preceding Saturdays, with a senior General taking the salute.
Tickets: A few tickets for grandstand seats situated in front of the former Admiralty citadel on the north side of Horse Guards Parade are allocated by ballot to the public, (maximum two per application), for the dress rehearsals and the Sovereign's Parade itself. Applications, in writing must arrive between 1 January and 1 March, accompanied by S.A.E. and international reply coupon if overseas, addressed to The Ticket Office, HQ, Household Division, Horse Guards, London SW1A 2AX. Successful applicants are notified and must signify acceptance within 21 days. It is at this stage only that payment for tickets should be sent.
You can enjoy a superb free view of the marching Guards, the Royal procession and other Royals being driven in open carriages to and from Horse Guards Parade by lining The Mall. Be in position by 9.30am.
London Transport: Nearest Tube. Green Park.
Dress: Grandstand ticket holders are expected to be smartly dressed and wear a formal hat. An umbrella can be useful. It has been known to rain torrentially through the ceremony, turning the parade ground into an ankle-high lake through which the Guards and Massed Bands have splashed on undeterred in a bravura performance of British phlegm.

Knights of the Order of the Garter Investiture
Venue: St. George's Chapel, Windsor Castle, Windsor, Berkshire.
Date: 19 June, 2007.
Description: Investiture of knighthood into England's most ancient and chivalrous Order of the Garter, (a closed order), takes place at the Chapel of the Order, constituted in 1348 by Knig Edward III. Arrayed in their midnight-blue robes emblazoned with the Star of the Order and plumed hats, The Queen and her knights process through Windsor Castle to St. George's Chapel for the investiture service of thanksgiving. The procession is preceded by a detachment of red-coated silver helmed Life Guards and the route is lined by the Queen's Yeomen of the Guard dressed in their vermilion and gold Tudor 'Beefeater' uniforms.
Tickets: Ticket applications marked accompanied by SAE to line the procession route inside the castle should be addressed to the Lord Chamberlain's Office, St. James's Palace, SW1A 1BE. The envelope should be marked "Garter Ceremony" and arrive not later than end of January. The investiture ceremony and Chapel service are by private invitation only.
Getting there: Road: The location is between junctions 5 and 6 on the M4 out of London. Rail: London/Paddingtom - Windsor Town Centre, (adjacent to the castle) or London/Waterloo - Windsor Riverside, (nearby).
Dress: Chapel service: Formal. Procession route: smart casual. The weather may be very warm.

Changing the Guard at Buckingham Palace
Venue: Buckingham Palace Forecourt, Westminster, SW1A 1AA
Date: 11.30am Daily through July, 2007.
Tickets: FREE
London Transport: Nearest Tube: Green Park, Hyde Park Corner, Victoria mainline rail terminus
Description: See Shophound Alexia's Free London for details of this and other free Royal Pageantry events.

Ceremony of the Keys
Venue: Tower of London, Tower Hill, EC3N 4AB
Date: Daily. 9.30.pm.
Tickets: Complimentary tickets are obtainable on application in writing. Check Tower website for details.
London Transport: Nearest Tube: Tower Hill.
Description: See Shophound Alexia's Free London for details of this and other free Royal Pageantry events.

Mediterranean Summer at Kew Gardens
Venue: Royal Botanic Gardens, Kew, Richmond, Surrey, TW9 3AB
Date: 26 May - 9 September, 2007. 9.30am-6.30pm weekdays; 9.30am-7.30pm weekends during Mediterranean Festival.
Tickets: £12.50 Adults, (Concessions). Accompanied Children 16 and under FREE. An additional 45 minute guided tour, (£7.50), with gardening advice on drought resistant plants and planting takes place at 12.30pm and 4pm on 27 May. 10 June. 8 July.12 August. 9 September 2007.
London Transport:: Nearest Tube. Kew Gardens Station, (District Line via Richmond).
Description: Kew goes Mediterranean, celebrating its plants, climate, and foods. When we think of the Mediterranean we tend to think of the Three Ss - Sun, Sand and Sea! This colourful Mediterranean Summer exhibition at Kew reminds us that the region is a vibrant mix of history, climate, habitats and vegetation. They colour our everyday life and eating habits and will have an ever increasing impact as global warming expands the Mediterranean climatic region further north.
Visit King William's Temple to see Mediterranean Plants; stone pines, Portuguese cork oaks and Tuscan olive trees, arranged in a typically natural rocky landscape planted with regional shrubs and bulbs. The ornamental beds surrounding the Temple have been planted as a typical Mediterranean garden you might see in Spain or Italy.
In the Princess of Wales conservatory we can see a typical Andalucia Olive Grove, while the Waterlily House and its surrounds play host to hot chili pepper plants like Big Jamaican Hot, Thailand Heat, and the Zimbabwe Bird that give exotic zing and spicy heat to our taste buds. Which brings us naturally to the Pizza Garden display; a planting of all the herb and vegetable ingredients that top our favourite take-away! Lavender from Provence, now famously matched by Chelsea Flower Show award winning Isle of Wight Lavender gives us a richly colourful and fragrant display at a walk way behind the Palm House. When we have seen all we can relax at the Pavilion Restaurant by the sandy Mediterranean beach planted with typical palms, grasses and the sunny orange and yellows of the Californian Poppy.
Children are catered for with a hands,(and nose)-on interactive exhibition of touchy feely smelly plants and a Mediterranean treasure hunt.
Join a free tour of Kew's plants from Mediterranean regions daily at 12pm and 3pm. Hands-on sessions featuring olives and lavender take place also at the Princess of Wales Conservatory, Wednesdays and Sundays between 2pm and 4pm.

Open Garden Squares Weekend
Venue: 160 gardens/squares thoughout London.
Date: 9/10 June, 2007.
Tickets: Check website. Some squares are FREE
London Transport: N.A.
Description: This is the one weekend in the year when many of central and outer London's private garden squares and other gardens open their gates to welcome visitors under the aegis of the London Parks & Gardens Trust. You will be able to discover many of London's hidden treasures, dating from 17th century onwards and ranging from historic stately set-pieces such as Ham House and formal landscapes of the Jacobean era, Georgian, Regency Victorian and 20th century through to some of London's more eccentric and unusual open spaces, all of which help to make London such a gracious and green environment to live in. A number of special activities take place at some of the gardens on this weekend. Sample French Loire Valley Wines at a number of venues; listen to the Royal Philharmonic Orchestra, (Cadogan Gardens, Sloane Street, SW1); enjoy a barbecue, (Holland House Garden, W8); buy plants, (Phoenix Garden, WC2); see a wealth of monuments and statuary, (Victoia Embankment Gardens, WC2); listen to a band concert, and many other activities. See website for list, activities, facilities, photos and entry times for each garden.

Summer Music Festivals


11th Greenwich & Docklands International Festival
Venue: Various outdoor venues in Greenwich and Docklands.
Dates: 1-30 June, 2007.
Tickets: FREE. See Shophound Alexia's Free London for description and other details.

Coin Street Festival
Venue: Bernie Spain Gardens, Oxo Tower Wharf, Bargehouse Street, Southwark. SE1 9PH.
Dates: 3 June-mid September, 2007. Weekends only. Times may vary
Tickets: FREE. See Shophound Alexia's Free London for description and other details.

Spitalfields Festival
Venue: Various in East End.
Dates:5-22 June, 2007.
Tickets: Check website for details.
London Transport: Liverpool Street Station.
Dress: Smart comfortable.
Description: An important festival of new music, with at least one new work commissioned each year. Based at the superb Spitalfields Christchurch, (Nicholas Hawksmoor, 1729), and George Dance the Elder's Shoreditch Church, (known as the Actor's Church, 1716), events also take place at a number of other East End venues such as the famous 19th century Wilton's Music Hall, now restored to its former glory. Check website for details of performances, tickets, etc.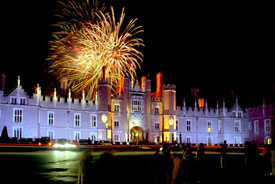 Courtesy Hampton Court Music Festival

The 15th Hampton Court Palace Music Festival
Venue: Hampton Court Palace, Hampton Court, East Molesey, Surrey, KT8 9AU. Tel: 0870 752 7777.
Dates:5-23 June, 2007.
Description: A superb line-up of talent to suit all tastes - from opera tenor Jose Carreras, (whose concert will sell out early), to Welsh Valley warbler Tom Jones. An delightful midsummer open-air evening of music and fireworks set against the magnificently illuminated backdrop of Hampton Court Palace. Bring a picnic to enjoy during the extended interval, or do it in style by dining like a King on a meal prepared for you by Gordon Ramsey in the State Apartments.
Tickets: Book online.
London Transport: Nearest Tube. Richmond. Bus connection from station. Rail from London/Waterloo to Hampton Court, (32 mins). Riverboat from Westminster Pier, (3 1/2 hrs), to Palace quay and return by train/tube.
Dress: Smart comfortable, if dining in the State Rooms, casual elsewhere.

Opera Holland Park 2007
Venue:Holland Park, W8. 0845 230 9769
Dates: 5 June- 11 Aug, 2007. Perfs begin 7.30pm.
Description: This is Glyndebourne in a London setting. Dress up, order a champagne picnic with reserved table in the theatre and enjoy a fabulous evening of Opera sung by top international singers in the stunning new Opera Holland Park theatre. 2007 Festival programme:
Guiseppe Verdi'sNabucco (June).
Leos Janacek's Jenufa (June).
Gioacchino Rossini's Il barbiere di Siviglia (June, July).
Léo Delibes Lakmé (July).
Guiseppe Verdi's La traviata (July, August).
Italo Montemezzi's L'amore dei tre Re (July, August).
Tickets: £. Book online or Box Office 0845 230 9769 after 10 April, 2007.
Concessions (£37 reduced to £34) are available for specific performances only. See website.
London Transport: Nearest Tube. Kensington, (Olympia); Holland Park:
Dress: An opportunty to dress up for a smart evening.

Banqueting House Lunchtime Concerts
Venue: Banqueting House, Whitehall, SW1A 2ER, Tel: 0870 751 5187
Date: 11 June, 9, 30 July 2007. From 12 noon.
Tickets: £15 inc. buffet lunch. Book by venue telephone or in person.
London Transport: Nearest Tube: Westminster, Embankment.
Description: The renowned monthly lunchtime concerts of chamber music and song recitals. The perfect way to admire the Rubens ceiling. See website for details.

14th Observer Meltdown Festival
Venue: South Bank Centre, Belvedere Road, SE1 8XX.
Dates: 16 - 24 June, 2007.
Tickets:. Check website for details or telephone 08703 800 400.
London Transport: Embankment, Waterloo Station
Description: A musical highlight in London summer calendar. Unlike other music festivals it is curated by a different well-known musician every year (past curators include David Bowie, Lee Scratch Perry, Morrissey, Patti Smith). This year Jarvis Cocker is in the driving seat. His eclectic lineup includes the London Philharmonic Orchestra, Devo, Iggy and the Stooges, Cornershop, Motorhead, Melanie, the Jesus and Mary Chain; an eclectic Cocker mix of everything from orchestral to folksters to heavy metal rockers. There is also a strong multimedia facet with film screenings, photographic exhibitions and more. Dine before or after the event at Southbank Centre's Skylon, featured in Offtolondon's Dining Out.

Exhibition Road Music Day
Venue: Several
Dates: 21 June, 2007.
Tickets:FREE. See Shophound Alexia's Free London for description and other details.

City of London Festival.
Venue:Various, including St. Paul's Cathedral, 6 City churches, Museum of London, and Bank of England.
Description: A summer feast of international music and the arts, covering orchestral and chamber music, recitals, opera, literature, visual arts, film, and architectural walks and talks. In addition there is a programme of jazz, late night comedy, and other entertainment afloat on the River Thames. Some free street entertainment. See website for full details, booking info, etc.
Dates: 25 June-12 July, 2007.
Tickets:From £5- £45.
London Transport:Nearest Tube: St. Paul's; Bank.
Dress:Smart Casual.

The 3rd Tower Music Festival
Venue: Tower of London, EC3N 4AB. Tel: 0870 756 6060.
Description: The floodlit Tower of London provides a spectacular backdrop to this year's open air festival that brings us artists as diverse as Joe Cocker, Katherine Jenkins, and Bryn Terfel. As this festival coincides with The City of London Festival, you will be severely challenged to do justice to the wealth of musical choice on offer.
Dates: 28 June-14 July, 2007. Evenings.
Tickets:Book online
London Transport:Nearest Tube: Tower Hill. Riverboat from Westminster or Greenwich.
Dress:Smart Casual.

Summer Theatre Festivals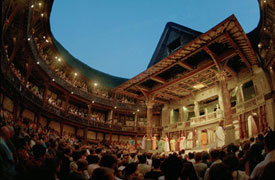 Courtesy Shakespeare's Globe

Shakespeare's Globe Theatre Summer Season
Venue: New Globe Walk, SE1. Tel: 020 7401 9919
Programme: See Shakespeare's plays as they would have been performed in Elizabethan and Stuart times in the Globe Theatre reconstructed on its original Tudor site overlooking the Thames. This season's repertory programme on the theme of Renaissance and Revolution: Othello, Love's Labours Lost, The Merchant of Vencie. Aslo Howard Brenton's critically acclaimed In Extremis; Jack Shepherd's Holding Fire; Eric Schlosser's We the People. See website for schedule.
Date: 4 May - 7 October, 2007. Matinees 2pm. Eves 7.30pm
Tickets: Online booking, (recommended), or at Box Office.
London Transport: Nearest Tube: Southwark.
Dress:Smart Casual.

75th Regent's Park Open Air Theatre Summer Season
Venue: Regent's Park, NW1 Tel: 0870 060 1811
Programme: The perfect setting to watch Shakespeare's A Midsummer Night's Dream on a summer evening, (30 May-18 Aug). Also in this season's repertory programme: Macbeth, (28 May-16 Aug); George and Ira Gershwin'sLady Be Good, (17 July-25 Aug); Roald Dahl's, The Fantastic Mr. Fox, (31 July-25 Aug); and Sandy Wilson's ever popular musical The Boy Friend, (28 Aug-15 Sep).
Date: 8pm, 28 May - 15 September, 2007.
Tickets: Online booking, (recommended), or at Box Office.
London Transport: Nearest Tube: Baker Street.
Dress:Smart Casual.

Encore online
Venues: 37 West End and City theatres
Description: Your online guide to London's vibrant theatre programme of plays, musicals and variety.
Date: Ongoing.
Tickets: Book online with Offtolondon for all seats. Book ahead to avoid disappointment.

If you have a question, contact us and we will do our best to provide answers.

© 2007 offtolondon.com All rights reserved.